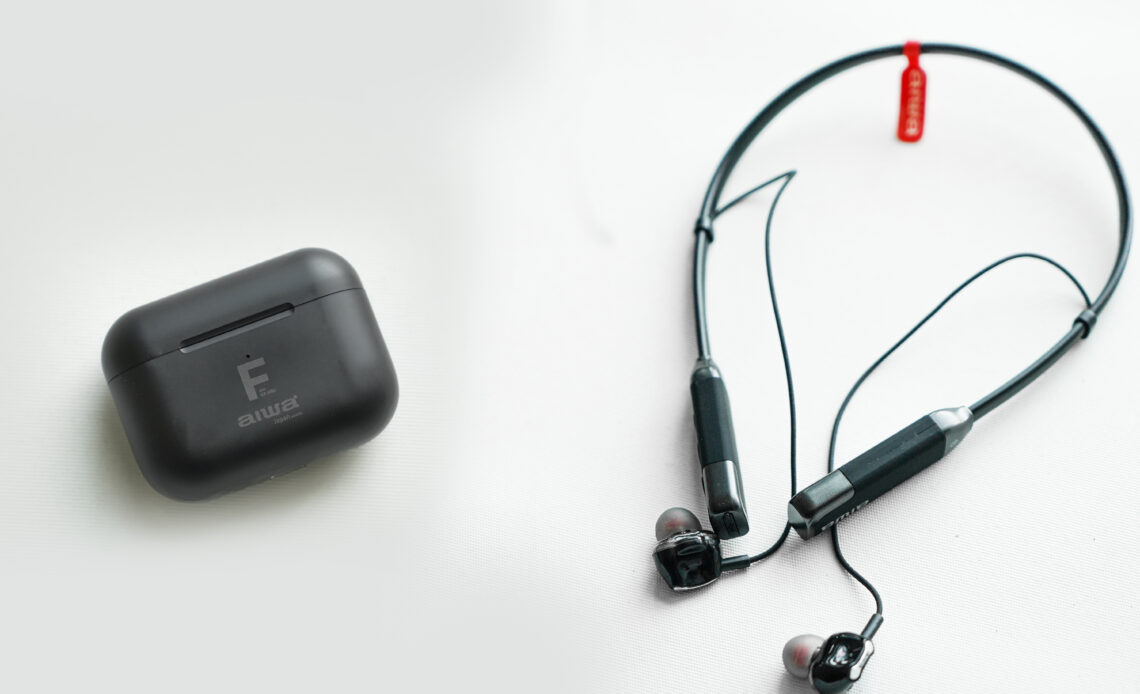 Aiwa has constantly been making premium products that very well carry its legacy in the music industry, but it has over the years lost its charm amidst a hyper-competitive market. This brand makes some of us feel quite nostalgic about how Aiwa was once a dominant player in the audio segment. Aiwa recently launched a series of wireless audio gears including the neckband model ESBT-460 and TWS earbuds AT-X80FANC.
We spend some time with both the devices while listening to songs, watching movies, and attending calls and here begins the review. Let us first talk about the neckband ESBT-460.
Aiwa ESBT-460 Wireless Neckband Review
Considering the price tag of Rs 2,999, Aiwa ESBT-460 gives a solid first impression with its premium packaging. The neckband rests inside a cushion and is made with good quality plastic, and feels extremely light. It feels pretty comfortable to wear at longer durations. 
All the controls, such as the power button and volume and media control, are placed on the left side with an LED indicator below to show the pairing and battery status. What surprised me is that concealed under the left collar is the Micro USB charging port and Micro SD card slot, which comes quite unexpected. If you put some MP3 files on a card, this can become an audio player without any need to pair it with the phone. You also get ear tips of different sizes and a pouch to carry your earphones. 
The ESBT-460 vibrates when you get an incoming call, and in my experience, the quality of the call was quite impressive, and you can hear both lines clearly. The drawback, however, is that this device lacks the Active Noise Cancellation feature. 
The battery life in Aiwa ESBT-460 is pretty decent, but not the best. The device takes up to two hours to recharge fully with a standard micro-USB charger. It also gives 13-14 hours of playback at 70 per cent volume. 
Aiwa ESBT-460 packs 8mm quad-speaker driver technology and delivers a clear and loud sound. The bass is good but lacks detail. 
Pros
Built-in Audio Player
Good Call Quality
Decent battery Life
Light and Snuggly Fit
Cons
Slow Charging
No ANC
Lacks Detailed Sound Quality
Verdict
The Aiwa ESBT-460 wireless earphones work quite good for the price range that it offers. You can definitely try it out for the nostalgic and once-prominent brand in the audio space. 
Aiwa AT-X80FANC TWS Buds Review
Aiwa AT-X80FANC got launched for a price tag of Rs 7,999, which is apparently on a higher side but makes it up with the features it offers. TWS has shaped the modern wireless audio concept globally. Aiwa has given a stem design to its earbuds, and the tips are oval that sit well on your ears. You also get different sets of silicon tips to suit your ears.
The case is small and can easily fit into your pockets without making you feel uncomfortable. It also features a small LED sensor to indicate pairing and charging. At the bottom, there is a USB-C port for charging. Overall, it has a very decent appearance on the outside as well as on the insides.  
You get a crisp and balanced sound with a well-defined ANC performance. The back of the earbuds has a touch-enabled zone, from where you can play or pause the music and cut the call. A single tap to play/pause, double-tap to increase/decrease the volume, answer/cut the call, a two-second long touch to skip to the next track, and a four-second long touch on the right bud to activate the ANC feature. In my experience, the touch sensor acts responsively. 
It seems like Aiwa has given more preference to bass in this one. AT-X80FANC offers an abundance of bass and has well-tempered highs. The mids and the lows are quite impressive too. The drawback here is that the device is not compatible with wearable apps, so it's hard to set the bass and treble according to your taste. 
The sound on both ends was loud and clear while on calls and listening to music. There was a little latency while playing video games because the device does not support any codec. You can find a little sync problem here and there, but it's not that noticeable or problematic.
Final Verdict
For a price of Rs 8,000, I wish there were more features in this one, but Aiwa AT-X80FANC TWS buds don't fail to convince you to buy one.