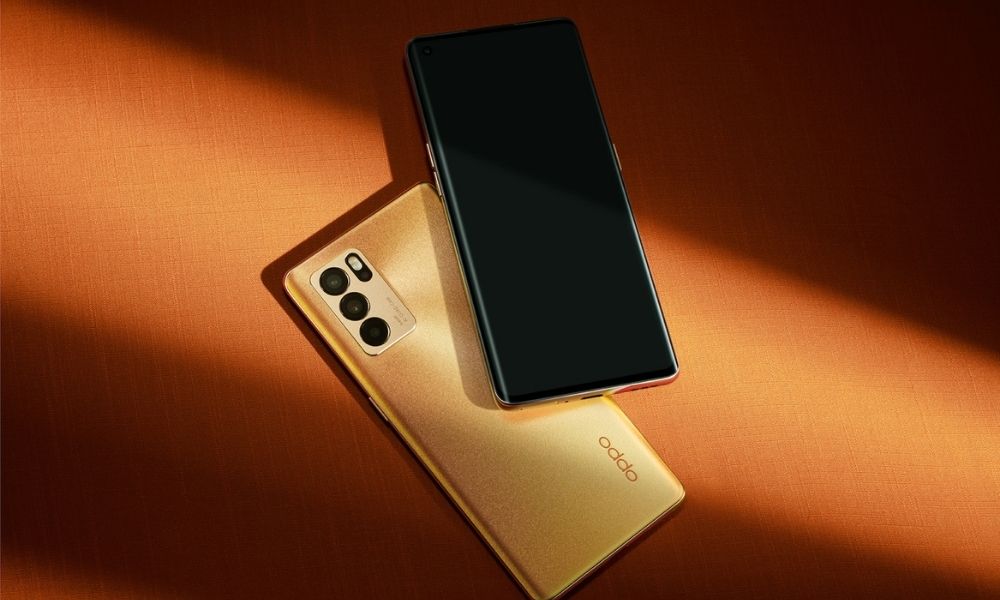 It's Diwali season or one could safely say that the festival of gold is here. This is the time when smartphone companies offer huge discounts on their devices as a festive treat. Oppo, this year decided to step above normalcy and launch something which they call a 'Diwali Edition' of their Reno 6 Pro 5G variant.
First we will talk about the specifications that Reno 6 Pro comes packed with and in the latter part we will learn about the upgrades that Oppo has made in the Diwali edition, if any. 
Oppo Reno 6 Pro Specifications
Like any other premium smartphone, Reno 6 Pro is also a camera-centric phone that weighs around 177gms. It feels pretty sleek in hand and is neither too heavy nor too light. The back of the smartphone is built of matte glass and is resistant to fingerprints. Reno 6 Pro has a curved AMOLED screen and offers a Gorilla Glass 5. It has an in-built fingerprint scanner which honestly works quite well. 
The general performance of the smartphone is quite impressive since it uses the MediaTek Dimensity 1200 processor, the maximum refresh rate being 90Hz. Reno 6 Pro comes packed with 12 GB RAM and 256 GB Storage, which leaves no space for lags and glitches. Although I believe 12GB of RAM is quite superfluous, and it hardly comes to use in daily activities, unless, of course, you play a lot of heavy games on your device. Nevertheless, the flagship performance is quite a catch on this one. 
As a Call of Duty fan, I installed this heavy game on this device along with a few others and ran it on max graphics and frame rate to see how the game performs. Unsurprisingly, all the games ran smoothly without any lags, all thanks to the 12 GB RAM. 
The battery life of the Oppo Reno 6 Pro is quite good but nothing exceptional of any sort. The device has a 4500 mAh battery and runs for a whole good day, involving a lot of video watching and exploring social media. It comes with a 65W SuperVOOC charger that charges the phone entirely in about 35 to 40 minutes. 
Cameras are a big part of Oppo smartphones. Reno 6 Pro has a 64 Megapixel, 8MP, 2MP, and 2MP rear camera setup. The front camera is 32 Megapixels. As an upgrade, Oppo has added the Bokeh Flare Portrait filter, blurring the background even in the video mode. You can set the percentage of Bokeh you want for your video. There is also an AI Color Portrait mode which keeps the focused object in color and the background black & white. These are pretty cool features to work with. 
The smartphone costs about 40,000, and you can get it for 39,400 on some websites. 
Upgrades on Reno 6 Pro Diwali Edition
The first noticeable change that we see in the Diwali edition is that it offers a majestic gold color on the back. It seems like there's a lot of glittery particles on the surface, but when touched, it has a smooth matte surface and feels quite premium. 
The phone is packed with the same 12 GB and 256 GB storage and comes with the same Dimensity 1200 Processor. The screen size of 6.5 inch and refresh rate is also similar to the Pro version. The camera is similar to what we have seen on the regular Reno 6 Pro version, and we witness no upgrade. The ultra-wide-angle could have been enhanced with a 16MP camera instead of 8MP to give the smartphone a premium feel. 
What's different in the Reno 6 Pro Diwali Edition is that the icons and the UI are customized for a Diwali theme and can be changed depending on the occasion. 
Oppo Reno 6 Pro Diwali Edition has been priced at Rs 41,990, which is Rs 1,990 more than the regular edition.