Virtual Reality (VR) has opened up new learning surroundings and involved so much in just a few years that it is no longer a new name to most of us. We've witnessed a number of VR headset launches in the last few years; from high-end consumer devices to affordable ones, the market of VR headsets have come a long way, and if you're looking for a few of the best VR headset options in the market, then here's a list of top 5 VR headsets to make your search simpler.
Oculus Quest 2
The Oculus is the big name in the world of VR's and its latest VR, Quest 2, is unquestionably one of the best VR headsets in the market. The compact, comfortable, and powerful Quest 2 is the most advanced all-in-one VR system yet by the Facebook-owned company Oculus. The new Quest is the successor to the Oculus' 2019 Quest, and it is only the third wire-free standalone headset from the company, after the Oculus Go and the Oculus Quest. The sleek Quest 2 looks decent, be it on the desk or your head and features a standalone signature Quest design. The Quest 2 is a bit smaller and 10% lighter than its predecessor.
Oculus is popularly known for making all-black flagship devices, but the Quest 2 has a pure white plastic chassis and a black foam eye mask behind it, making it appear more stylish. The VR headset features four camera sensors, all mounted along its edge. On the right side, it has a power button and its volume rockers rest on the underside, along with two pinhole microphones. The left side holds a USB-C port and a 3.5mm headphone jack for charging and audio. The headset features 6GB of memory instead of 4GB, and its base model offers 64GB of storage.
The Oculus Quest 2 is powered by Qualcomm's Snapdragon XR2 chipset and offers a battery life of two and 2.5 hours for a gaming session. The VR headset has everything you need right in one device, and once you are done with the setup, you're good to go. The VR headset arrives with two newly designed motion controllers that feel as good as ever and offer a screen resolution of 1832 x 1920 pixels per eye instead of the Quest's 1440 x 1600. The new Quest VR is one of the lowest-priced VR headsets in the market, but overall you won't be disappointed by the performance of Oculus Quest 2.
HTC Vive Pro 2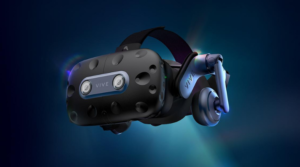 If you're looking for the best VR headset in the current market and you're not a gamer, then HTC Vive Pro 2 can be your best companion. The first HTC Vive VR headset was launched five years ago, and it was way ahead of its time, but the company failed to dominate the market even after a great head start. HTC Vive Pro 2 is aimed to fulfil needs like killer visuals, accurate possible tracking and comfortable wearing for a long time, in short, it is more inclined towards professionals. The VR headset features high-res visuals and 120Hz detailed and crisp 5K displays for smooth frame rates. 
The Vive Pro 2 appears and feels very identical to its predecessor but in the darker spirit, but once you mount it on your head, you'll quickly realise the difference. The head-mounted display of HTC Vive Pro 2 helps you rotate the headset backwards without completely removing it, which eventually works best for answering a quick phone call, checking the time, seeing who's staring at you while you're occupied in the VR world and, of course, having a quick check of the real world. The headset offers an excellent top strap and rear tightening knob to keep your headset stable on your head.
The 5K lenses of the HTC Vive Pro 2 offer a 120° horizontal field of view to make you feel more like a real-world appearance. Its view angles are sharper and more detailed than its rival Oculus Quest 2, making Vive Pro 2 stand tall. The VR headset requires a robust system with at least an RTX 2060 or AMD Radeon RX 5700 to work best in every way, especially when you're eying on 120 HZ or higher resolutions. The headset offers a two-month subscription to HTC's own VR software store, Viveport Infinity, granting unlimited access to a wide selection of VR games and experiences.
Sony PlayStation VR
Sony recently launched its PlayStation VR (or PSVR) headsets to bring a more advanced and immersive Virtual Reality experience into their PlayStation 4 and PlayStation Pro consoles. The Japanese multinational conglomerate has thoughtfully launched its VR a few weeks before the holiday season to get more attention from consumers. The PSVR was first released in 2016 under a code name 'Project Morpheus', and since then, it has become popular among VR newcomers as it is one of the most affordable VR's in the market.
PlayStation VR offers a massive library of experimental and action-packed titles that are exclusive to PSVR. The headset is uniquely designed and quite comfortable compared to its rivals, but it lingers a little behind the more expensive PC-powered HTC Vive and Oculus Rift in terms of specs. The Sony VR headset is a little heavier device (weighs about 600 grams) and has a single solid headband that rests around the back of your head. Currently, PSVR is the best-selling high-end VR headset globally, and it has turned into a game-changing piece of hardware in a short while.
The company has recently launched Hitman 3 for their VR and has brought big-budget games like Resident Evil 7, No Man's Sky, and Skyrim to stay ahead in the race. The PSVR offers immersive gaming quality and comes with more than 21.9 million VR games and apps. The PSVR, of course, has its drawbacks, but at the same time, it is enjoyable too. Unfortunately, the company doesn't trade PlayStation VR as a sole product; instead, they offer the VR headset either along with PS VR with a PlayStation Camera or a PS VR with a PlayStation Camera and two Move controllers. Whatever the company bundles up, if you look at the cost, the headset remains the most affordable in the market.
Valve Index VR Kit
The list of Top 5 VR headsets can't be completed without adding the best VR headset for gamers, and the time has come to take a quick look at it. Valve Index VR Kit is the next-generation VR headset and the first to be entirely manufactured by the American video game developer, Valve. The company offers an Index headset, Valve's finger tracking controllers and two SteamVR base stations at a magnificent price of over one lakh rupees, making it one of the most expensive PC-tethered VR systems worldwide, but at the same time, the Steam VR platform on which the headset runs is still inconsistent, making it not so suitable as a troubleshooter.
The Valve Index VR headset features an eye-watering 144Hz refresh rate and a massive 130-degree field of view, offering you one of the best visual experiences of your life. Being a SteamVR product, it demands placing two sensors at different corners of your room. The headset is a bit heavier than the Rift S, but the strap provides adequate support around your head. Speaking of comfort, the finger tracking controllers of Valve Index have a convenient strap that locks them onto your hands, helping you have an exceptionally well hold. The strap material of padding is extra soft and makes sure you stay comfortable even after a long gaming session.
The Index has built-in near-field speakers, which offer outstanding three-dimensional surround sound and are very useful if you like to stay in the VR world for an extended period. They help you to have an incredible audio experience along with a more spatialised audio environment. The Valve Index VR headset features an unimaginable industry-leading tracking with fixed lasers clearing 100 times per second to track your movements. The hardware requirements for the Valve Index headset is relatively light, it can work well even with an Nvidia GeForce GTX 970 or AMD Radeon RX 480 GPU though the company recommends a quad-core CPU and Nvidia GeForce GTX 1070 or better GPU for better execution.
HP Reverb G2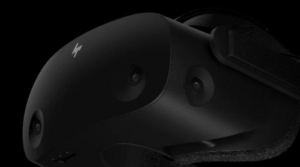 HP Reverb G2 is one of the top VR headsets that offer high resolution at an affordable price, making it one of the best VR headsets for newcomers. The Reverb G2 looks very much like a mixture of an HTC Vive and an Oculus Rift. The headset has been developed in collaboration with Valve, and that's why it features Valve's unique near-field speakers that produce high-quality sound. The Reverb G2 headset also features a 90Hz refresh rate, an ultra-high-resolution sharp screen offering 2,160 by 2,160 pixels per eye, and a 114-degree field of view. 
The VR headset comes out of the box with luxurious cushioning throughout the eyepiece and rear strap, making it a more comfortable device. The Reverb G2 is the first Windows Mixed Reality headset with four tracking sensors helping it to ensure more accurate VR tracking. It also helps when you're playing fast-paced games where your hands are all over the place. When it comes to visual performance, the Reverb G2 shines bright like a sun. 
The Reverb G2 is a lightweight VR headset that offers comfort and convenience at its best. The plastic finish looks cheap, but it is finely crafted and has thick foam padding encompassing the lenses and headband. Underneath, you'll find a slider while on the front and sides, four cameras are fitted to track the movement. The Reverb G2 is a wired Vr headset, and that's why it doesn't have as much freedom as wireless offerings, like Oculus Quest 2, but you can manage your play with a 6-metre straight long wire.