The late monsoon and winter season has its high in India. Every hardcore traveller prefers to plan most of the trips in the middle of September and February as these 6-months provide more options for the adventure. Due to the pandemic, most regular travellers have missed their planned trips in 2020 and want to hit back hard to embrace all those much-anticipated trips.
Along with trips, we've been waiting for the Covid-19 vaccine since our government declared the first lockdown in-country at the end of March 2020. Thanks to the great scientists, research institutes and modern technology, the most-awaited vaccine has finally arrived, and fortunately, India has fully vaccinated 9.54 crore of its 94.5 crore adult population so far, which is an achievement in itself. 
The government is aiming to vaccinate 300 million people by the end of 2021, while the travellers who've taken both doses are planning for a vacation. When it comes to travelling, especially during current days, one should be prepared well as we haven't travelled in a long time and that's why we've summoned up a list of must-have outdoor tech gadgets for frequent travellers.
GoPro
Since the day GoPro arrived in India, it has created a buzz around the travellers and budding photographers who previously used to carry their heavy DSLR's during outdoor trips. The attractive action camera is no longer an option to throw in the backpack for a travel adventure. The tiny and rugged camera is lightweight, can go just about anywhere, and offers tons of picture-taking opportunities. The GoPro Hero9 Black is the latest offering from the company, but its predecessor Hero8 Black is still an excellent option, and it costs you less. The everyday camera lags when it comes to battery life and Low-Light Performance, but if you prepare well for the trip, then GoPro's will never disappoint you.
Noise-cancelling Wireless Headphones
Walking without headphones in a new place is recommended, but it's suitable only when you're in a quiet-naturistic place, not when you're walking down a busy lane or travelling in a bus/cab during peak hours. The best option to block out such annoying and unwanted noises around you is to get Noise-Cancelling wireless headphones. These headphones will make sure you'll stay away from all the outside chaos and noise. The best thing about owning Noise-Cancelling headphones is that they keep you away from the real-world noise without even having to raise your headphones' volumes. So, the next time you're going for a long flight or long train journey, keep these headphones with you to avoid baby cries and passenger snores.
Kindle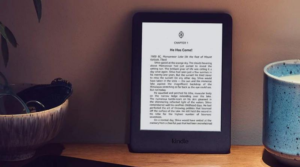 We all have listened to the crap from regular travellers complaining about not finding enough time to pick up on reading though they did have all the time in the world to post their exotic vacay photos. Jokes apart, but being a traveller, if you genuinely love reading or want to make your journey memorable, e-books are one of the best options you have as it only takes a little space in your bag and offers tons of writings from various authors. Several companies offer e-book services, but Kindle has its world and benefits as it provides hi-tech features along with customisable text settings and adaptive lighting. Subscribe to Kindle Unlimited to enjoy access to over a million Kindle titles, including e-books, audiobooks, and magazines.
Water Purifier Bottle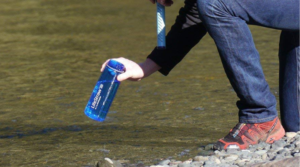 When you're exploring remote places or hiking a trail where nobody often visits, there are chances you might run out of water or not notice any local stores around. A water purifier bottle can be your saviour at such terrible times as these devices can make any water clean; all you have to do is hunt for freshwater resources. Travellers often deal with health problems after or during a trip, most of which are caused by contaminated drinking water, so having your purification system in the form of a bottle is a must-buy gizmo. A water purifier bottle not only provides you with safe drinking water on the go but also saves your money on packaged drinking water.
All-in-one Adapters
Travellers, particularly millennial and solo travellers, can not survive the world without their smartphones and gadgets, especially when they're outing somewhere, as they've to share their recent adventures and shout out to the world through social media apps and stories. Earlier, people have to worry about adapters not matching plug points, and that's why they used to end up carrying a bag of adapters, especially during international trips, but nowadays travellers needn't worry about the points or extensions. Thanks to the All-in-one Universal Adapters, they come with a built-in extender and fulfil most of your needs. Get one before you pack for your next adventure to enjoy a trouble-free trip.
Smartphone Gimbal
Nowadays, almost 3 out of 10 people are YouTubers; this is the level of influence YouTube has created on us, but one can not achieve success on a platform without being a creative person and staying ahead of the people. Being a part of the modern world, almost everyone knows how to turn on the video camera, but not everyone knows how to get excellent footage out of it unless you own a smartphone gimbal and have experience in the field. A good smartphone gimbal will help you get smooth and stabilised footage as its ergonomic handle provides a comfortable grip for a steady hold. It can be a game-changer for travel vloggers as the footage that came out of it looks very decent and professional.
Bluetooth Speakers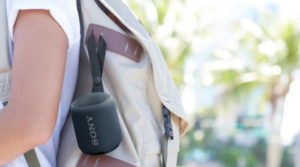 After the dog, music is the man and woman's best friend. You can not take your dog out on every tour, but you can take music everywhere. Various devices are available in the market that satisfies our music desires, but having a portable Bluetooth speaker is a must-have gadget for any traveller. It makes sure that you're having the luxuries of the indoors while travelling outdoors. The Bose SoundLink Mini II Bluetooth Speaker and Sony SRS-XB12 Wireless Bluetooth Speaker are two of the best compact Bluetooth speakers available in India. These two speakers are designed for life on the go and offer excellent sound quality along with waterproof and dustproof characteristics.
Solar Charger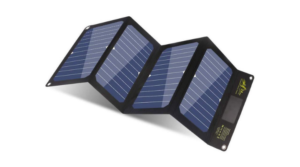 While travelling to remote locations or staying in the middle of the woods, we often end up where electricity appears like a guest. Also, some travellers like to explore the unexplored on their own while staying away from plugs of any kind. In such situations, how can you recharge your gadgets? Well, for such concerns, we can stay dependent on renewable energy resources like the solar charger. You can hang the device to your bag while hiking under the sun, and it will charge itself under the sunlight. Solar chargers will help you avoid isolation from the world by keeping your mobile phone, GPS devices, and laptops charged up.