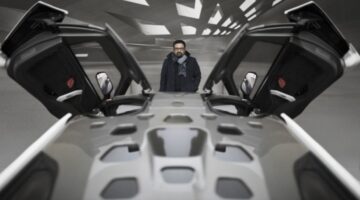 OUR AUTO EDITOR- KONARK TYAGI THROWS SOME INTERESTING QUESTIONS ABOUT ELECTRIC CARS TO MR. PRATAP BOSE, HEAD OF DESIGN, TATA MOTORS
What do you think about the constantly evolving shift towards electric vehicles? Do you think India is ready to go fully electric by 2030?
Ans- India took a massive leap towards sustainability, with the government's vision towards complete electrification of vehicles by 2030. The impact of this vision is now being felt in the automotive sector, which is now working towards sustainable vehicles with double the intensity. While it is too premature to comment on India's readiness on electric mobility, we at Tata Motors  understand the need for electric vehicles to meet the fast-changing demands and growing aspirations of the Indian market, which will soon enter the EV era. With increasing focus of automotive industry and government towards electrification of automobiles, Tata Motors has been continuously pushing the boundaries in the electric mobility space.
Our preparations for the EV journey began nearly four years ago. In May 2014, Tata Motors European Technical Centre (TMETC), based at the University of Warwick in Coventry, UK revealed a Manza REEV (range extended electric vehicle) demonstrator vehicle. The sedan incorporated a lot of the learnings from TMETC's in-house research into high-voltage distribution systems, battery design and vehicle controller development. Over the years, led by the technical capabilities, extensive in-house research and development activities, we have run several innovation projects and demonstrated EV concepts of our products like Vista, Zest, Bolt and recently, Tigor.
Through this process, we have learned about electrification of power trains and most importantly how to actually apply the electric power train solutions on existing platforms. This is going to help us on the way forward to readily provide not just one product, but a range of products which will become available as electric versions to the Indian market. Keeping the growing customer aspirations in mind, there is a latent need for a range of electric vehicle mobility solutions and we will partner with local start-ups or enterprises in order to identify opportunities to localise global technologies meeting the price expectations of our customers – making EVs affordable towards the Government's vision.
The recent order from the Government of India to deliver 10,000 electric cars to EESL, has provided us an opportunity to leap frog in boosting our presence in the e-mobility space. It will help us accelerate our efforts to offer full range of electric vehicles to the Indian consumers.
How different is it to design an electric car in comparison to normal internal combustion car? Do you have a limited design scope when it comes to electric cars as aerodynamics become even more crucial?
Ans- Electric vehicles are essentially of two types. The first is 'electrified', where the usual Internal Combustion (IC) engine car is converted to an electric vehicle by replacing the combustion methodology with that of an electric power train. With the 2030 goal, most of the auto sector is expected to adopt this method to create the first generation of electric cars in short to medium term. The second variety is that of a "born- EV" or ground-up electric vehicle, which is designed from scratch to be powered by an integrated electric powertrain. These will form the next-gen cars that follow a different architecture to allow for newer design elements like a lower front hood, and longer wheel bases to accommodate battery packs.
Additionally, there is expected to be increased focus on aerodynamics and light-weighting in the electric vehicles segment, particularly aimed at the shape and the materials used. Automakers would need to use alternate light-weight materials like aluminium and other composites. Though carbon fibre absorbs energy and makes energy of its own, it is an expensive material used mostly in high-end luxury cars. The trend will witness a surge with automakers finding substitutes for carbon fibre, which absorbs energy and is extremely light, but is expensive to opt for volume-playing automobile companies. Large scale 3D printing is also expected to be widely adopted.
With the advent of electric vehicles, we will also have to think of the location strategy of the batteries. While in an IC car, the engine is in front hood to become a part of the crash absorption system, the front portion of the car is empty in an electric one. Design will play a crucial role to optimise speed level for EVs, while ensuring that the placement of the batteries is done in a manner that ensures impact durability, distributes weight evenly through the car, and creates package efficiency. Car designers will have to mull over the placement of the batteries, especially in the electrified version to ensure impact durability and distribute weight. Given that brakes can also generate electric energy in an EV, design will play a critical role, especially for optimising speed level for an easy ride on the highway.
All of us saw the TaMo RaceMo last year and got really excited, any progress on that and when can we expect a road going version inspired from it anytime soon?
Ans- The TaMo RaceMo is an extremely important and exciting project for us, which made its global premiere at the Geneva Motor Show 2017. We are very eager to bring the car to India however, it is too premature to comment on the timeline for its commercial launch. We will make an announcement at a more appropriate time.
How much of a departure is it in terms of design from a hybrid to a fully electric car?
Ans. There is usually not much of a difference if both cars are designed on an IC car platform. However, if they are designed on a specific platform then there can be significant differences.
Tata's IMPACT design philosophy has been changing the buyer's perception towards the brand, what new products can we expect in the coming year with the same design language?
Ans- Design today is being used as a strategic differentiator to draw customers into a brand. Customers are more inclined towards making a decision on an emotional level as opposed to a purely functional or rational approach. Cars that reflect the personality and aspirations of the customer will tend to outsell those which have been designed to only fulfill a functional need. Each brand has to also make a stronger statement in the market place to stand out and be heard. Companies are now investing in ramping up their design capabilities in India. These are at different levels currently, but we foresee an overall high level of competence developing in the next 8-10 years.
The cars manufactured earlier were generic, boxy and mostly uninspired car design as consumers were insisting towards safety and fuel efficiency. With the evolution of market, automotive design became a  key consideration of aesthetics during the product development. The last few years saw a strong demand of car design in all shapes, forms, and styles. Our IMPACT design philosophy charted a new course for us in designing compelling products with an added delight quotient. Our renewed focus on design is helping recapture the consumer's attention and strengthen our brand proposition which is clearly reflecting in our new generations products like TIAGO, HEXA, TIGOR and NEXON. With the NEXON, we decided to challenge the traditional approach. We instructed our designers to combine strength and dynamism without losing practicality by breaking the boxy proportions. The NEXON is creating the perfect noise with its stylish looks and compelling design, the reaction has been phenomenal.
Embarking on the success of the impact design philosophy we are now moving to the next phase with the IMPACT 2.0, a sharper, more contemporary expression of the now recognisable Tata Motors' Design language. The cars that will be showcased in Auto Expo 2018 will be under this second phase of its exciting design philosophy.
Do Tata and JLR share resources internally to work around the design philosophy of Tata products?
Ans-While the teams are different, we continue to interact with JLR to incorporate the learnings in processes and innovations for appropriate solutions.
Any final words on the future of cars, connected and autonomous cars?
Ans- Globally, the automobile industry is witnessing a rapid change in customer expectations. As the technology and automotive worlds merge, preferences are rapidly shifting from traditional choices towards more advanced and feature centric ones. With the emergence of newer technologies, we expect gradual shift in the operation of automated cars, from Advanced Driver Assistance Systems (ADAS) to fully autonomous. It is very clear that cars featuring autonomous systems will become an increasing part of our mobility experience. However, the proportion of driverless vehicles will increase gradually and around specific applications and locations. For many years to come, there will continue to be a mix of autonomous and conventional vehicles. The major challenge to take forward autonomous vehicle technology in India is the availability of data characterizing the traffic and infrastructure conditions. The data collection is underway but will take some years. Even the creation of relevant driver assistance systems depends on robust data regarding the application conditions. At Tata Motors, we are actively undertaking R&D work on advanced driver assistance systems (ADAS) as well as full vehicle autonomy. As part of our showcase of future ready concepts, Tata Motors' European Technical Centre (TMETC) hosted a demo of the Tiago Autonomous and Hexa Autonomous in UK.
While riding in an autonomous vehicles, the sense of confidence in the technology builds up quickly to give an enjoyable experience. The demonstration and public experience of safe use of autonomous vehicles over some years will re-assure people that the technology is safe and reliable. One of the key arguments for autonomous control is the expectation that fewer accidents and risks will be faced by people when majority of vehicles are controlled this way.  However, the overall safety of autonomous vehicles depends on many external factors to the car – for example what proportion of all vehicles are autonomous and the quality and design of road and traffic infrastructure."