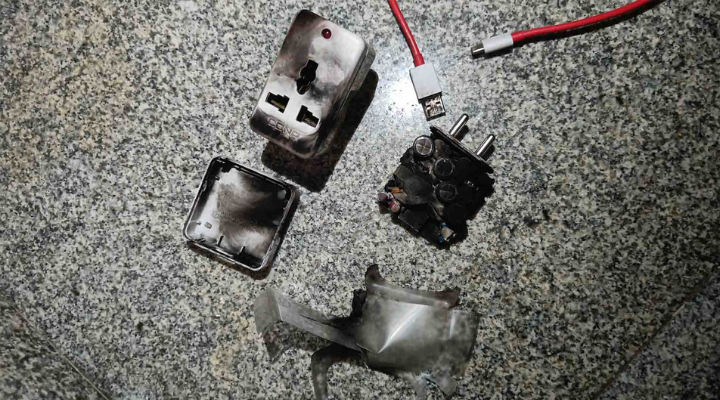 OnePlus Nord 2 5G charger is back again in the headline with another harrowing user experience, which puts the company in a tight spot. The incident happened with a Bangalore-based software engineer, Jimmy Jose, who connected his charger to a socket for quick charging, which unfortunately resulted in a huge blast. The concerned user tagged the Twitter profiles of OnePlus India and OnePlus Support in a series of tweets and explained what exactly happened?
Previously, Delhi-based lawyer Gaurav Gulati had claimed that his OnePlus Nord 2 smartphone exploded in his gown. The incident happened when the lawyer was sitting in his chamber, and when he complained about the same to bring the company's attention to the incident, he was left stranded. Going further, he filed a lawsuit against the OnePlus, to which the company sent him a cease-and-desist notice, stating that he has been defaming the company by posting false statements on social media.
In both the cases and even during a similar incident that occurred in Bengaluru a month ago, where a OnePlus Nord 2 5G exploded in a woman's sling bag, the company said that the explosion happened due to external factors and not due to any manufacturing or design defects. In the case of Jimmy Jose, the OnePlus technician said the incident occurred due to an issue with the socket or a voltage fluctuation and promised to provide a replacement charger.
"We take any claim like this very seriously. The user has handed over the damaged OnePlus Charger to our service centre and has been offered a replacement. OnePlus chargers contain built-in capacitors which control and store energy. In this case, after a thorough analysis, the capacitors have remained intact concluding that the blast has been caused by external factors such as voltage fluctuations." OnePlus mentioned in a statement and strongly urges users to follow safety precautions and warnings specified in its user manual.
Meanwhile, in the case of a Delhi-based Lawyer, the company said that it couldn't perform a proper diagnosis as the user refused to give them the device and sent a legal notice to the lawyer to give self-contradictory and false statements. Overall, the company refused to accept that all three blasts were caused by manufacturing issues or design defects and blamed it directly on external circumstances such as voltage fluctuations caused by the rainstorm, not taking certain safety precautions and warnings specified in its user manual.