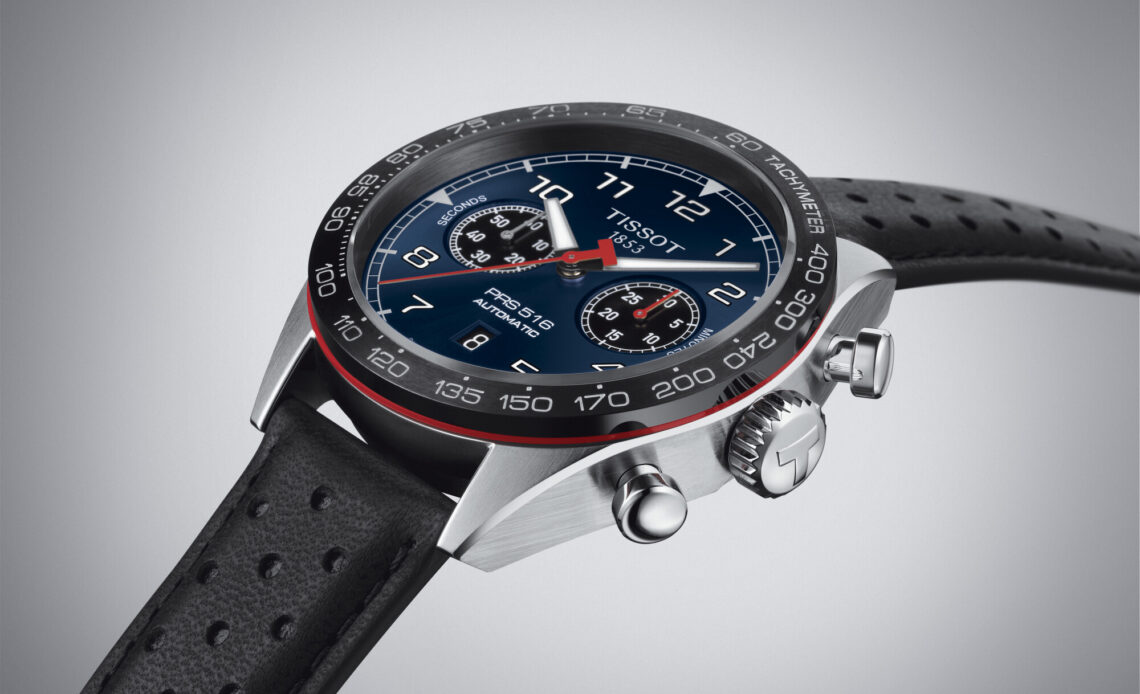 Tissot has recently released a set of new watch series such as Tissot PRS 516, Tissot T-Race Cycling, and Tissot T-Race MotoGP. 
Tissot PRS 516
Tissot watches have long embodied high performance on the wrist and the track, but the PRS 516 is the race leader. Its story began in 1965 when Tissot developed a pioneering watch designed to meet the unique demands of gentleman drivers. The new PRS 516 range stays true to the iconic vintage design and adds a dash of state-of-the-art mechanics. The PRS 516 Automatic Chronograph borrows from the iconography of motorsport with its piston-shaped pushers and chequered case back, while its Valjoux movement will appeal to connoisseurs of watchmaking. Tissot PRS 516 have the same attention to detail as required in top-level racing. 
Tissot PRS 516 Specs:
Tissot T-Race MotoGP Series
"The best advice that I have ever had is simple: to enjoy what you are doing, and do it with passion," says Mark Marquez, the six-time MotoGPTM World Champion. Inspired by his heroics, and the thrills of his sport, Tissot has produced three unique timepieces – the Tissot T-Race MotoGP Automatic, the T-Race MotoGP Quartz, and the T-Race Marc Marquez. The watches are crafted with the same detail and expertise shared between watchmaker, motorbike mechanic, and world champion rider. The newly redesigned Tissot T-Race MotoGP Quartz has a purer style with a 70s vintage touch. Important motorcycle details remain of course, such as the brake disc design, a grooved middle band on the case side that is reminiscent of the cooling fins of an engine, and handlebar-style pushers.
Tissot T-Race Series Specs:
Three-time Vuelta an Espana winner and Olympic champion Primož Roglič. "I try to be in the moment. I give absolutely everything to make the most of that moment." The 2022 edition of the Tissot T-Race Cycling timepiece blends a more classic look and design than its predecessor, while still inspired by the sport. Pushers reflect brake levers while the hands represent spokes. The lugs are levitated to reference the lightness of racing bike frames, the crown and case-back are reminiscent of the cassette, while the middle ring of the watch's case is made of carbon. A leather perforated aspect that reflects the handlebar grips of Tour bikes has been added to the rubber bracelet.
Tissot T-Race Cyclin Series Specs