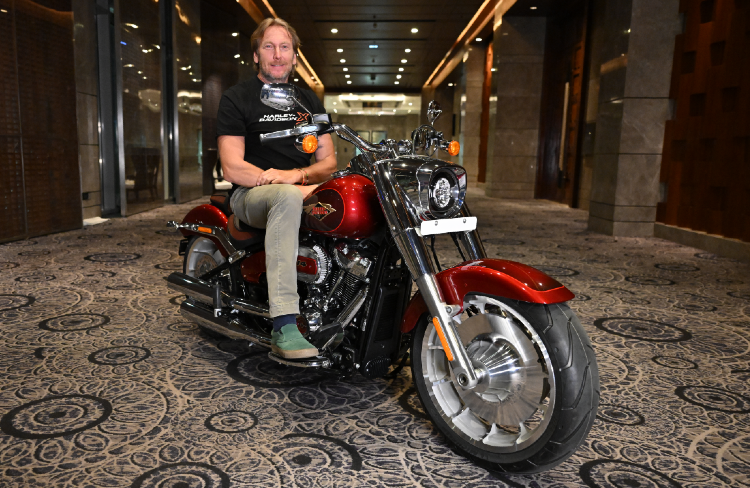 Did you know that Puma was once on the verge of bankruptcy, and one gentleman steered and helped make it profitable with sales of 4 billion USD? Leading to its stock price skyrocketing by 4000 %!  And that man is Jochen Zeitz, now the President, CEO and Chairman of Board of Harley-Davidson Inc. which is also powering the LiveWire, its flagship EV brand. Harley-Davidson is an iconic brand with a cult following and undoubtedly the most desirable motorcycle brand in the world by any measure. Ramesh Somani caught up with him exclusively on his first visit to India as the CEO of Harley-Davidson.
RS – Harley-Davidson has stuck to its roots ever since. How has that changed with the changing lifestyle and the changing landscape? How are things shaping up globally for you?
JZ – We've been around for 120 years. We've seen a lot of changing landscapes, and so there's always the next generation that you need to get excited to ride motorcycles, which is why we've introduced the X440 in India to introduce the next generation of riders to the Harley life, before they graduate to bigger Harleys.
---
RS – So, Harley's journey has had many strategic overhauls, right? From Rewire to Hardwire but has the brand finally found its game?
JZ – Over 120 years, you need different strategies to succeed. It cannot be just one strategy. And the Rewire was setting us up for Hardwire. It was in the 2020 pandemic where we had to close our factory, like everybody else. And I felt it was necessary to rewire the business. build a new foundation based on which we could then launch a new strategy, which was the Hardwire. So, the Rewire was the precursor of the Hardwire strategy, and it's really focusing on our core segments and our core ridership, contemporary riders, and traditional riders, but also expanding into new categories. So, again, every era needs its own strategy, and I felt the Hardwire was the right strategy at the right time.
---
RS – Harley-Davidson is also a lifestyle company. And does your lifestyle vertical work better or, overall, the cult following? Does it really play up and complement each other?
JZ – I think it's very important. We do a lot more than building machines. We stand for the pursuit of adventure and freedom for the soul. So it is a lifestyle, right? It's not just riding a motorcycle, it's riding a Harley-Davidson. And that in itself is a very different experience. And it's a lifestyle that our riders express when they ride a Harley-Davidson.So building and nurturing that ecosystem of ridership and being part of a community is something very special that very few brands in the world can claim their own. A lot of other manufacturers have tried to imbibe that culture.
---
RS – Yeah, but Harley is Harley. I don't think anybody comes close, which is great. I mean, you have such a powerful brand. It's one of the most aspiring brands in the world!
JZ – And that gives us the opportunity not just to sell motorcycles but also to expand into apparel, parts, and accessories. We are the most customized motorcycle brand in the world. You express yourself; it's almost like creating a piece of art. You express yourself with how you customize your bike, how you paint it, and what accessories you put on the bike. So that customization, again, is something that is truly unique for Harley-Davidson.
---
RS – On a very rough estimate, if you have to denote a ratio to your motorcycle sales with your lifestyle vertical, how would the math add up?
JZ – Our core business is always going to be motorcycles, but we also believe that the brand can reach out to fans and aficionados that associate with the lifestyle of motorcycle riding and might not ride yet because it's such an aspiring brand. And that's the opportunity to reach out to those customers with apparel, footwear and other products. So why shouldn't we do that? Building that audience and broadening the audience of riders and non-riders alike is something that every brand needs to do, but the core of the business is always going to be motorcycles.
---
RS – Harley-Davidson has always been associated with the rumble of a V-Twin and today with X440 and the ongoing electric revolution, do you think this will dilute the brand in some way?
JZ – No. That's why our engineers and our designers made very sure that the X440 looks, sounds and feels like a Harley-Davidson. So the design was developed by our designers in Milwaukee. We work very closely with the engineers to make sure that the vibration, the sound, and how the bike behaves comes very close to Harley. But, of course, it's a different segment. It's a 440; not a 1250 CC. There is a difference, but I think once you hear the bike, once you ride the bike, there's a lot of Harley inside.
---
RS – Harley is associated with the sense of freedom, spending long hours on straight roads but with this ongoing electric revolution, do you think there'll be a sense of anxiety more than the sense of freedom? Given the constraints of charging infrastructure and charging time?
JZ – We decided to launch a separate brand for that for many different reasons. One is that the charging infrastructure will take time. Fast charging will take time on a motorcycle. It's not like a car where you have a lot of space to put a big battery pack that can be charged fast. While developing a touring bike with a significant range, the lack of technology proves to be a hurdle. But we wanted to be the leader as a company, which is why we launched Livewire as a separate brand that is leading the electrification of the sport and that's separately listed at the New York Stock Exchange and then fast forward 10, 20, 30 years… certainly, there will one day also be an electric Harley. But the technology needs to advance a lot for us to achieve it in the core segments and make sure that the look, sound and feel of Harley-Davidson are retained.
---
RS – Harley-Davidson has always been the centre of pop culture, whether it's the 'Sons Of Anarchy' or 'Terminator'. With these small displacement and electric motorcycles, will we see that in the future? Like overall, in your scheme of things for the X440?
JZ – Well, it will be interesting to see who is going to cast our motorcycle in Bollywood movies with other influencers. I'm sure we will see a lot. We want to also get more female riders into the Harley-Davidson lifestyle, which can be achieved with the X440 because it's the perfect motorcycle to start riding. But at the same time, it is so much more! For instance, I was belting the X440 at 125-130km/h on the racetrack today and that proved that this little bike does have some serious guts. And I'm sure it's going to be an appealing proposition for a lot of riders, starters, beginners, but also advanced riders.
---
RS – So you never know, right? What might come around?
JZ – No. And I think we've landed a really good product and that we'll find a lot of fans. And again, just like I started on 500 when I was young and eventually went into the big bikes, I think this is a great stepping stone. But in itself, it is an already very fulfilling product which is going to be a great companion for your adventures.
---
RS – Harley and technology have never been the best of friends. But with the ongoing technological revolution, do you think things are changing?
JZ – Well, I'd say we are innovating quite a lot. Revolution Max, for instance, is a very innovative engine with our variable valve technology. I think in safety aspects, we are also investing a lot. And if you look at the new CVO that we just launched, there is just pure technology in that bike from the software from our new engine. It has all the technology you really want in a motorcycle. You should always start bringing new innovations to your flagship products, and from there on, the infused technology can trickle further down.
---
RS – Enough of all these questions, but tell me, which has been your favorite Harley-Davidson?
JZ – I don't have a favourite, and picking just one is near impossible. I have a lot of Harleys in my garage and it feels exactly like having multiple kids.
---
RS – Which was the first Harley-Davidson you ever bought or rode?
JZ – It was a Low Rider, which I still have, and then it was a V Rod, and then it was all kinds of different ones!
---
RS – Do you see some shifts happening globally in riding? Anything that you want to shed some light on?
JZ – Well, I think we want to get more and more people to ride. If you are not a rider, you don't know what you're missing. And I think we've just launched our membership and loyalty program in the United States. Getting people early on to associate with the brand, whether you're a rider or not a rider is what we are aiming for. And really, building that community is very important to us. Because once you have a community, especially for a bike that you take out for touring, you want to be with friends; you want to be with your family. And getting more and more people to ride is really important.
---
RS – Was it difficult to graduate from Puma, handling that brand to success and then suddenly getting into a cult brand which is completely offbeat? Was it very difficult to adjust?
JZ – Well, every brand is special. I like building brands and influencing brands. And I had a great run at Puma for almost 20 years. That was an extraordinary experience. And then, I was focusing more on my philanthropic learning from their philanthropic endeavors. I joined the board of Harley-Davidson and then in 2020, I was asked to be the CEO. I said well, you don't say no to Harley-Davidson, right?