Ex. You have made a name for yourself in the hosting space. When did you first know you had this in you? 
Siddharth Kanan: My Amma (Radha Kannan) and Appa (V. Kannan) were ahead of their times and always encouraged me in debates, elocution & sports.
In fact, my father used to write my debates and train me in how to say my lines. Since then, I had an inner feeling that I would not choose a conventional field in the long run.
I started very young, at the age of 14. I am in the Limca Book of Records for being the youngest RJ in the country. So, I guess I was always made for this. And since I always think that I am a mazdur in my head, I keep working hard and evolving every day.
Ex. You have interviewed almost every celebrity in the county. Who according to you is the most interesting personality among all?
SK: Honestly, I can't pinpoint one person, since I have done thousands of interviews in my career. But I have been inspired by the biggest superstar our country has ever seen, Mr Amitabh Bachchan. His work ethic, his discipline, how he is the first person to reach the sets always, constantly learning and reinventing himself. My interviews with him have always been motivating, and inspiring and I get a renewed vigour after interviewing him. In fact, he always says that I get him to share anecdotes like never before.
Ex. Who is the easiest and the most difficult to talk to?
SK: I would like to rephrase this question. How do you get your celebrity to bring out their most unheard stories? Well, there goes a lot of research behind it. Whenever I speak to a celebrity, even though he/ she has been a friend for years, when I speak to them, I think like the audience. I want to know what the audience would want their favourite star to talk about. What would the audience like the celebrity to confess about? And when you think like that, the magic happens. And that's been my mantra since the beginning of my career.
In fact, I feel the audiences feel 'I am their voice' and relate to me and my chat shows. Maybe that's why I have crossed 1.12 million subscribers, 350 million views and have loads of trending videos on youtube throughout the year.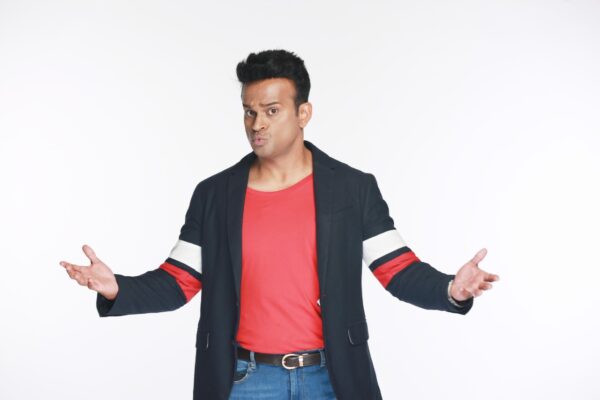 Ex. Hosting is a difficult arena to step into and requires an excellent presence of mind. Do you feel anxious before stepping up on the stage?
SK: My parents have taught me to not be 'Scared to Lose'! Hence, I am fearless in my approach. I have a tremendous amount of inner confidence and self-belief. The only thing I have always been hopeful of is giving the best show each time to the audience and giving an experience to them that they have never seen or felt.
When the audiences feel on top of the world, I feel the happiest. I am extremely well prepared for my shows, and my team and I work throughout the year on my content, I am well-read and have been blessed with spontaneity.  I feel like a student every day of my life, hence I do not take a minute of mine for granted and maybe that's my shows have been extremely successful and am blessed to booked throughout the year with brands and agencies and have clients who keep giving me repeated business
Ex. What are the apps that you use the most?
SK: Instagram and YouTube
Ex. How tech-savvy are you? What is the most expensive piece of gadget that you own?
SK: My iPhone 13 Pro Max and Apple MacBook Pro
Ex. What is that one event you dream of hosting once in your life?
SK: I dream of an event where millions and millions of people are watching me and I have touched every single person's life in that event with humour, inspiration and soul.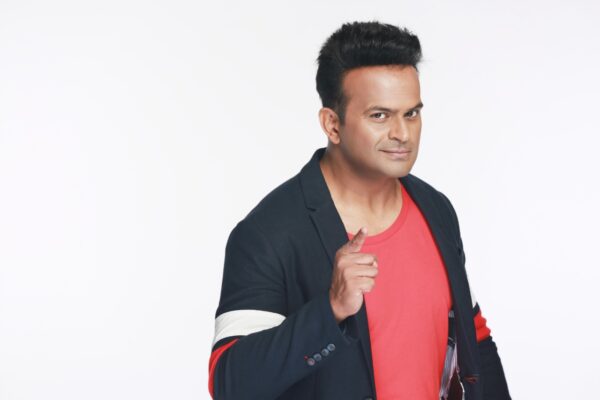 Ex. How has worked for the radio changed and shaped you in your professional journey?
SK: Radio shaped my professional career in the biggest way. Even though I have left the radio and have gone independent, I still owe a lot to the radio! Radio taught me to be spontaneous, think on my feet, and be real. When I started radio, there were no radio software, so I learnt the art of 'One Take' which means there was no chance of retakes. The ability me doing scripts in one take and ad-libbing has helped me in events, digital content, voice-overs and in every walk of life.
Ex. One thing that you often say to your guests is, 'tu mera bhai hai'. Who exactly in Bollywood is your bhai in the true sense?
SK: I have been around for a long time. My biggest asset is my relationships with people which have withstood the test of time…hence, I have made loads of solid relationships within and outside the industry. People have faith in me and value my ethics and believe in my integrity.
I am proud to say that I have a number of people in Bollywood that have a love for me and vice versa but I choose not to name them because those friendships are extremely dear and sacred to me.
Ex. Tell us something about yourself no one knows about.
SK: I might look very outgoing, flamboyant and bindass but there is a huge part of me which is very emotional and sensitive and only the ones very close to me know and see that side.
Ex. What was the last time you were surprised or shocked?
SK: Nothing shocks or surprises me. The only thing that I look forward to each day is a great experience! I am an eternal optimist!
Ex. What is that one book you recommend?
SK: I recently read The Secret. And I love Suits, the show. Highly recommended.