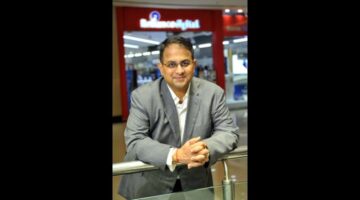 Ex: What is one truth you believe in that most people disagree with you on?
Kaushal: Personal growth is as important as professional growth. We have to create a work environment where we positively impact individuals' character and make them better human beings.
Ex: What is the one subject you think aspiring leaders should learn?
Kaushal: Emotional Intelligence. This is what helps you successfully coach & manage teams, deliver feedback, and collaborate with others. A good leader should be masterful at managing their relationships in a positive way.
Ex: One thing you believe is absolutely necessary for sustained growth
Kaushal: Our chairman, Mukesh Ambani has said that a business must serve a larger societal purpose, and as long as everyone in the value chain benefits, there will be sustained growth. For us growth is life and we have to keep growing at all times.
Ex: Leadership quotes that you live by.
Kaushal:  ● "Think Big, Think Fast, Think Ahead. Ideas are no one's monopoly "– Dhirubhai Ambani
● "Relationships and trust. This is the bedrock of life." – Mukesh Ambani
● "I never dreamed of success, I worked for it." – Estee Lauder
Ex:  How difficult is it to maintain a work-life balance?
Kaushal: I wish I could say it's easy, but it's not. It is absolutely necessary though. Work and life have to go hand in hand. A balanced personal life aids a good professional life.
Ex: What has been your biggest learning in the pandemic?
Kaushal: Life comes first. Health, safety, mental health – these are top priorities. Life can be uncertain. On the professional side, adversity presents different opportunities.
Ex:  Some productivity apps and technologies you use in your daily life?
Kaushal:  Jio Mags – a great app to have all my readings in one place, MS Teams, Breathe, Audible.
Ex:  How do you see the physical retail world shaping up post-COVID?
Kaushal:  I feel things will get back to normal once the vaccine is widely available. But this has surely impacted consumer behavior. Technology in-store will play a big role. Stores will have to be realigned to being as contact-less as possible, adequately spaced out for key demonstrations & be less intrusive as well.