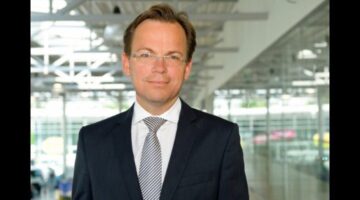 Ex: What has been your biggest learning in the pandemic?
Steffen: We've taken simple pleasures of life for granted, which now thankfully some of us realize and value. Being able to take a walk outside, go for dinner with your friends, these are real pleasures of life
Ex: One futuristic feature that you can't wait to introduce in your vehicle.
Steffen: I am eager to launch remote parking. To move your car via remote control in the garage would be really comfortable.
Ex: Which old-school car/bike design inspired you the most?
Steffen: I loved my 1972 Buick Lesabre I had when I was studying in the US. For me, it was a synonym for freedom and the American Dream.
Ex: How long till Volkswagen enters the self-driving car segment?
Steffen: Volkswagen is a global company and is doing technological advancements on an everyday
Ex: What is one truth you believe in that most basic. Our organization has transformed itself people disagree with you on?
Steffen: from just being an automobile manufacturer Getting up early to find time for yourself is the first step to a software developer. Having said that, a lot of success in life. of developments are at a testing or pilot stage globally and it will be early to comment on
Ex: One thing you believe is absolutely necessary for future technologies and advancements. for sustained growth.
Steffen: You need a plan including a compelling vision  Like the Volkswagen Polo Cup, will, and mission. This is a necessary framework for the company hold an electric car racing organization to stay focused.
Ex: You then have to define a championship in the future in India?          Steffen: a clear set of KPIs to monitor the progress and identify We've been conducting motorsport potential corrections you have to take.
a championship for over a decade with the Polo and we still consider it to be in a nascent stage,
Ex: When will you say you have fulfilled all your in India. Due to the availability of limited racing goals?
Steffen: tracks, it's a relatively expensive sport in India You have fulfilled your goals if your team is convinced and is gradually growing. However, electric car about your plan. The moment you reached that level racing is a different scenario altogether. First, the momentum kicks in. You will see people standing
need to develop the infrastructure to be able up, becoming their own leaders, and leaders for the to bring road-worthy electric vehicles before the organization. venturing into motorsport.