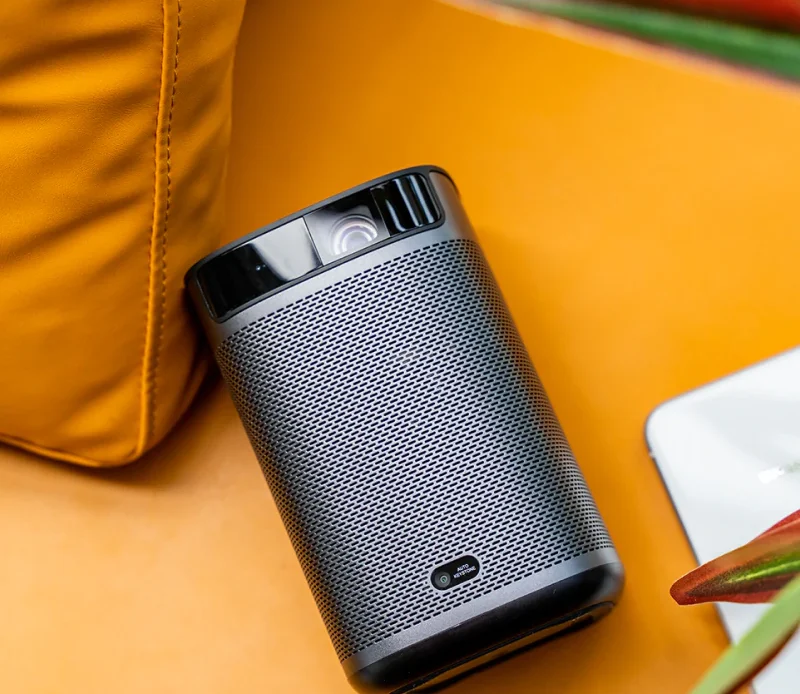 A feature-packed versatile portable projector which actually lives up to expectations and sometimes, even more.
–The biggest limitation in the portable projector market right now is that there are a lot of options to choose from, but not all deliver performance as advertised. One quick search on the internet will reveal a plethora of inferior results, many impersonating as 720p, 1080p or even 4K projectors when their true display resolutions don't even score close. All those who aren't as tech-savvy, therefore, end up getting tricked into buying something that's more of a kid's toy than an actual home entertainment device.
The world of portable projectors is fraught with tawdry plastic tat. You'll find countless Amazon listings for small cuboidals that claim to "support HD" with a brightness similar to any cinema projector that costs ten times the price." Lumens" or "lux" is an entirely made-up metric. Instead, you need to look for "ANSI lumens", which is a standardized metric.  This is why we're rather skeptical about approving any review of a portable projector. Thankfully, the Xgimi Mogo Pro+ is not one of those.
Xgimi, unlike other brands, does not lie about the brightness of its projectors. It's about one-tenth the luminance of a similarly priced home cinema projector, and we appreciate this honesty. XGIMI is a brand that has yet to create a distinction that the likes of Epson or BenQ carry when it comes to business projectors. And yet, despite its relative anonymity, this brand has won the prestigious Reddot and IF design awards several times.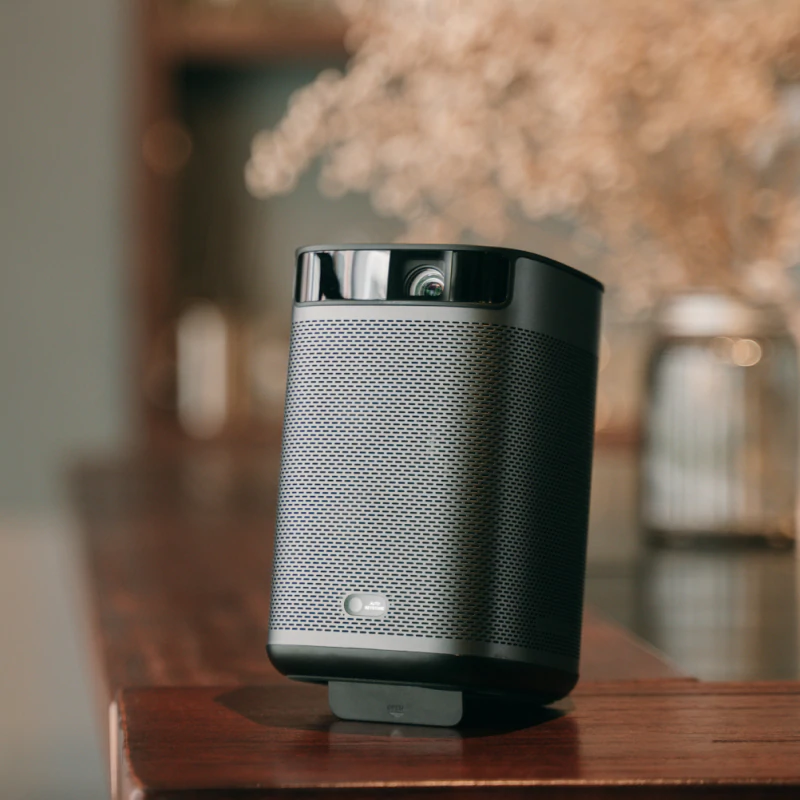 Design :
Measuring just about 5.8 inches of height, with curved edges and a cuboidal profile, and weighing just under a kg, the Xgimi Mogo Pro+ is a truly portable device.
The top houses basic touch sensitive play/pause, volume up, and volume down buttons which  are very responsive – a light tap is all it takes. You have to press and hold just to turn the device on or off.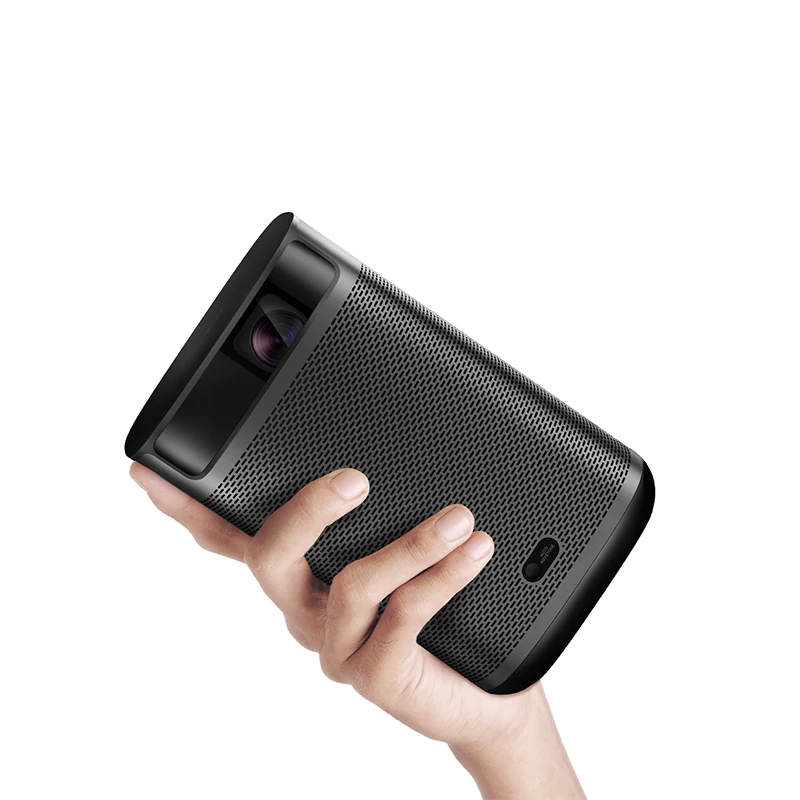 The top frontal frame consists of a glass panel which shields the projector lens housed inside. 
Near the front bottom is the Xgimi MoGo Pro+'s perception system responsible for its auto keystone correction and autofocus system. Beneath all that is an integrated stand that's beautifully simple yet extremely effective. When the situation calls for it, simply pop it back out and adjust it up to 30-degrees for the most ideal position. On this same panel is a 1/4-inch tripod female thread for mounting it on a tripod, but there's no carry case included. Onething which bothered us was there isn't any lens cover, which is a little more concerning for something designed to be carried around.

Features :
The XGIMI runs actual Android TV 9.0, and is Google certified.The remote even has a dedicated button to summon the Google Assistant, and the system is Chromecast compatible, making the process of casting content from your other devices pretty seamless.
In fact, setting up the device was not a hassle either, with a simple "set up my device" voice command on my phone. It all just worked, which was nice, and avoided having to use an on-screen keyboard on the projector, which is usually awkward and time-consuming on these kinds of devices.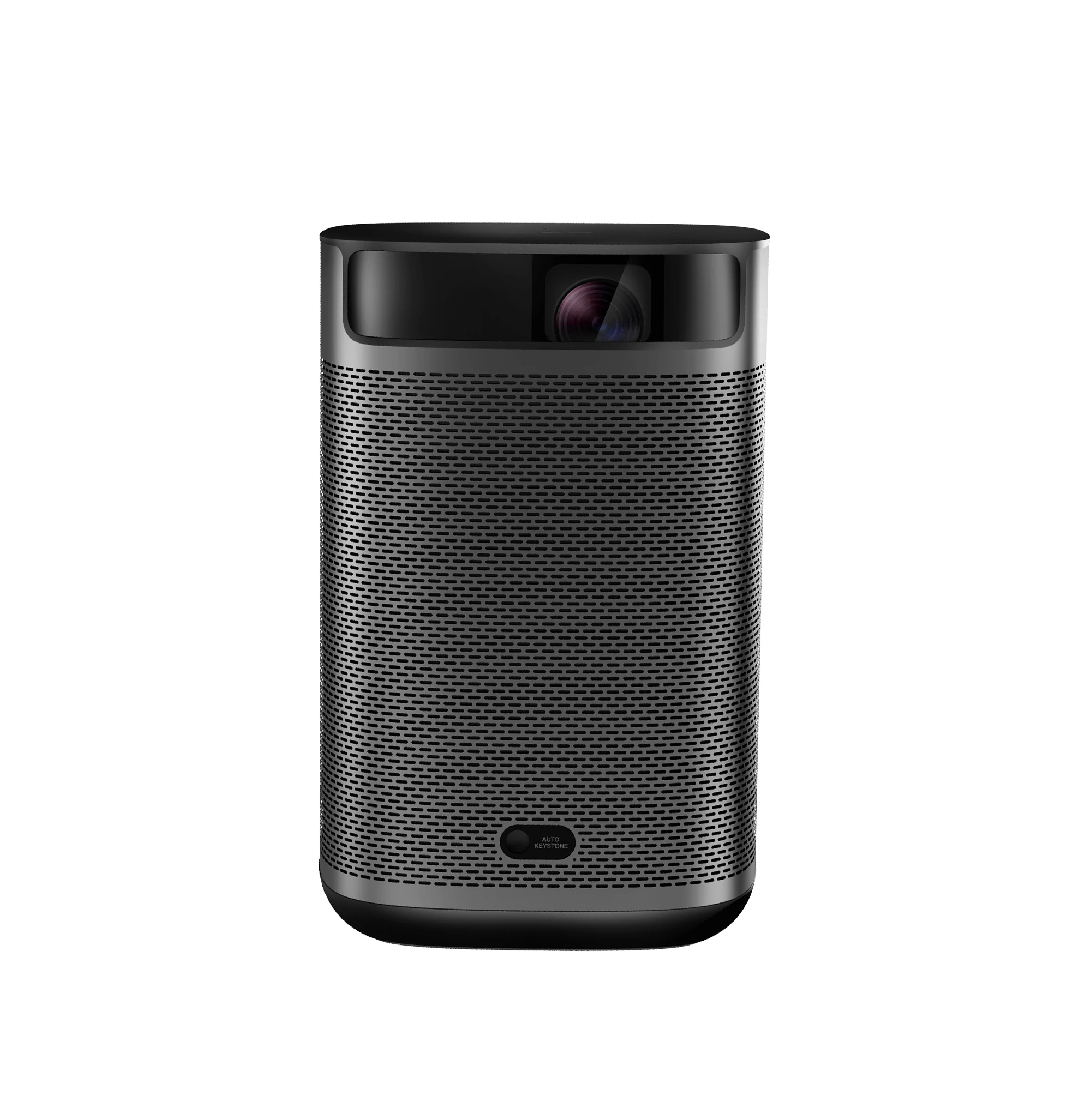 There are two video input ports here: HDMI and USB. The USB 2.0 port is tremendous for connecting the device to an external drive to play downloaded movies, even those in older video file formats. There's also a 3.5mm audio jack for hooking it up to a pair of speakers or headphones. While we're on the subject of connectivity, it not only has dual-band 2.4/5Ghz Wi-Fi for linking up to an existing wireless network, but also Bluetooth 5.0 for pairing it with other Bluetooth.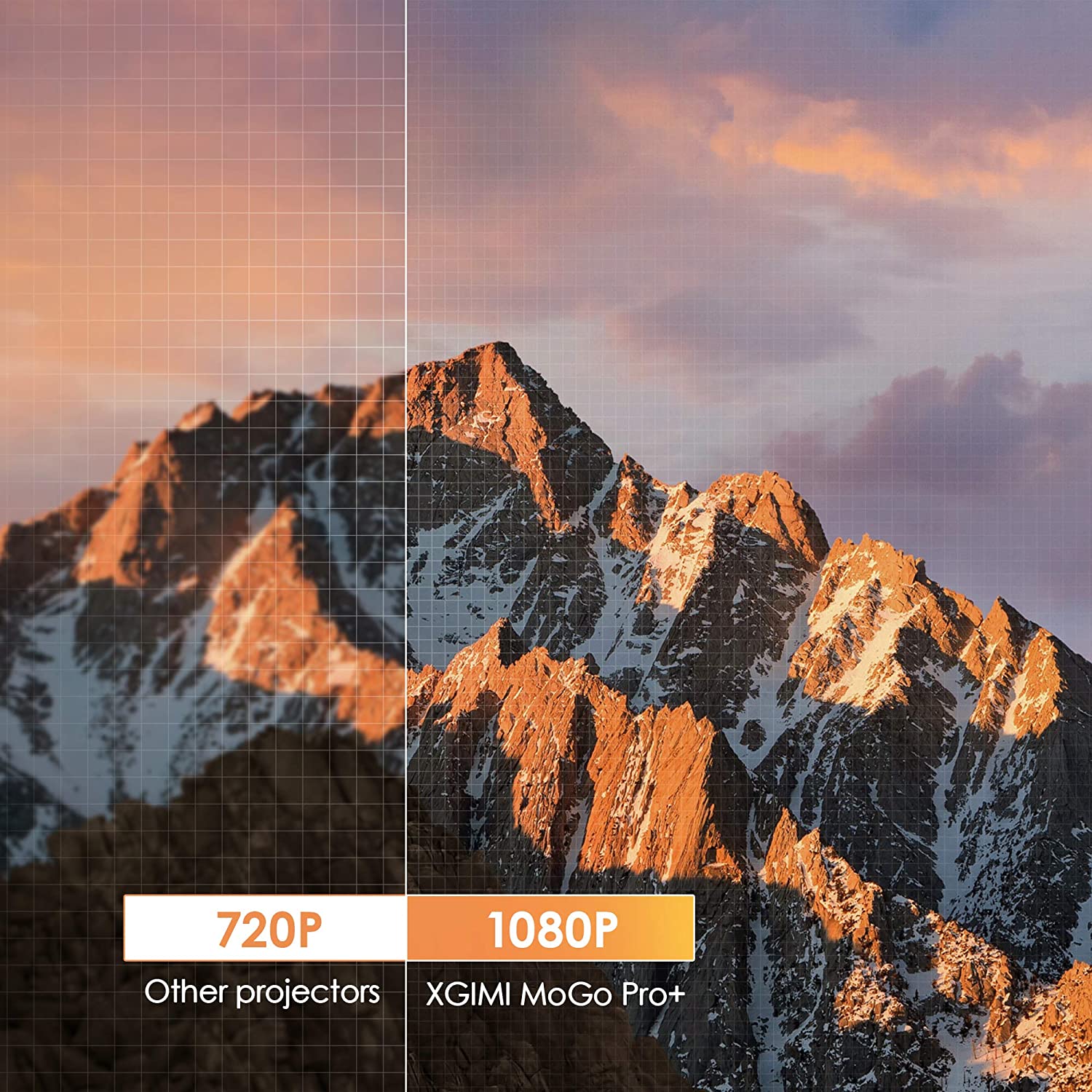 Auto-Focus and Auto-Keystone
Able to correct for up to 40-degrees of horizontal or vertical angle projection, the auto-keystone and the auto-focus feature worked well, and it kicks in automatically whenever it detects a slight movement or shift in position. You can disable this if you want, but there's no point to, as it is just an aided advantage. A micro-switch on the base of the remote control enables manual focus using the volume keys.
Throw Ratio and Brightness
As mentioned, the device claims to run at a maximum 300 ANSI lumens of brightness. The throw ratio—which is the relationship between the size of the projected image and the distance you place the projector from the surface—works out at about 1:1. Which is to say, if you want a 6-foot diagonal projection, you'll need to place the Xgimi Mogo Pro+ around 6 feet away from the screen.
Claiming to have a battery-run of around 3 hours, we for an extreme test, fully charged and ran the battery down by streaming live over Wi-Fi, at full brightness and full volume. The battery lasted about an hour and a half before forcefully switching to Eco brightness.
With Harman Kardon on the box, you expect some good quality audio. The laws of physics put a slight damper on that. You simply can't get deep bass from something so small.
The Xgimi Mogo Pro+ definitely gets loud enough for any impromptu movie night without distortion creeping in, and across the rest of the spectrum it sounds clean, crisp, and well balanced.
Supporting Bluetooth 5.0 or AUX stereo out, you're free to connect your favorite pair of headphones or external speakers for an even better auditory experience.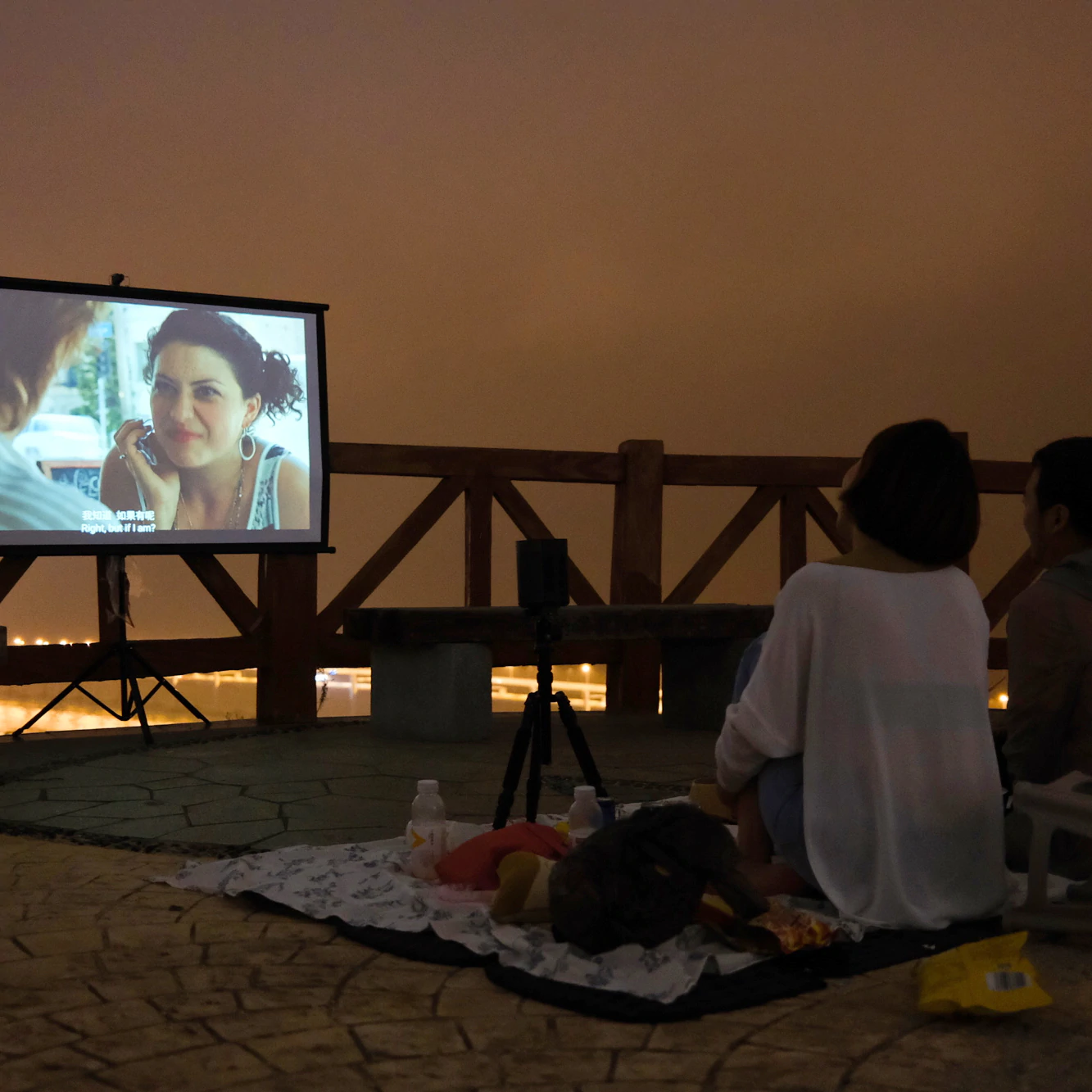 Verdict
If you're looking for a mini projector that you can take and play just about anywhere, have the money to spare, the Xgimi Mogo Pro+ is certainly one of the best in class options. The audio is clear and loud but lacks bass. The projection is bright and true HD and the software experience with Google integration makes it easy to use. 
Good
-Snappy and easy to navigate interface

-Auto Keystone Correction
Bad
Slightly expensive compared to the competition and no card reader.
Ugly 
Battery life is a little short and the speaker has Lackluster bass.
KEY SPECS : 
ANSI Lumens: 300

Connectivity: HDMI, Bluetooth, Wi-Fi

Throw Ratio: 1:1

Audio

: Dual 3W Harman Kardon tuned

OS: Google Android TV 9.0

Lamp Life: 30,000 hours