Blueberry, strawberry, milk coffee, or Kiwi? No, I am not asking you about your favourite ice cream flavour but instead about your preferred flavours of vape! We were celebrating the 25th birthday of a close friend on April's first weekend when I was taken aback by the clouds of smoke being casually blown away by my friends. While some were discussing the different flavours available in the market, others were simply passing around their electric smoke devices amongst each other to try every available flavour out.
This made me realise that gone are the days when your 'flavour' of choice with smoke was restricted to mint or clove cigarettes. Now, you can smoke Coca-Cola! (well, at least something that tastes mildly similar to it) The recent resurgence of vapes in the country and its popularity amongst youngsters is something that needs to be looked into as a major concern. We all know that the Union Cabinet banned the use of production, sale, distribution and advertising of vapes back in 2019 but they've now become as common as cigarettes and can be found in general stores at varying prices and of course, flavours. The sweet and icy smoke brings a solid kick of nicotine to your system relaxing you momentarily before you can pick up the vape again and hit it with all your might. The loop goes on till your vape either dies or runs out of charging triggering you to run around the market finding a new one or wait anxiously till your device is fully charged to puff up again.
The dependency on vapes and similar e-cigarettes amongst young adults and teenagers is evident. While India entirely banned e-cigarettes in 2019, a WHO survey has proved that 23% of smokers in the country are using them. This begs us to ask the question of whether vaping is a passing trend or a permanent addiction.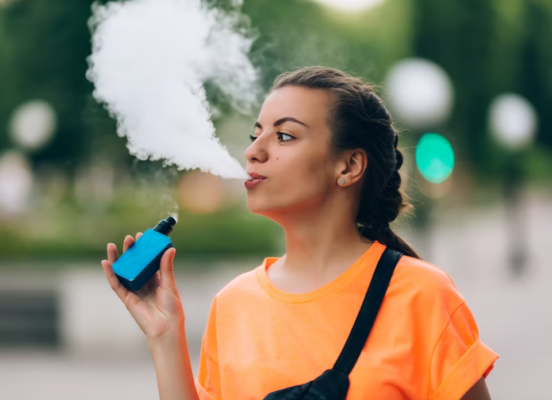 The area of concern deepens when you realize that vape devices have become the hottest new accessory amongst teenagers. Young kids between 11-15 can be seen puffing on fruity flavours while walking on the streets which is surely a troubling sight. A regular prop at social gatherings and even some school bathrooms, vapes have made their way into the everyday life of young teenagers. Smoking has always been an act of rebellion or a way to look cool for teenagers, I lit up my first cigarette at the age of 13 thinking it was the coolest thing to do. Thus, it's no surprise that young teenagers are now attracted to e-smoking devices that come with deliberately flashy designs and flavours like bubble gum, cola, strawberry, and more. 
Another grave concern surrounding the use of vapes among young people is the wrong perception that vaping is not harmful. However, there have been various studies that have proven that chemicals used in vape flavouring can cause lung injuries and the highly addictive nicotine can stunt brain development. Whereas, liquid vaporizing solutions also contain toxic chemicals and metals that have proven to have adverse health effects including cancers, diseases of the heart, and more. Social media and peer pressure are also driving forces for young kids to get lured into picking up the vape and puffing their days away. 
Additionally, vapes used to be difficult to manage back in the day. Vapes came with users having to manually fill in the liquid flavouring and charging the device before they could start puffing on it and refill the liquid from time to time. Today's vapes have become much more convenient with single-use and chargeable e-smoking devices which can be used easily. As of now, there are over 500 e-cigarette brands offering over 7000 flavours in the country as per government records. While vapes are often touted as the replacement for tobacco, ironically tobacco flavoured vapes are also available in the market now. 
Ultimately, it cannot be denied that the vaping generation is taking over. Be it movie theatres, restaurants, or public places, vaping is everywhere. If no strict action is taken against the rampant influx of illegal vapes in the country then it can soon become a matter of grave concern as the long-term effects of smoking e-cigarettes are not yet studied. Protecting kids from alcohol, drugs, and cigarettes was always a worry for parents. Now, parents, teachers, and the government stand against the hip appeal of smoking vapes.