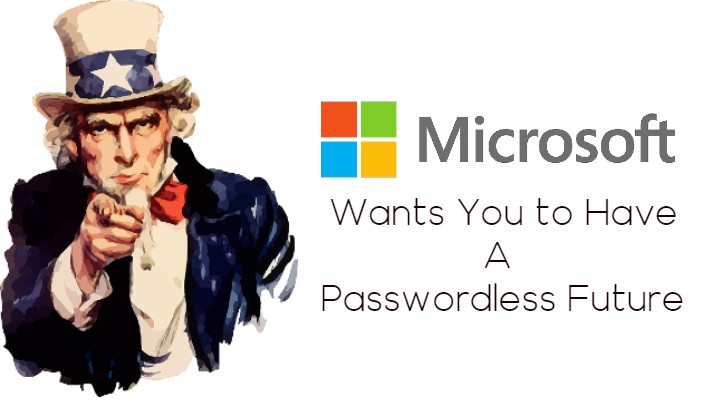 Passwordless future. Mugging up passwords and keeping them in mind is like learning maths and physics formulae in childhood. When the world is trying to have more secure systems, Microsoft has started a new concept – a passwordless future. So, won't you need any login credentials before logging into your user account portal? Will it be safe? Is this provision available for you? Just calm down and sit tight to get more details related to this new development. 
Hackers don't break in; They log in
Hackers are not such cool geniuses that you watch in Hollywood movies. I know some of you may admire the Matt Farell character from the fourth Die Hard movie. But that's the real story. Why? Let me share a stat with you, and you will know why. As per the current trend, globally, 18 billion password attacks occur. Break it down to seconds, and you will get 579. A whopping number, isn't it? But then why Microsoft is moving with such steps where security can be a huge concern for all. Let's know more about what Microsoft is doing. 
Microsoft Authenticator App
Microsoft has come with a Microsoft Authenticator app that will help you move towards this new idea that this company is currently selling to its users. So, what do you have to do? Well, you need this app, Windows Hello, and a security key or some sort of verification code. This code will go to your smartphone or to your email account to sign in to your favourite applications. 
Why did Microsoft feel this idea was necessary? 
Well, if you ask the concerned Microsoft data security department, there are two reasons. When you are trying to make a new password, there's a thought process that goes in your mind about whether it is secure enough or not. If you cross the Yes line, you will have the hesitation of whether you will be able to retain this new credential to your brain or not. In another instance, if you aim for passwords that you can remember, you make your user account vulnerable as it won't be secure enough. Apart from this, Microsoft has survey results where people prefer to stop using that application for which they have forgotten the password and don't want to go through the password reset process. Exhibit doesn't have the exact data, but in terms of proportion, it is 33%. 
How to use this application?
Open the Microsoft Authenticator App.

Link it with your Microsoft Account.

Now, open the login page of your Microsoft account. 

Select the

Advanced Security Options

. 

Under

Additional Security Options

, you can find the

Passwordless Account

option.

Tap on it.

Go Passwordless!
Final Remarks
Have an enduring experience with what Microsoft has offered you. Such a step will surely boost other applications to make a passwordless move for sure.