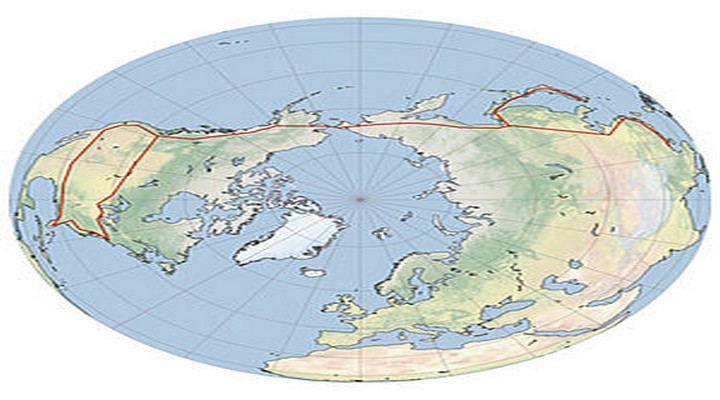 If you have ever dreamt of taking a long drive or going on a road trip, you must have probably pictured going to the tips of our country, or crossing the border into the neighbouring nation. But have you ever considered travelling halfway across the world without leaving the road? Well, it seems Russia plans on turning that dream to reality.
As per a report in The Siberian Times, Vladimir Yakunin has proposed a plan for a trans-Siberian highway. The Russian Railways president stated that the highway would link Russia's eastern border with Alaska, an American state. This highway crosses a narrow stretch of the Bering Sea, which separates Asia and North America. It would connect Russia with North America via Russia's far eastern Chukotka region, across the Bering Strait and into Alaska's Seward Peninsula.
It is called the Trans-Eurasian Belt Development (TEPR) and should be constructed along the existing Trans-Siberian Railway, along with gas pipelines and a new network of trains for oil. The highway is expected to run across the entirety of Russia and will connect with existing road systems in Western Europe and Asia.
Viktor Sadovnichy, rector of the Moscow State University, said the network would help the Far East and Siberia feel more in touch with the rest of the world. He said: 'Recently I returned from Khabarovsk, where I met with rectors of universities of the Far East – about 100 of them in total.
Russia's western and eastern borders are separated by almost 10,000 kilometres of land and is connected by the Trans-Siberian railway. It runs from Moscow to Vladivostok and covers 9,258 kilometers. If the highway connects Europe to the US, it should take about 13,000 kms for a road trip from London to Alaska via Moscow.
Now though the idea seems like a dream come true for many, it will take a long time to be realized. The project is expected to cost trillions of dollars and will be one of the most comprehensive projects around the world. Yakunin is supposed to be a close friend of Russian President Vladimir Putin, which could mean a national interest in this project. He also stated that the project would give massive economic returns that will compensate for the massive investment.
If and when this project turns to reality, it would be a massive opportunity for automobile enthusiasts around the world to exchange their cultures. While cross-country trips are possible and undertaken by a few fanatics, it is not feasible for most. The extreme costs of crossing the borders, coupled with exhaustive hours of driving and multiple weather conditions discourage many.