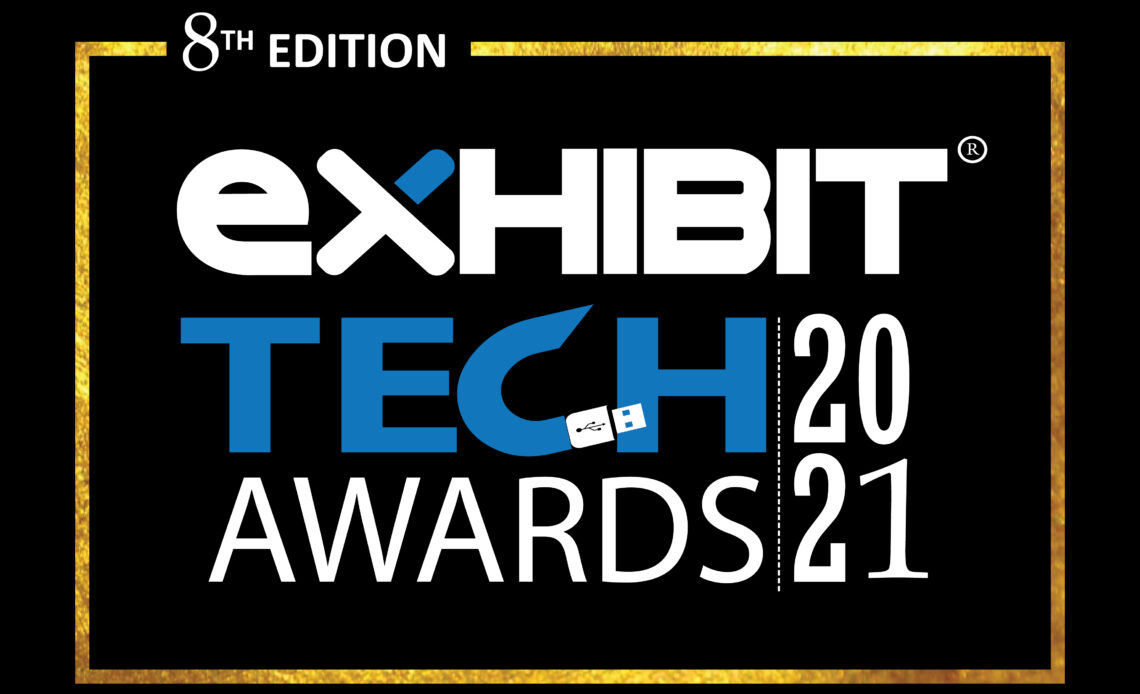 After what seems like an eternity, Exhibit hosted Exhibit Tech Awards 8.0 at Sofitel, BKC, Mumbai, on 16th December 2021. We started with selecting our nominations over two months ago. Our office is filled with ringing phones and endless mail trails—technology brands connected with our entire team to nominate their best products across all the categories.
When we spread the word on social media, we were suggested by many tech brands and their products by our trusted followers. The criteria were simple; the product should be available on sale in 2021 and ideally should be launched in the same year, matching our award categories. The pandemic had many brands slowing their launches last year, and thus some categories saw little to no launches in the past year. We aren't the government, and hence we bent some rules to allow these products to be nominated in their respective categories. 
Before we knew it, our team sorted products bombarding our office premises. From TWS earbuds to 85-inch televisions, the mix of products never fails to get our dopamine flowing. This is the eighth time we are hosting Tech Awards, but every time feels like the first time. Thanks to technology changing its pace in an ever-changing tech world. Newer products, newer brands and many unique products were just the start of the process.
A week of what seemed like a decade went by sorting the products that met our criteria. Finally, our nominations were in place, and the rest of the products were returned to their respective brands. Some categories like wearables and TWS earbuds had more entries than we anticipated. We had the best of our techies listen to the earbuds, test the wearables, and further shortlist the ones worth being the best of the rest.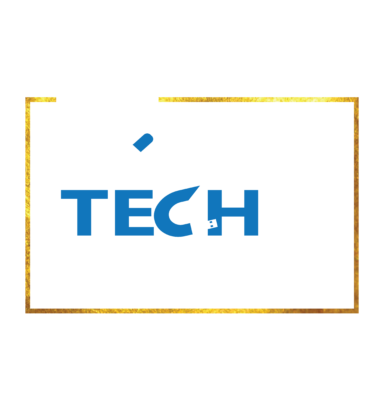 Our web, social media, editors and marketing team came together as a total unit to make these nominations live on our website. We spread the word through many posts on social media, articles on the web and several emails to the respective brands. Exhibit.tech hosted a dedicated page for all the nominations, with the ability to vote for all our visitors.
The rules were simple, sign up and vote. Voters were restricted to vote only once through each IP, email ID and phone number. We wanted the voting process to be as fair as possible. And, so it was. Although some companies did opt to share the voting links among their employees and tried to increase their probability, voters across the globe are a number hard to beat. We saw an overwhelming response, and our servers were clogged for a few minutes. Votings were kept live till 10th December 2021. We witnessed IPs from across the globe voting across categories. 
While the people of this world were busy voting their preferred products under each category, we had the best of professionals joining our jury panel. Meet our Jury – (Jury team and a few lines about each Eg. Arun Prabhudesai, a famous youtube tech celebrity in India with over 10.5 million followers) Our Jury brainstormed on the products nominated for a month. It was not an easy task with most Jury members located in other cities across India. Jury members risked their lives travelling, meeting and brainstorming the winners under each category.
Criteria for winning under each nomination was 60% decided by public voting and 40% by jury members. Many categories had nominees battling in a neck to neck competition, and the Jury had a hard time choosing one over the other. The Jury finalised their decisions on 8th December after hours of deliberation. Votes from the public and the Jury were counted, and our winners were decided.
Exhibit Tech Awards – The Event 
Sofitel, BKC, Mumbai, was looking ready on 16th December 2021 to host the Exhibit Tech Awards 8.0. Being an invite-only event had the registration personnel scrutinising the attendees with invites, masks, vaccine certifications and everything else to ensure that the event attendees and awardees were in a safe place. Thanks to management at Sofitel, BKC, Mumbai, everyone was accommodated on their respective seats under proper social distancing guidelines. Attendees from the world of technology, Bollywood, social media influencers, bloggers and many more brought liveliness to the event. After being seated, Exhibit Tech Awards 8.0 commenced on time, adhering to strict state guidelines. 
The open lawn at Sofitel, BKC, Mumbai, was our choice for the event, considering that temperatures are pleasant in Mumbai during this time of the year. Red carpet attendees were greeted and interviewed by Miss Nashpreet Singh. Before we knew it, our attendees included Mr Arjun Kapoor, Miss Tanisha Mukherjee, Miss Sanya Malhotra, Miss Ekta Maru, Mr Aryan Bajwa, Miss Claudia Cecelia and many more. A beautifully displayed Volkswagen Tiguan stood amongst the stars adding zeal to the event. The bar was open before the event started, and spirits were high. We started the show by greeting the audience, attendees, personnel, partners, and Exhibit group to arrange an outdoor event. The audience was filled with known faces across technology brands anticipating their brand and products to win. 
The event started with introducing the hosts, followed by Jury introductions. Before we move further, here is our Jury – Chief executive, Reliance Digital – Mr Brian Bade, fashion and style himself – Mr Shane Peacock, a popular youtube tech and auto celebrity – Mr Arun Prabhudesai, additional DG of police and cyber security expert – Mr Brijesh Singh, ace photographer – Avinash Gowariker, joint MD at Future Retail Ltd and a tech enthusiast – Mr Rakesh Biyani, the man behind timeless tunes – DJ Aqeel, tech and gaming youtube celebrity with over 22million followers and counting – Mr Ujjwal Chaurasia and last but not the least the founder and CEO of Exhibit group – Mr Ramesh Somani.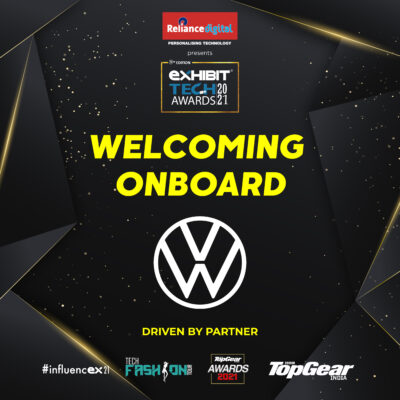 Mr Ramesh Somani facilitated the Jury members with their gift hampers. We also started by thanking our presenting partner – Reliance Digital, which has been our pillar since Exhibit tech awards 1.0; A big shout out to Volkswagen for coming back as our driven-by partner and the all-new beautiful Tiguan parked in all its glory, our celebration partner 100 pipers and gifting partner – Carerra for making this event possible in an ongoing pandemic. This was soon followed by a sneak peek of our past Exhibit Tech Awards mashup video featuring prominent brands and celebrities.
Nominations and Winners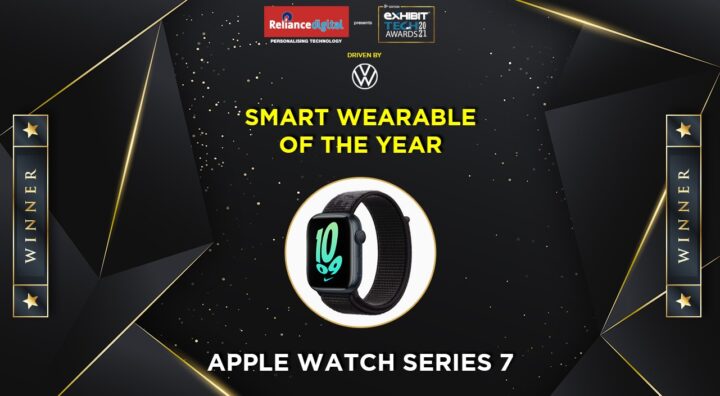 We started the event with Mr Shane Peacock announcing the winner of smart wearable of the year. The nominations for this category were Apple Watch Series 7, Realme Watch 2 Pro, OPPO Band Style and Noise ColorFit Pro 3. The winner for smart wearable of the year was the Apple Watch Series 7. 
Second up were the nominations for Home Theatre of the Year. The competitors were JBL Cinesystem 500SI, Sony HT-S40R, Yamaha YHT-3072, Zebronics – Zeb-Juke Bar 9800DWS Pro Dolby Atmos, and Samsung's Premiere. Mr Brijesh Singh, our honourable Jury member, presented the award to the winner for Home Theatre of the Year – Sony HT-S40R.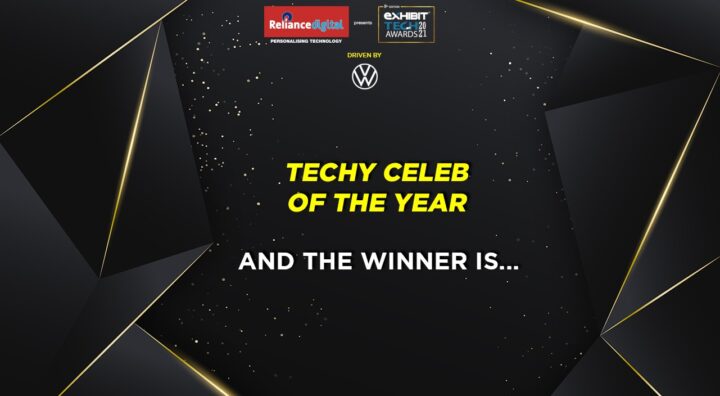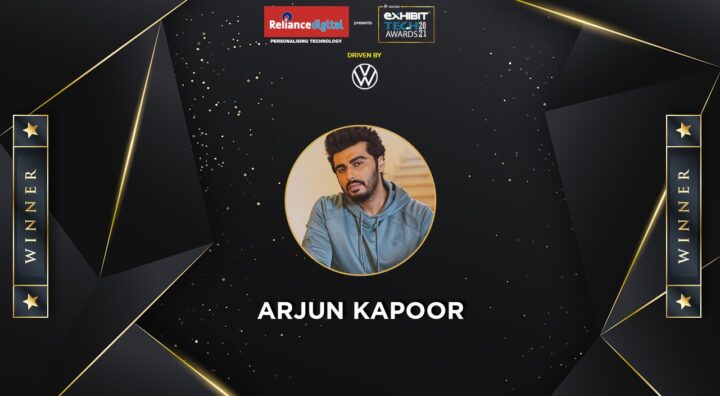 Before we knew it, Mr Arjun Kapoor informed us that he had to be at another event. Thus, Mr Ramesh Somani and Mr Kaushal Neverekar – President &  Chief Business Officer – Reliance Digital and Mr Ashish Gupta – Brand Director, Volkswagen India, awarded Mr Arjun Kapoor – the Techy Celeb of the Year award. Mr Arjun Kapoor was honoured to receive the award and thanked the Exhibit group for the same. 
The next category to announce their nominations was Gaming Gear of the Year. Nominations included – HyperX Pulsefire Haste Mouse, Predator XB3 Monitor, Logitech G Pro Wireless Mouse, Seagate FireCuda 530 with Heatsink. Mr Arun Prabhudesai, a youtube influencer, announced Seagate FireCuda 530 with Heatsink as the winner.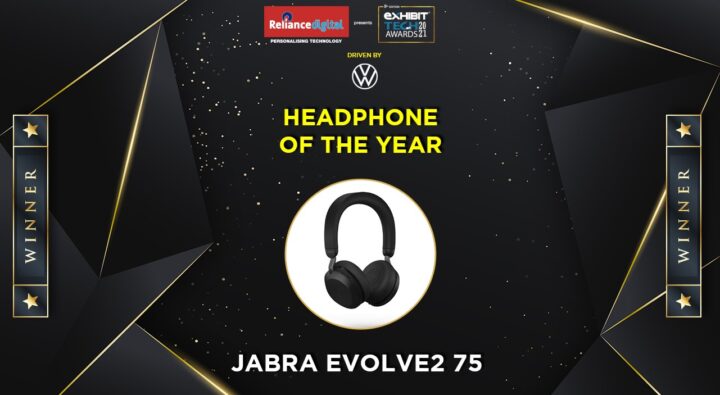 The headphone of the year was our next category in the queue. Nominations included – Jabra Evolve2 75, Apple Airpods Max, Sennheiser IE 300 and Bose Quietcomfort 45. Mr Avinash Gowariker presented this award to the winner – Jabra Evolve2 75. 
As a breather, the event shone lights on an audio-visual spectacle of Tech Fashion tour, an exciting amalgamation of Tech and Fashion from the past six years. 
Soon we ventured into the category of Premium TV of the Year. The nominations for the same were The Frame by Samsung, LG OLED G1, VU Masterpiece 85″, Mi QLED TV 75″ and Hisense 55-inch QLED TV (55U6G). Mr Kaushal Neverekar, President and Chief Business Officer, Reliance Digital, presented this award to LG OLED G1.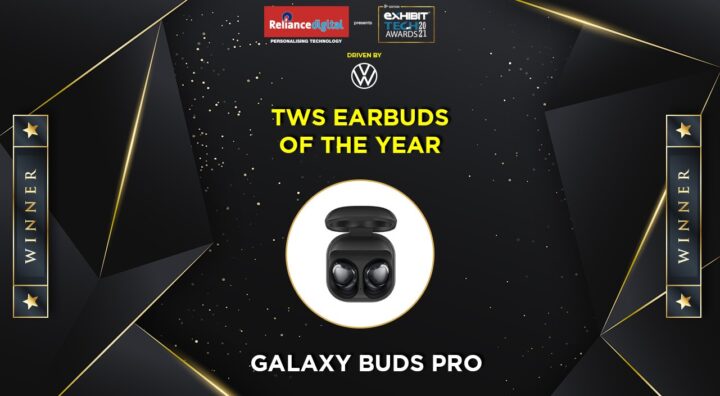 One of the most popular and strenuous to judge categories was TWS earbuds of the year. There were numerous nominations – Jabra Elite 7 Pro, Jabra Elite 7 Active, AIWA 80X FANC, Realme Buds Air 2, OPPO Enco X, Devialet Gemini and Galaxy Buds Pro. Mr Ashish Gupta, Brand Director Volkswagen India, announced the Galaxy Buds Pro winner.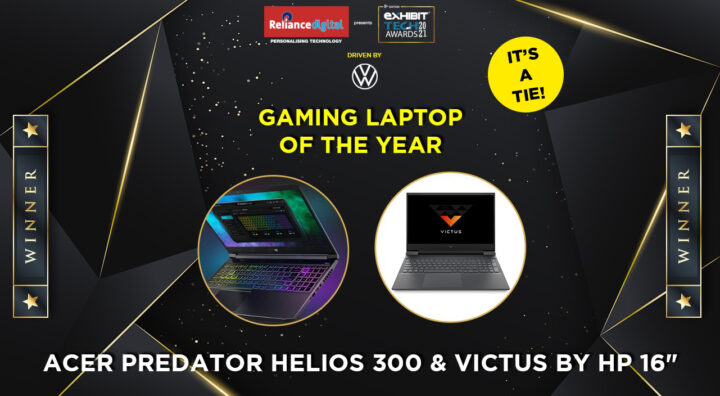 Gaming laptop of the year had most of our voters and judges brainstorming to choose one as a winner. The result was a tie, and the nominations for the same included Acer Predator Helios 300 11th Gen, Victus by HP 16″, Lenovo Legion 5 Pro and MSI GP76 Leopard 11UG. The tie winners Acer Predator Helios 300 11th Gen and Victus by HP 16″ were presented their awards by the beautiful Miss Ekta Maru. 
The most popular gadget that is least thought of in our daily use was the next category – Wireless router of the year. Nominations under this category were DLink – R15, Linksys Max-Stream Mesh WiFi 6, Tenda AC10 and Motorola MH7022 Whole Home WiFi Mesh System. The winner was DLink – R15, and the handsome Mr Arjan Bajwa presented the award. 
With the growing versatility of televisions, our unique product category was 4K TV of the year. Nominations included VU Cinema TV Action Series, Realme Smart TV 4K 50″, LG C1 Series, Samsung Crystal 4K UHD and Mi TV 5X 55″. The gorgeous saree Miss Tanisha Mukherjee presented the award to Miss Devita Saraf, CEO of VU Televisions for VU Cinema TV Action Series as the winner under this category.
We all love automobiles. The audience was presented with a glimpse of all the madness we as a team witnessed riding and driving at our sister concern BBC Top gear India. It was an insane rush of some of the best beauties on wheels. Bikes, cars, roads and their exhaust notes were the perfect audio-visual nirvana for automobile enthusiasts.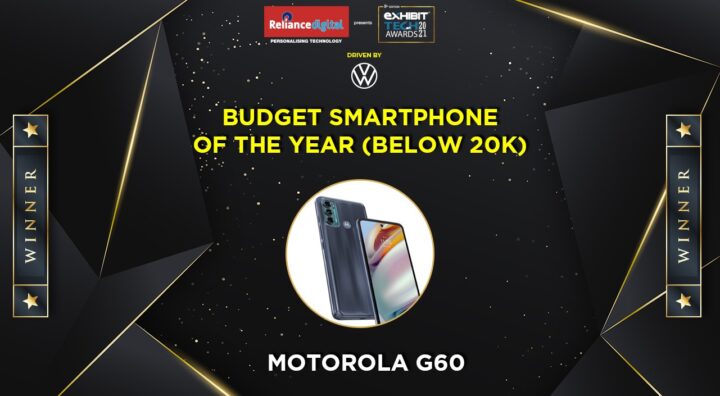 One of the most talked-about categories of Exhibit Tech Awards was the Budget Smartphone of the Year (Below 20k). Nominations were tough competitors, namely Moto G60, Redmi Note 10 Pro Max and Nokia G10. Our Jury member Mr Arun Prabhudesai announced Motorola G60 as the winner. 
Moving on from budget smartphones, the next category and one of the most selling ones across Indian markets is Budget Television of the Year. The nominations – Hisense 55A73F (Tornado Series), Acer Boundless Series 43-inch, Intex LED 5012, Xiaomi Mi 5x and Samsung Crystal 4k UHD. The winner of this category – Xiaomi Mi 5x was a crowd and Jury favourite for the value proposition it brings to the table.
The professional camera of the year is one category that sees the same players in the industry. Nominations here were pretty new products from the camera giants of this realm – Canon EOS M50 Mark II, Nikon Z7 II, Panasonic Lumix and Fujifilm GFX 50S II. Looking stunning, Miss Claudia Ciesla presented the award to our winner – Canon EOS M50 Mark II.
Tech Leader of the Year is another category at Exhibit Tech Awards, witnessing loads of competition. Competing against the best among the best, Mr Madhav Sheth, CEO, Realme India, was awarded this honour. Due to travel and covid reasons addressed the attendees via an audio-visual presentation and thanking note.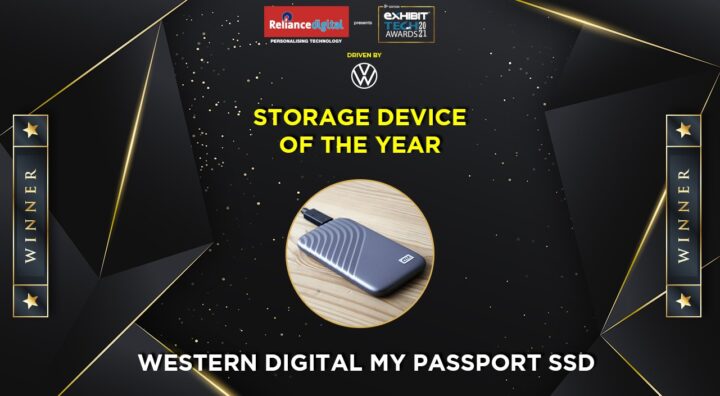 Our next category was Storage Device of the Year with nominators SanDisk Expand Wireless Charger Sync, Toshiba Canvio Flex 4TB Portable External HDD and Seagate One Touch with Password and WD My Passport SSD. Presenting the winner WD My Passport SSD was our Jury member Mr Arun Prabhudesai. 
Luxury Tech of the Year saw many products that made no sense together apart from their price tag and target audience. Nominations ranged from Acer Concept D, Lenovo Yoga Slim 7i Carbon, Sennheiser IE 900, Apple Watch Series 7 Hermes, Galaxy Z Fold3 5G and Samsung Neo QLED TV. Mr Krissan Barretto presented the award to Samsung Galaxy Z Fold3 5G.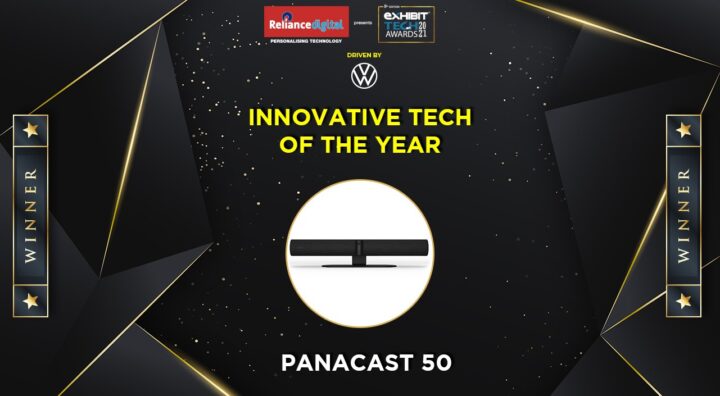 Our founder and CEO, Mr Ramesh Somani, presented our awardees starting with Innovative Tech of the Year. Nominations were a mixed bag, including Jabra PanaCast 50, Hypervolt GO, Zhiyun Weebill 2 Pro, Apple Macbook Air M1 and Samsung Galaxy Z Flip3 5G. The winner for this category was Jabra PanaCast 50 for its exciting innovations. 
Following the innovations in the tech industry was the award for Innovative Tech in the Auto industry. Mr Ramesh Somani presented this award to JK Tyres for their Smart Tyre technology. 
We have been A-1 since Day-1 when it comes to recognising influencer talent. The Exhibit group has recognised talent all across India for the past three years, and everyone present at the event was given a little glimpse of our IP – InfluencEX Awards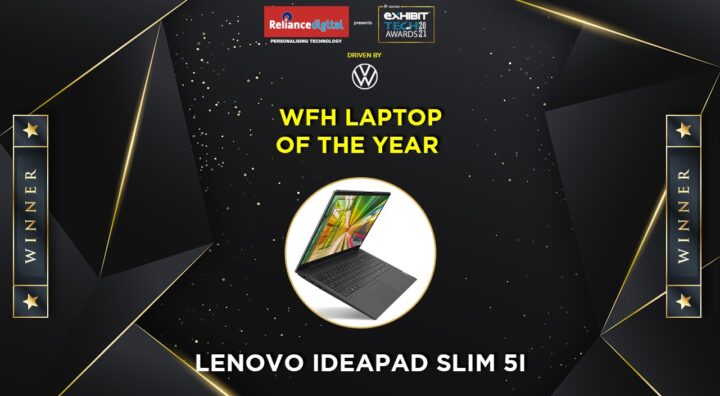 Lenovo ideapad slim 51 was awarded the winner for WFH Laptop of the Year. It was a tough competition among the nominations – HP Pavillion Aero 13, Acer Swift 3, Realme Book (slim) and the winner of this category. This category was introduced thanks to the new working habits during an ongoing pandemic.
Our next category is for workaholics around the globe. A machine that will work tirelessly irrespective of your work, flight and sleep schedules. The nominations for the Business Laptop of the Year included Dell Latitude 9520, Acer TravelMate P2, Lenovo ThinkPad T14 and MSI Summit E16 Flip A11UCT. Being a crowd favourite and aligning with Jury votes, the winner for this category was Dell Latitude 9520.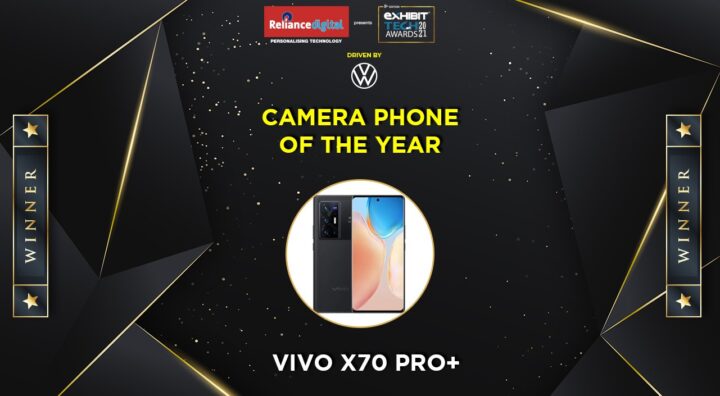 Camera Smartphone of the Year is one category with numerous nominations. Our top picks nominated were Motorola Edge 20 Pro, Vivo X70 PRO+, Oppo Reno 6 Pro 5G, Mi 11 Ultra 5G and Galaxy S21 Ultra 5G. Vivo X70 PRO+ was awarded the best among the rest in this category by Mr Kaushal Neverekar, President and Chief Business Officer, Reliance Digital.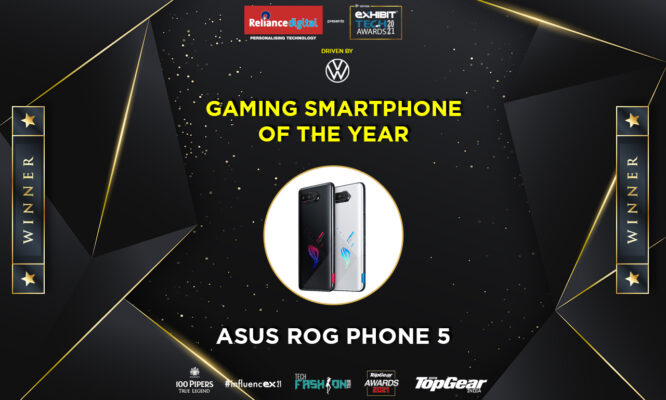 With the gaming craze hitting the youth and young at heart in India, our next category was interesting – Gaming Smartphone of the Year. Nominations included Realme GT 5G, Motorola Edge 20 Pro, Oppo Find X3 Pro, Asus ROG 5, iQOO 7 Legend and Galaxy Z Fold3 5G. Mr Vijay Mahar presented the winner – Asus ROG 5 as the best gaming smartphone of the year. 
The A+ tier is the Premium Smartphone of the Year award. Nominations were heavy hitters like the OnePlus 9 Pro, Realme GT NEO2 5G, Oppo Reno 6 Pro 5G, Apple iPhone 13 Pro and Vivo X70 Pro+. Miss Ekta Maru presented the award to Apple iPhone 13 pro as the year's premium smartphone. 
All the winners were called on stage alongside our founder and CEO, Mr Ramesh Somani, Mr Kaushal Neverekar – President &  Chief Business Officer – Reliance Digital and Mr Ashish Gupta – Brand Director, Volkswagen India, for a group photo. The awardees were in plenty and filled the stage from one end to the other. 
Last but not least, the dynamic trio of Mr Ramesh Somani, Founder and CEO, Exhibit group, Mr Kaushal Neverekar – President &  Chief Business Officer – Reliance Digital and Mr Ashish Gupta – Brand Director, Volkswagen India presented the stunning in red Miss Sanya Malhotra as the disruptive talent of the year awardee. 
After months of public and jury voting, Mr Ramesh Somani thanked the attendees and the awardees for winning their awards. The event ended on a high with a bar and dining open to all present. Our partners were thanked for their association, and the 8th edition of Exhibit Tech Awards was a great success with happy smiling faces all across the open lawns at Sofitel, BKC, Mumbai.