Everyone is aware of the wonders-on-wheels that Audi launches. However, what we don't know is that the company has been trying to give back to the environment! Yes, since 2009, the Audi Environmental Foundation has been supporting innovative projects that strengthen environmental protection. Recently, the foundation is known to support the non-profit start-up company 'Nunam'. The 29-year old German-Indian founder found a unique way to prevent premature recycling of electronic waste and provide a cheap alternative of electricity to the ones in need.
Have you ever thought about what happens to your used, but waste-laptops; the ones that you sell for recycling purposes? Nunam is just another stop in the supply chain of electronic waste, except it's a more sustainable one. The company buys discarded laptop batteries from scrap dealers in the Indian state of Karnataka and uses their battery cells for stationary energy storage systems. The results are another source of power that can be used to supply electricity to items that consume small amounts of power such as smartphones, fans, or lamps. These power banks further serve as a power source for small vendors, fruit and vegetable merchants at a market and in rural parts of the country. 
By doing so, the start-up is aiming to overcome various challenges with a single solution. First, it saves energy by ensuring that the batteries are fully utilized. Those batteries are not produced, they're reused. This conserves raw materials and energy in the production phase. Additionally, reusing the material reduces the amount of scrap that would otherwise end up in residual waste, landfills, or recycling. The resulting power banks are charged with solar energy and not with coal-based electricity, thus fostering cleaner energy systems. At last, they're providing access to clean energy to ones in need, with a 20% reduction in cost. 
Nunam co-founder Prodip Chatterjee says: "We are creating win-win situations: Old battery cells that would otherwise end up in residual waste are first reused and then disposed of properly. Scrap dealers earn money by reselling to us and Indian families and merchants benefit from affordable power banks. A five-year-old laptop can serve as a light source for Indian fruit and vegetable merchants at a market, can power a small fan, or can charge a mobile phone."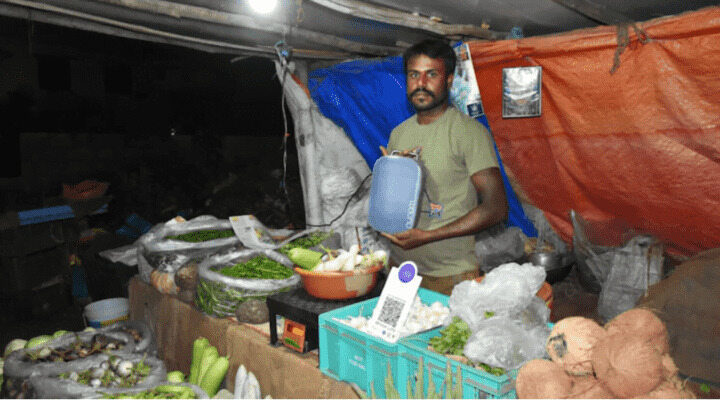 The company takes care of the entire cycle of used battery system~ from procurement of used batteries to recollection from energy users and final recycling. They use real-time data, analytics, and cloud computing to help them track the whole process. Nunam has so far found that old laptop batteries have an average remaining capacity of approximately two thirds. It starts by testing the capacity and condition~ the ones with more than 60% residual capacity are assembled into new power banks, with approximately 1kWh; which eventually ends up charging smartphones or operating smaller household appliances for a day. These prototypes are connected to the Internet via SIM card and transmit data which ensures that the power banks are returned to Nunam again at the end of their service life. Nunam passes the 'used-second-life' batteries to a local battery recycling company. 
 "Technology is most environmentally friendly when it remains in use as long as possible. If we can do it for other purposes after their initial use, we can save energy and raw materials and reduce the amount of electronic waste. Effective cycles are an important lever for conserving resources," said Rüdiger Recknagel, Managing Director of the Audi Environmental Foundation. The foundation therefore targets its support to projects for environmentally friendly use of technology under the "Greenovation" action area.