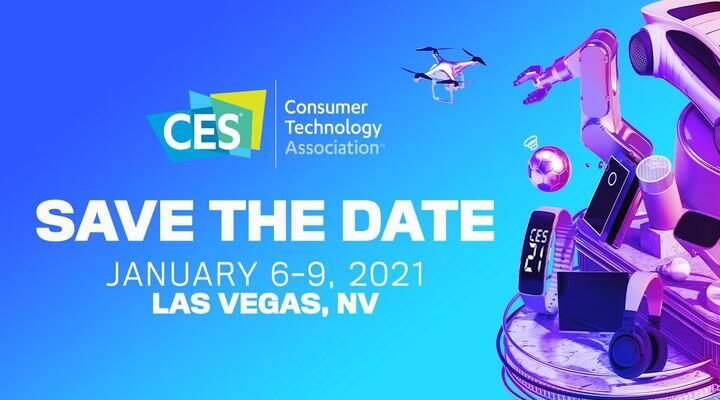 How wonderful is it to be the first person to know about something that is going to bring a huge difference to the world? Every year, the Consumer Technology Association (CTA) hosts the largest tech show in the entire universe (assuming aliens don't exist), with more than 4500 exhibiting companies that represent the entire consumer technology ecosystem. It is called the Consumer Electronics Show (CES) and it is the platform where next-generation innovations are introduced to the marketplace and thus, attract a lot of attention from the world media. Each year, tech enthusiasts travel across continents to Las Vegas, only to experience innovation that might revolutionize the entire tech industry.
An event "where innovation does business", will definitely be held physically despite the pandemic keeping in mind the necessity of social distancing. However, with pandemic limiting travel, the products will be showcased digitally as well. Last year with 175,000 attendees, the event was held at The Las Vegas Convention, which is the primary venue for the event. With companies redefining technology by re-launching their products at CES, the event is known to attract an enormous number of exhibitors every year. 
 Also, with the successful GamesBeat Summit 2020, the exhibitors and attendees definitely expect the event to be held digitally. Without having to worry about the travel expenses, sanitization facilities, social distancing and the pandemic, the attendees can attend the event from the comfort of their home. Also, a larger number of attendees are interested to know how the event might actually turn out digitally. New advancements in technology might happen only to acknowledge and overcome the difficulties in hosting the event successfully on a digital platform—something every tech enthusiast is looking forward to. It is a challenge for the organizers though, considering that they host the largest tech show in the entire world.  
"We will showcase our exhibitors' products, technology breakthroughs and ideas to the world, both physically in Las Vegas and digitally," Consumer Technology Association, which produces CES, said in a statement.  "You can expect to see a wider selection of live-streamed CES content, along with many other engaging digital and virtual opportunities, enabling you to connect with the world's leading technology innovators, thought leaders and policymakers," the statement added. CES is marketed to exhibitors on the strengths of its large pool of attendees and massive scope. 
To understand advancements in technology, one should know where its previous benchmark was. If you are intrigued by what CES 2021 has in store, look for the best in 2020. BMW launched its i3 Urban Suite: one that includes perks like a hanger for coats, heated cup holders, and a literal desk lamp. There are also some pleasant privacy-centric features like simulated acoustic sealing and a display that supports smartphone mirroring when you need a second screen. All could be accommodated by removing a few seats.  
In the accessibility category, the Phonak Virto Black: a discreet hearing aid that takes the form of wireless earbuds. The device is quite versatile with Bluetooth streaming.  
Last year, Dell introduced the concept of PC gaming on the go with Intel-powered Alienware Concept UFO. The portable Windows PC, which mirrors the form factor of the Nintendo Switch, features an 8-inch display, kickstand, detachable controllers, and support for external devices like displays or a keyboard and mouse. The device was conceptual, although they might've come up with something this year. Samsung's 49-inch Odyssey G9 monitor — a treat for the gamers, has a 1440p resolution, a 1 millisecond response time, and supports refresh rates up to 240Hz. It also supports AMD's FreeSync 2 and Nvidia's G-Sync for better gameplay.  
CES has something for everyone and everything for the ones who are uncertain about their requirements. For artists and creators, Acer's ConceptD 7 Ezel is a laptop with a 15.6-inch 4K display & multiple configurations. Could there be a better version of the already-launched product? Only CES can say.
The dramatics of hosting the event digitally might seem highly unrealistic at this point, but one can never know of the possibilities it might bring into the real world. Technology gives you the freedom to travel to a different dimension altogether from the mere comfort of your home. Just imagine how wonderful it will be to be virtually present at a physical event without compromising any sort of experience. With greater challenges comes better solutions. Covid-19 is the worst thing that could've happened but it has challenged technology in ways nothing else has ever could. CES 2021 is surely expected to surprise us, yet again and as always!