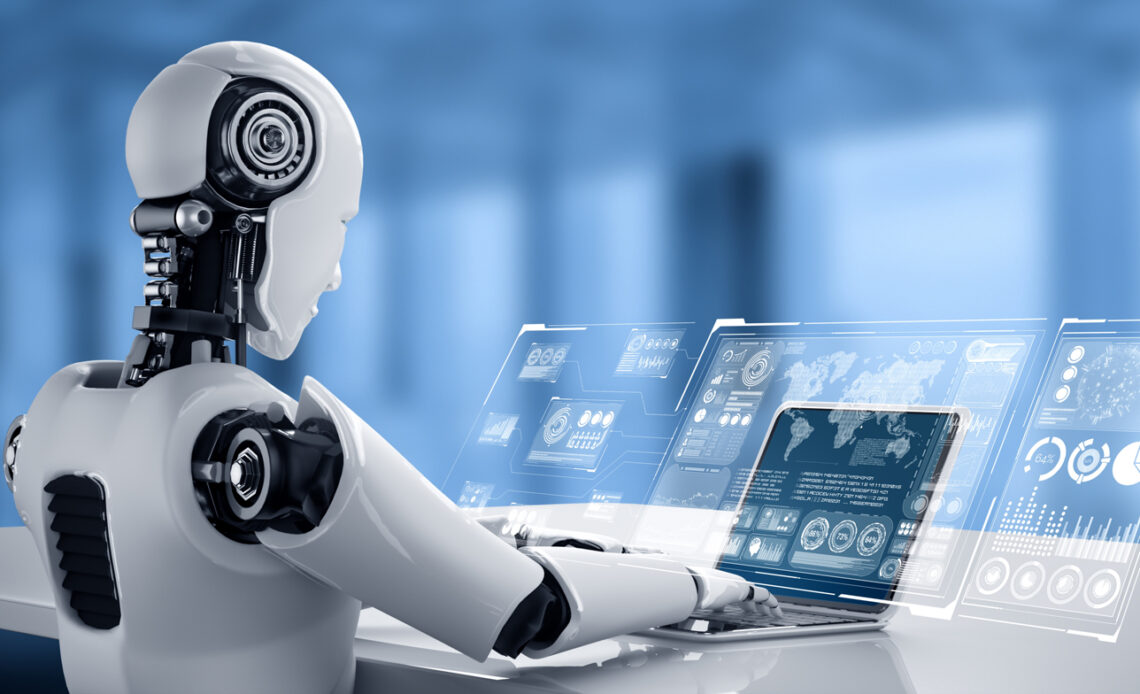 Artificial Intelligence has surely become a growing force in the business industry today. Be it cloud computing or edge computing, AI is being used as a mix and match of technologies to exceed in several aspects of a business. AI-enabled solutions have become popular thanks to businesses now transforming digitally. The number of businesses now using AI services reportedly grew by 270% from 2015 to 2019, it is still rising as 2022 comes to a close and will only continue to grow more in the coming years. As of 2022, the AI services market is reportedly forecast to grow to US $62.5bn which is a considerable growth from US $19.4bn back in 2020. 
While machine learning leads the pack in the AI revolution, businesses are expanding their technological reach with the help of other technologies like predictive analysis, business intelligence, data warehouse tools, and deep learning. These technologies enable big business giants to alleviate several industrial obstructions with ease. Surely, entire industries are being reshaped with AI right now. Robotic Process Automation (RPA) companies have now swiftly changed their platforms to AI, whereas AI in healthcare has also proven to be a boon in patient healthcare. 
Several companies have showcased a great interest in AI during the pandemic to better the customer experience in a variety of areas. In our AI special we wanted to have a look at all the companies currently leading the race of AI and Machine Learning through the integration of their technologies into apps and systems. Check them out right now – 
Amazon Web Services (AWS)
AWS clearly takes the cake when it comes to being the leader in cloud computing. The company offers both consumer and business-related AI products and services. A number of its AI services build into end-consumer products. Let's take Amazon Echo as an example, this little speaker brings AI right into your home through your personal voice assistant, Alexa. While Alexa is known as Amazon's AI, its primary AI service is called 'Lex'. It is an Alexa variant that is exclusive to businesses. There is also Polly which turns text into speech and Rekognition which is an image recognition service. Besides AWS, Amazon has a number of products based on AI. 
There's the SageMaker Data Wrangler, a new service that is meant to accelerate the data preparation for machine learning and AI applications. Amazon Codeguru is another service by Amazon which allows coders to enhance their code quality with the help of Ai-powered code suggestions. Finally, Amazon also has Kendra which is an AI and machine learning-powered search tool meant for corporate purposes. 
Google 
I am sure you're not surprised to Google on this list as it is among the top AI companies right now. While there are several ways Google integrates AI in its business, one notable AI innovation by the company is the Multitask Unified Model famously known as MUM. This technology is aimed to enhance the Google search experience amongst users. MUM is used to better link the information that a web searcher is looking for with precise accuracy. Google has been on a massive AI acquisition binge as it is deeply invested in the integration of AI into our daily lives. Google Cloud itself sells a number of AI and machine learning services to companies around the world. The industry-leading TensorFlow software project and its very own Tensor AI chip project are known around the world. 
Microsoft 
Microsoft is a juggernaut when it comes to the betterment of AI technology. The company not only provides technology but also funds and experiences to organizations working on AI to tackle global issues. Microsoft AI has the potential to enable anyone be it an individual or an organization to study, develop, and innovate in the field. Back in 2020, Microsoft unveiled Project Bonsai, a platform for designing industrial control systems. The company had also launched Project Moab which was an experimental platform designed to introduce engineers and developers to Bonsai. Microsoft also build the Specktacom which was geared toward cricketers. Speckatacom was a technology dedicated to collecting data on speed, quality, twists, and the swing of a cricket bat using a tiny sensor attached to the bat. It used wireless technology and cloud analytics to collect the data. 
Alibaba Cloud 
Alibaba Cloud is the leading cloud platform in Asia. It offers its clients a top-notch machine-learning platform for AI. The company has managed to make AI easy for users with the help of a visually pleasing interface. Companies using Alibaba Cloud's platform can simply drag and drop data components into a canvas in order to assemble their AI functionality. On the platform, users can also find the scores of algorithm components that can handle a number of different tasks. This enables businesses to use pre-built solutions for their tasks without the hassle of building one which can be time consuming. One can surely expect Alibaba to show significant improvement and growth in the AI sector in the coming years.