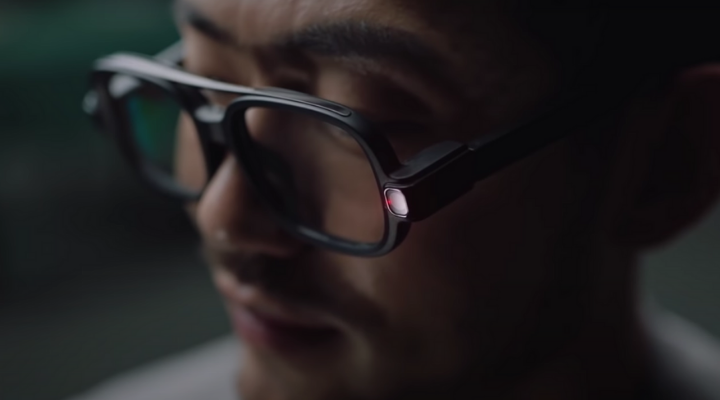 Xiaomi has revealed its first pair of new smart eyewear, Xiaomi Smart Glasses, right before the one day of its mega event to steal attention from Apple's thunder. The ordinary-looking smart glasses from Xiaomi are actually beyond the ordinary; they are loaded with various smart features, including navigation, real-time text translation and MicroLED optical waveguide technology.
The Xiaomi Smart Glasses weighs only 51 grams and can display messages, notifications, make calls, help you navigate using augmented reality (AR), capture photos and even translate text. Recently, Facebook also launched similar smart glasses called Ray-Ban Stories in collaboration with RayBan and, before even landing on buyers eyes, raised a privacy concern.
Design:
Xiaomi defines the recently revealed Smart Glasses as "an engineer's look into an advanced future". The Xiaomi Smart Glasses have a squarish round frame with a metal bar on top, making them appear more like Iron Man's smart glasses 'EDITH'. In contrast, Facebook's Ray-Ban Stories has adopted the iconic Ray-Ban Wayfarer design that first appeared in the late '80s.
Display:
The Xiaomi Smart Glasses adopt the MicroLED backlighting technology to lower the design space and overall weight. The monochrome display can reach a peak brightness of 2 million nits to save you from looking at harsh sunlight directly. The display chip measures only 2.4mm x 2.02mm, and it'll appear roughly the rice-grain size under the microscope, with individual pixels sized at 4μm.
Features:
The left hinge of the Xiaomi Smart Glasses packs a 5MP camera which can also be used as a scanner for real-time translation. The company also states the Smart Glasses can transcribe audio into text with translations in real-time. The Smart Glasses runs on an Android operating system and have a built-in microphone.
It is also equipped with a quad-core ARM processor, battery, touchpad, and support for Wi-Fi and Bluetooth. The pricing and availability information of Xiaomi Smart Glasses is not revealed yet, but the company might launch the glasses first in the Chinese market before hitting on the Global market.