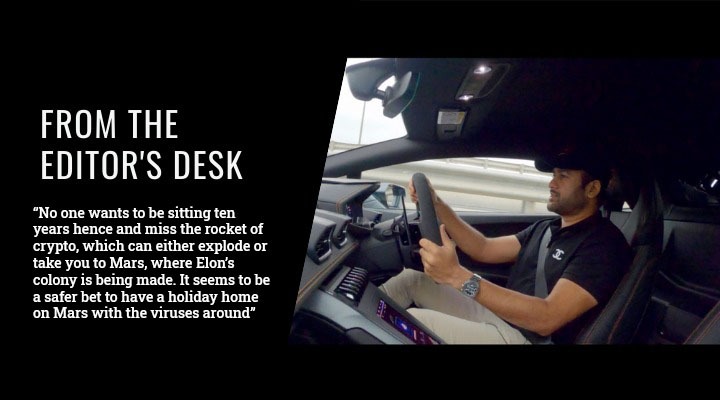 The power of a tweet has grown immensely. Elon Musk could take the Dogecoin down by 25 % and affect the robust BITCOIN to go down by 18% with just a tweet. The second tweet was his realization that crypto mining affects the environment and contributes to global warming. If this environmental tweet would have been done by Donal Trump or even Warren Buffet, for that matter, it's still understandable. But coming from someone the ilk of Musk who has more tech in his DNA than red blood cells? That's something new. Paypal, SpaceX, Tesla, if he did not get in the first instance that mining crypto has environmental issues, then it's a severe problem.
Quite vocally, he announced his investments in Crypto, making it mainstream and making it fashionable for people everywhere to invest their disposable income and play with it. No one wants to be sitting ten years hence and miss the rocket of crypto, which can either explode or take you to Mars, where Elon's colony is being made. It seems to be a safer bet to have a holiday home on Mars with the viruses around!
The Crypto industry is volatile and confusing. It's not for everyone and is radically different from investment in mutual funds and equity, which comes with a disclaimer: Investments are subjected to market risks. Crypto Investments are sometimes subjected to powerful mens' tweets, mood, temperament, and global warming. Sure, there are opportunities, and I genuinely believe in blockchain. The next issue is coming up with a unique story on Crypto Billionaires.
I remember six years ago, we had organized a conference on Crypto where we invited gentlemen from France, the Netherlands, and other parts of Europe. Still, the laws of the land were so confusing that we had to keep its profile low. For now, investing in crypto is not illegal. Still, there are very grey areas that we have to be careful about, for no bank and politicians worldwide would like to cede control on financial markets. That might just be a significant deterrent to the rocketship called Crypto. Till we duck the second wave, stay home, stay safe.
[button href="https://www.exhibitstore.in/product/exhibit-may-2021-digital-edition/" type="btn-primary" size="btn-lg"]CLICK TO GRAB YOUR LATEST ISSUE![/button]