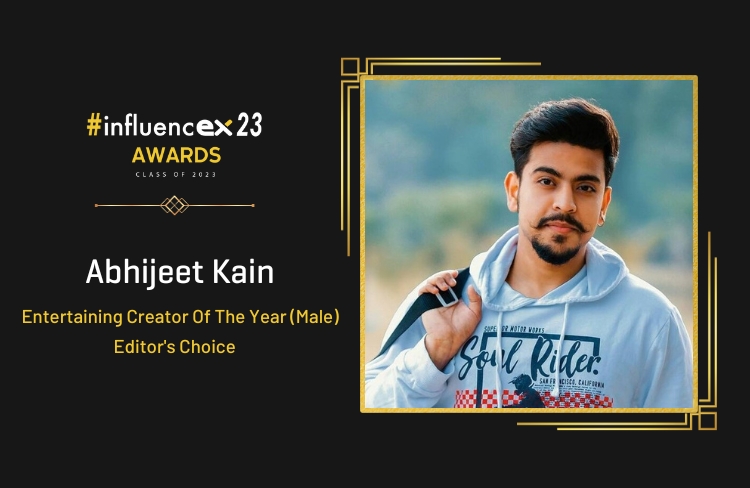 Ex : How did your content creation journey kick start?
I don't exactly remember the time when it kick-started, but I only remember that my content had relatability, and people were able to connect it with their lives. They were sharing it with their friends and families, and that's how it got kicked, they started following me, and I got the recognition.
Ex : What is your most viral reel/short? How did the idea come, and how long did it take to shoot?
I have many reels that went viral. For example, I remember making a video where I showed how couples behave initially when they get married. It got 40 million views or something, and it took me around an hour to get it done.
Ex : What piece of tech is your favourite
Gimbal, I like the way it works.
Ex : Tell us about a project that you are the most proud of.
I'm proud of every project I've done because every project takes an equal amount of time and an equal amount of effort.
Ex : Give us one or more hashtags describing you
#surprise
Ex : What's the first-ever trend that you hopped on?
I'm not a person who hops on a trend regularly; it's quite a rare thing for me.
Ex : What will the creator landscape look like in 10 years from now?
Honestly, 10 years from now, I see myself growing as an actor and working with big-time celebrities.
Ex : What are the platforms you are active on – how do you decide what goes where?
I'm active on Facebook, Instagram, and YouTube. I actually don't follow up on what goes where. Instead, I look at the engagement and post accordingly. When my content gets very good views, I don't have any problem posting my next video on the next day or after an alternate day, but if it is taking time to grow, I give it space and wait till it reaches the masses.
Ex : What's the next big thing in the pipeline for you?
I have many events to attend and many projects to accomplish
Ex : Advice you would like to give to budding creators.
I would say stay consistent, be patient, and don't let your self-esteem go down because of that one video, which didn't get the views.