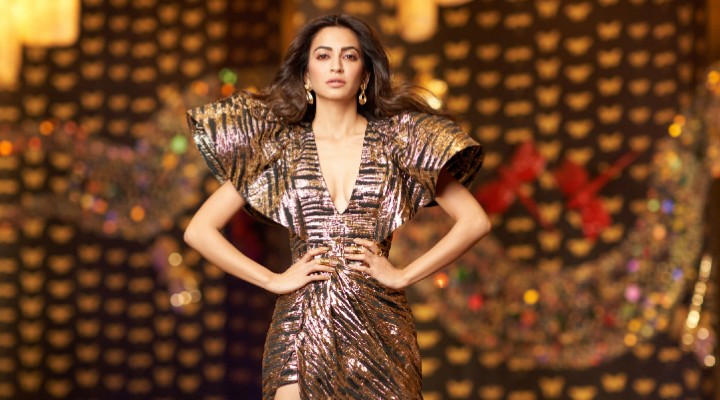 Ex: Hi Kriti, you've had an amazing & exciting journey right from a young age. Tell us about a moment when you thought acting was the real deal for you?
Kriti: When I did my first film, it was the excitement of entering the world of cinema and working as an actor that made me realize my love for acting and empowered me. I think it happened when I was shooting this Kannada film called Googly and I suddenly felt the magic and I felt like I was bringing a character to life. It was a character that I loved, Dr Swati, and that was the moment I realized this is what I was meant to do. I was not very serious about what I was doing, just like any other 20-year-old would be. But it was that moment when I was playing Dr Swati that I realized that this is what I want to do for the rest of my life!
Ex: How was it working with the God of Thunder aka Chris Hemsworth?
Kriti: It was fun and we had a great lovely video chat. For me, it was an opportunity to have a conversation with whom I admire and look up to as an actor and someone who had made a name for himself and has worked hard to get where he is. He is also supremely handsome so no complaints there!
Ex: Kriti and Tech: Tell us about your relationship with technology.
Kriti: I am totally into technology. As I love gaming, I am always curious to know about the new gadgets that have come into the market. I like to keep myself updated about certain electronic accessories including mobiles, AirPods, speakers, etc.
Ex: What do you think about the ever-changing gaming scenario in India?
Kriti: Gaming is more serious than it used to be. When we were kids, we used to play video games just for fun. But now it can be a serious profession as well. We had parents telling us not to play video games as there is no future in it. But now they cannot say that as it is a great source of income.
Ex: What is your preferred gaming platform? – Console (PlayStation, Wii), PC, or Mobile?
Kriti: My PS4 and I are best buddies. My brother got me addicted to it as we both sit and play FIFA together. Something I am excited about. Sometimes on a day off, you want to be lazy on the couch but at the same time, you do want to keep your mind occupied. So this is like the best way to go about things. So the answer would be the console.
Ex:  Social media can be addictive and you have an enormous following of 6.6 Million on Instagram. Have you ever felt the need to do a digital detox? If not, then what's your secret?
Kriti: No, not really because I make sure that I do things as and when they are required, I don't overdose on anything, I am very careful about it and I see to it that it does not reach that level that I have to detox.
Ex:  What do you think a world without social media would look like?                                                                                                                    Kriti: I think without social media the world would revert to what it used to be 20 years ago. That was a happy time, so no complaints there. The kids stepped out to play as opposed to chatting with their friends on Snapchat, Instagram and whatnot. I want to be that kid today and I enjoyed being that version of myself. Kids used to gather and eat their lunch together but now in schools, they have even phones allowed so the interaction is lost. I feel the world without social media was a better and happier place.
Ex:  How does technology help you ease your daily life?
Kriti: I think technology has evolved over the years and it certainly plays a major role in everyone's lives, especially if you consider women safety in today's time.
Ex:  If you had one wish to make that comes true in 2021, what'd it be?
Kriti: I wish there was a way for me to pray and say can we human beings be a little civilized and respect boundaries and respect that everyone can have a different opinion and not jump on them at any given point. I wish we were not as opinionated and even if we are we learn to keep it to ourselves because everyone is entitled to have an opinion and we should stop judging people. "Live and let live."
Ex: Do you agree that the future is all about technology?
Kriti: Yes, we are rapidly moving into a progressive and advanced technology world. Sometimes, it feels that the world is at your feet, with everything you need is at your disposal, all thanks to technology.
Quickies
1- What is the first app you check on your phone when you wake up?
– WhatsApp.
3- What TV series or Movie is your guilty pleasure!
– Friends, Modern Family and How I Met Your Mother.
4- What is your favourite destination to travel to?
● Bangalore.
5- Which actor or actress inspired you the most?
● Julia Roberts and Deepika Padukone.
6- What is the task you badly want an app for?
● House Cleaning and cooking.                                                                                    7- Do you take screenshots if you find something worth gossiping about?
– I do take screenshots but I don't gossip (Not my scene)!