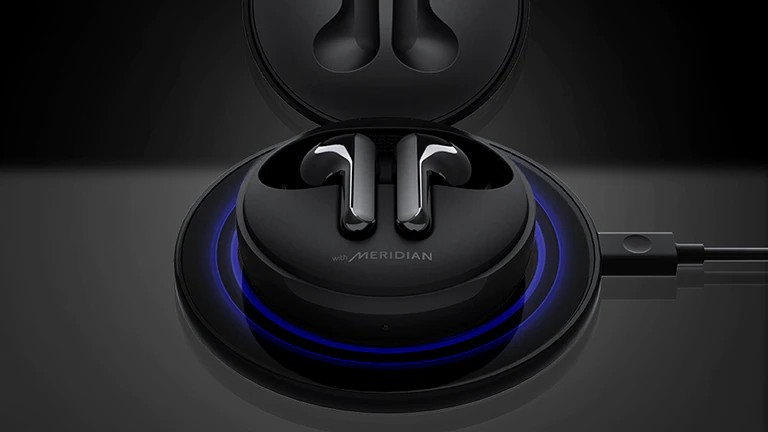 We are not new to the world of TWS with ANC (Active Noise Cancellation) but there comes a product every now and then, adding some value to become special. The USP (unique selling point) of the LG TONE Free has to be LG's borrowed tech from its purifiers to cleanse these TWS inside their case with UV-nano technology. Yes, these earbuds promise bacteria cleansing LG's UV nano, a patented sanitising technology which destroys bacteria on the earbud head when they are placed inside the case. In a world where sanitizing our hands is normal, why should TWS be any exception?
LG also sells and equips these with medical-grade hypoallergenic ear gels, another healthy name for silicon that cleans via UV rays. The technology is neatly packed in a clean round case with an essential multi-colour LED notification light, a switch to toggle an amazing feature and a USB Type-C charging port at the rear. The case and earbuds are fairly lightweight and easy to carry around as your ear companions. 
LG TONE Free app
LG has a TONE Free app both on Playstore and Appstore for Androids and Apple devices. Usually, these additional apps bring out additional features of the earbuds, but in LG's case, this app is more or less mandatory if you truly wish to listen to Meridian tuned audio and improve the earbud's audio quality overall. The app neatly showcases the battery percentage on each earbud and also allows you to tune the earbuds based on two custom settings. 
The ANC controls allow high or low levels of noise cancellation along with two transparency modes and the option to turn off ANC when not required. There's also a neat animated manual available at all levels with general information on the software and the ability to auto-install OTA (over the air) updates for the app and earbuds. The app also allows to edit three levels of tap settings on either earbud, allowing customisations as per user choices. Last and the most important settings are ready equalisations by Meridian. There are seven preset equalizers to choose from including, immersive, natural, bass-boost, treble-boost, 3D sound stage, etc. Why are these important you ask?
Audio quality – Treble happy! 
LG TONE Free earbuds are tuned by Meridian and without their equalizers, they sound treble-heavy. Bass is tight and never boomy but lacks the punch required in most hip-hop numbers. Bass-boost setting on the app aids the bass but compromises on the other frequencies. The trebles on these earbuds are rich and shine in every track while the vocals are audible despite different equalized settings. For audiophiles, there are quite a few frequencies to equalize in two custom settings. None of which matched the finesse of Meridian-tuned presets.
Out of all the presets, immersive and natural were the most balanced presets that suit almost all genres of music. ANC is average and nothing extraordinary like most other TWS in a similar price range. The sound stage is head biased but not too small, nor too widespread. What really shines on these earbuds are the treble in each track. It's bright and prominent, a unique take on clarity but compromises on the lower frequencies to sound thumping on certain tracks. LG claims 6 hours battery life with ANC turned on and 21 hours of total playback with the charge case. Battery life depends on the volume and we managed 4+ hours each time. 
One unique cable inside the box, apart from USB Type-C to Type-A cable, is a Type-C to 3.5mm headphone jack. There is a toggle on the case, which allows the case to connect as a medium to turn any analogue 3.5mm headphone port into wireless connectivity via the case. The real champ of this package is thereby the case of the LG TONE Free. It not only cleanses the earbuds, but also adds battery life and added functionality to turn any analogue source into seamless wireless connections. 
Verdict 
LG TONE Free is a feature rich pair of earbuds with richer trebles and a versatile compact round case. This is a good pair of earbuds for someone not keen on bass, listens to a lot of string instruments, vocals and chimes. The quality of the TWS is decent and same could be said about the audio quality. At similar prices, there are better sounding earbuds but none as versatile.
Good – UV nano, ANC, Treble
Bad – Low frequency response 
Ugly – App dependency for better sound