On Tuesday, Nintendo announced a new switch model, which is due on October 8 later this year. The new
Nintendo Switch OLED model
now comes with a larger and brighter 7-inch screen(slightly bigger than the regular Switch model's 6.2 inch LCD), a wide adjustable kickstand, enhanced audio, and 64 GB of storage for gaming.
Nintendo Switch OLED will be available on October 8, the same day on which Metroid Dread, the most anticipated game in Nintendo's 2021 lineup comes out. The device will cost $350, which is $50 more than the original. Nintendo says that the new OLED Switch will last up to 9 hours, which is more or less the same as the current Switch. It is also slightly heavier(0.71 pounds) than the weight of the current Switch(0.66 pounds).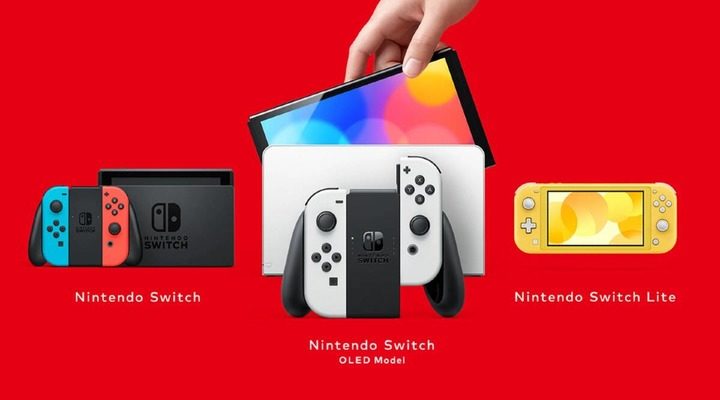 Nintendo offers two color schemes- sharp black and white, while the remaining materials look similar to the previous model. It also offers a separate carrying base since you don't want your $350 device scratched. The hybrid dock exhibits a wired LAN port, and the port can also be adjusted to play in the tabletop mode. Unlike Nintendo Light, it can be slotted into a dock for playing on a TV or used as a handheld console.
Nintendo of America President Doug Bowser said in a press release, "The new Nintendo Switch (OLED model) is a great option for players who want to experience the new vibrant screen when playing in handheld and tabletop mode,"
As per Nintendo, the device will arrive in two color configurations: a white set which features white Joy-Con controllers, a black main unit, and a white dock; and a neon red/neon blue set, which features neon(red/blue) Joy-Con controllers. Original Joy-Cons will work with this new Nintendo Switch, and all the existing games will run on the new model.
Nintendo's Switch has dominated the US market for two years straight, ahead of the arrival of the PlayStation 5 and Xbox One X. Nintendo's Switch has sold more than 85M of its consoles since its launch in 2017. The demand for the system boosted after the enormous success of 2020's Animal Crossings: A new Horizon, a game that sold more than 30m copies.
With both Sony and Microsoft releasing new versions of their consoles last year, it's certainly time for a big refresh from Nintendo.