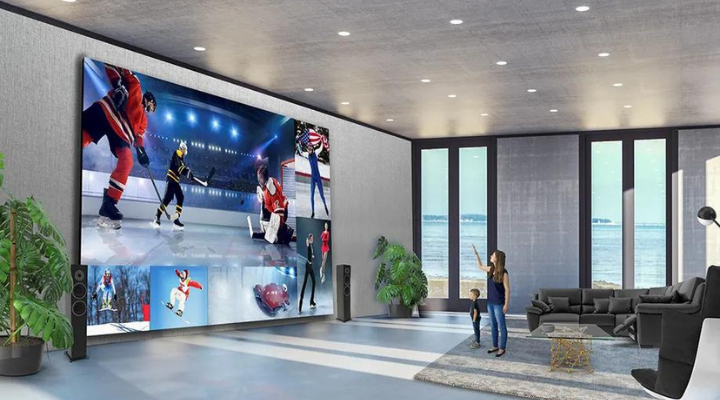 If you're one of those zealous people who are missing cinema hall escapades due to ongoing pandemic restrictions and can't wait to watch your favourite movie star on a big screen instead of small smartphone/laptop screens. In that case, LG has something to cure your inner cravings.
The South Korean multinational electronics company have announced a new lineup of Direct View LED (DVLED) home cinema displays, ranging from a massive 108-inch HD panel to a humongous 325-inch 8K panel. As per the CNET report, the biggest one in the lineup weighs over 2,000 pounds and costs $1.7 million (roughly ₹12.5-crore).
What is DVLED?
Direct view LED video walls, also called DVLED display, is a video display technology that uses light-emitting diodes to produce bright, vibrant colours. Their pixel is the smallest element of a picture, creating a single part of the colour with true pixel and virtual pixel configuration. 
All of the DVLED Extreme Home Cinema screens with the 0.9mm COB LED Package type use MicroLED, and they can adapt to any indoor and outdoor environment. DVLED's are seamless, bezel-free, and a better place to install them is design rooms, museums, galleries, board rooms and hospitality.
LG DVLED TV's
Earlier, people had only a few options, such as Samsung's The Wall and Sony's Crystal LED TVs, but now they have one more option to consider in the name of LG. The company has previously reserved these massive displays for commercial buyers, but now they're making them available for regular buyers who are ready to spend lavishly.
According to a CNET report, LG is using small-sized LEDs, similar to what we've witnessed in Samsung's The Wall and Sony's Crystal LED TV's instead of an LCD layer to create pixels and deepest black levels without the risk of burn-in, a challenging task for anyone in the business.
In general, most of the screens offer a regular 16:9 aspect ratio, but LG is also selling 32:9 versions if any consumer wants to watch two video feeds side by side at one time. The company has successfully executed one of their best innovations with the launch of LG's massively priced DVLED TV sets, which now makes $1,00,00 rollable OLED TV sounds more affordable.
LG's new DVLED displays can easily replace the decade-old high-end projectors, but only if you're ready to deal with its expensive price. Clearly, these massive home theatre displays won't be making it into the living rooms of most households, but we have to appreciate the efforts as creating such an enormous display is not everyone's cup of tea.