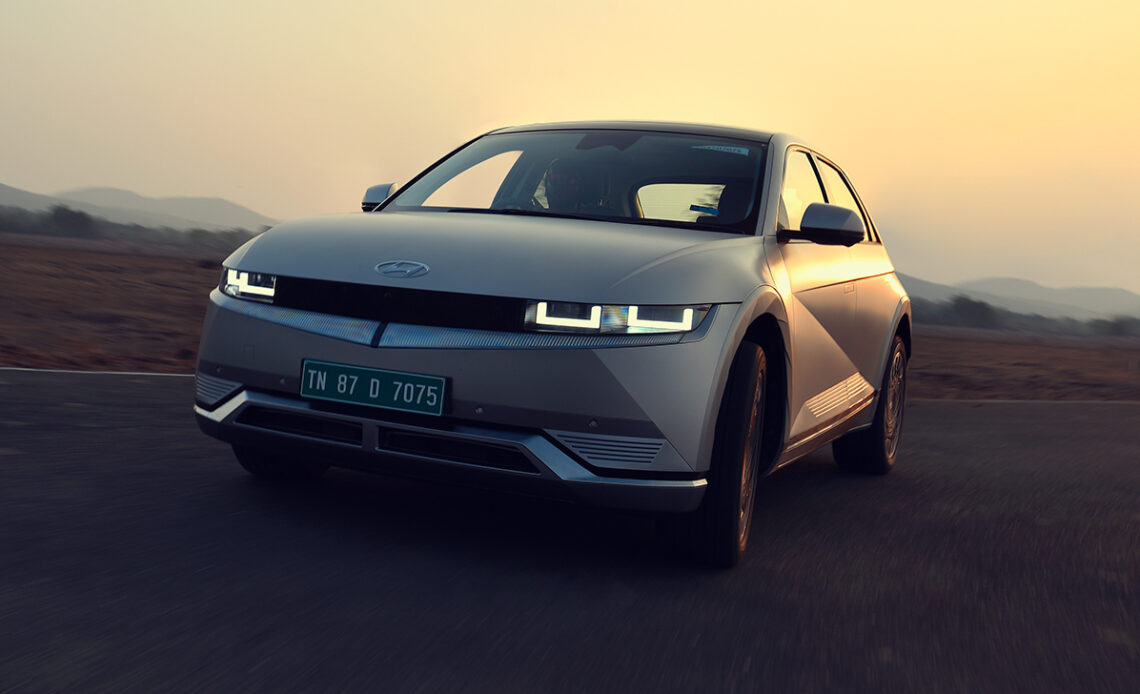 One look around, and we see tonnes of metal on wheel designs aiding human existence. The difference between the future and the present moment could be as low as a second or as creatively engineered as the Hyundai IONIQ 5. A car awaited in India since its global debut. Electric, check; something unique, check; performance, let's check.
Exterior to drool
This car is a stunner even when those gorgeous 20-inch wheels are not moving. In fact, this car looks like it was designed by a racing game designer more than any car designer. The engineers at Hyundai have hit the ball right out of the park regarding the overall stance, parametric pixel design on those gorgeous DRLs and LED lightings, parametric pixel design on the 20-inch alloys and beautiful sharp creases throughout the exterior design. Wheel arches, too, carry a subtle design for aerodynamic and visual pleasures. Winner of several awards, including the world car design award for 2022, Hyundai's IONIQ 5 carries a hatchback design with SUV proportions and is visually stunning enough to turn passengers' heads in luxury cars on Indian roads. Flush door handles, Michelin Pilot Sport tyres and many other things add subtlety to the overall beautiful silhouette. This car will definitely become an Icon for people to consider in the near future. Hats off to the overall design team and engineers at Hyundai.
Built on the E-GMP (Electric global modular platform), with intelligent features like shifting the AC setup to the engine bay, a flat floor with an 8-point 72.6kwh battery mounted for a better centre of gravity, and 5-link suspensions at the rear liberate a mind-bending 3000mm of wheelbase. The IONIQ 5 design cleverly camouflages its dimensions and plays a visual trick on normal simpletons appearing gorgeously balanced in its profile. Offered in three colours, the IONIQ 5 looks great in them all but looks like a proper modern-day mafia car in midnight black pearl. Despite the electric platform, the 163mm ground clearance offers innate peace of mind while driving on Indian terrains. This is arguably the highest ground clearance in Hyundai's India line-up yet.
Interiors like living space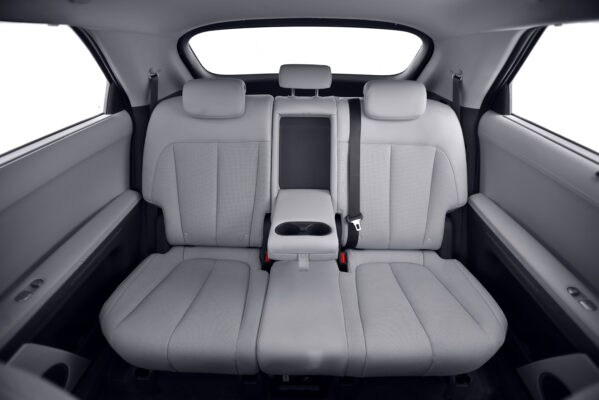 Let's start from the top. A panoramic sunroof that opens from the middle brings a more spacious feel to the ivory-clad interiors. The feature list is so immense narrating it would make this video a short film about the car. The interiors exude opulence with a massive wheelbase, made from sustainable materials like dyeing leather with flaxseed oil, recycled bottles, and paper-feel materials from corn, sugarcane and flower extracts. V2L, vehicle to load, allows users to power their appliances in and outside the IONIQ 5 in a unique blend of utility, function and style. The digital cockpit includes two massive 12.3-inch screens wrapped in sustainable components matching the car's interior space alongside a magnet on the RHS for sticking lightweight metal essentials. The engineers also went bonkers inside by including a slidable handrest storage unit that liberates up-front and rear space when used accordingly. The cooled glove box also has a unique drawer design that liberates more space than most glove boxes in the market today.
The flat bottom steering unit features a Mercedes AMG-inspired drive selector and drive modes. It is lightweight in Eco mode and weighs apt for Normal and Sport modes. Along with the heated and ventilated seats, the car also features heated ORVMs and VESS, a virtual engine sound system notifying people around you about this relatively calm beast. The IONIQ 5 also features home-to-car connectivity with Alexa, and Google Assistant alongwith a plethora of Hyundai Bluelink features, including OTA updates on the map with charge station info, battery status, auto crash notifications and many more. A perfect icing on this retro-modern white chocolate cake is the inclusion of 21 features on the Hyundai Smartsense level 2 ADAS. Customisable ambient lights, passenger walk-in functionality on all rear seats, 8-Bose speakers with a sub-woofer, 6 airbags, Hill-start/stop assist, EPB, TPMS, Android Auto, Apple CarPlay and dozens of other electronic aids with adaptive air flaps ensure that Hyundai has thrown the kitchen sink at customers who barely would be able to recollect the robust feature list on this car.
Drives – Comfortably fast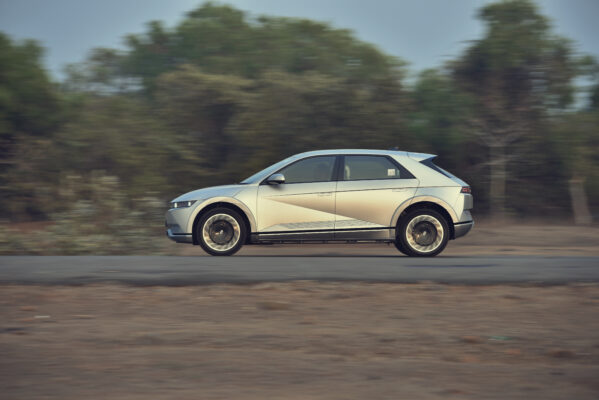 Hyundai ride quality is eminent in the IONIQ 5. We barely drove this beauty on wheels through south Goa, India. In the dozen or odd kilometres, the car maintained its composure at relatively higher speeds on straights and some enthusiasts driving on a few twisties encountered. The 5-link suspension and the overall centre of gravity, alongwith the 20-inch tyres, offer good grip on most road conditions. The NVH levels are well maintained despite this car's huge tyre and overall dimensions. On the move, it's like the car balance comes alive. The PSM primarily produces 217PS of power and 350Nm torque at its rear wheels. The power delivery is linear on all the modes, and the torque curve is well spread throughout the initial acceleration figures. Even in Eco mode, the acceleration is linear yet satisfactory enough to overtake anything going slower than 185 km/h, as the car is electronically locked at this speed.
Four levels of regenerative braking can be accessed through the paddle shifters. It's a relatively more straightforward car to drive and handles confidently. The 163mm ground clearance allows the car to tackle any obstacle our roads offer. The overall technology with level 2 ADAS further aid drivers, and Hyundai brings a nice balance of linear performance in comfortable ride quality. The electric range could not be tested in a few kilometres of drive; hence, we shall reserve our thoughts, but a realistic figure of anywhere between 390 Km – 460 km is easily achievable.
There is nothing in the realm of automobiles in India that matches the wow factor of the Hyundai IONIQ 5. It looks a million times better than its asking price, features enough to print a booklet on its name and offers one of the most spacious, innovative driving pleasures designed for daily infatuations with a car made possible by creative engineers at Hyundai. There are other cool-looking cars like the KIA EV6 and BYD Atto3. Still, nothing in the segment feels as technologically valuable, retro-modern, spacious, and proportionally sassy as the Hyundai IONIQ 5.