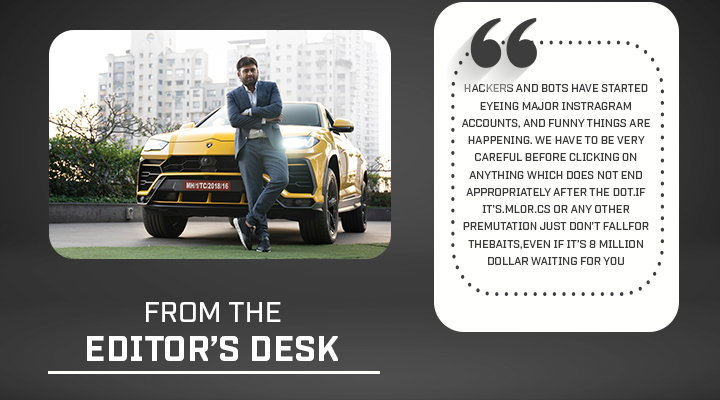 Just back from CES 2021, and not hungover for the first time. It was virtual, and it was not the same. Hopefully, it's the last time that it will remain like this. Regardless of how technologically advanced we become, business and progress happen when minds meet physically and for a trade show of CES size. It's just impossible to digest and absorb anything virtually. How many of
you followed it virtually? Don't blame yourself; you are just average in this "new normal".
Social media is a disruptive and disturbing place. Hackers and bots have started eyeing major Instagram accounts, and funny things are happening. We have to be very careful before clicking on anything which does not end appropriately after the dot. If it's .ml or .cs or any other permutation just don't fall for the bait, even if it's 8 million dollars waiting for you. These new vices are apart from WhatsApp, ready to invade our privacy and Facebook tracking every move. Owing to the scary combination of bots and AIs and hacking dystopic brains, our digital footprints have to be cautiously navigated. This explains why fake news needs to be authenticated, and this explains the power of print which can't be adulterated.
We got Shruti Haasan to do a badass shoot after a long stint of 7 years. Now she is raging in the southern industry and is our tech version of damsel in distress. She is a gamer, and in her upcoming flick is inspired by a dystopian tech society plunged into chaos. Exactly how we would like our sushi served. Precisely the kind of films techies like to indulge in and unwrap their popcorn for. The PS5 has been making a lot of news, and the world wants to get its hands on it. Till then, we have had a busy month playing it, that, and many more. Enjoy the issue; Enjoy February.