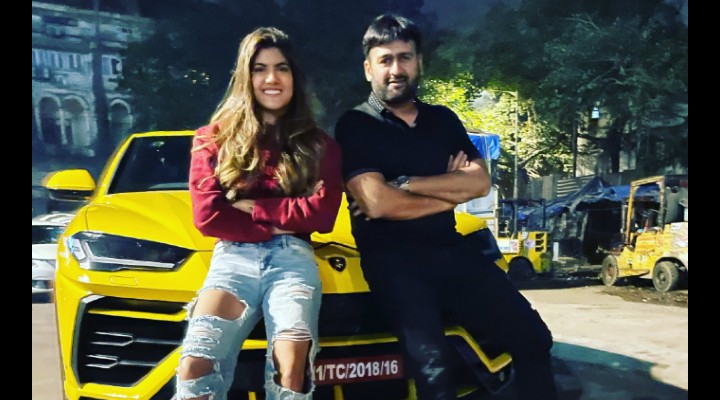 Today, we have a Lamborghini Urus and one self-made star to accompany us, the star who swam against the flow to prove herself, and of course, she conquered it gracefully.
If you're a fan of pop music, then you might have known her by name. We are talking about the first Indian artist with a platinum single in English. She is also a songwriter and the founder of Svatantra Microfin, a company that provides microfinance to women in rural and semi-urban India. She is Ananya Birla.
Ex: It was an epic year, so tell us, what have you been doing?
Ananya: I was in LA for the entire year when Covid hit. I never imagined that something like this would ever happen, and I think it has been a year full of learnings. I made a lot of music and grew a lot as an individual.
Ex: What has been your learning? Tell us something that you learned during the pandemic.
Ananya: To be more in the present moment. We work so hard, and we want to succeed so much, but we forget to be happy in the middle of all of that, and that's what I think I learned. That's what I have been doing and just enjoying the journey more than worrying about anything else.
Ex: During the lockdown, did you learn how to make the Dalgona coffee, cooking or any other #lockdowntrend?
Ananya: I feel terrible as everyone used to say they learnt cooking or found some hobby during the lockdown. But I still did not learn cooking as my best friend was with me, who cooks. I used to wash the dishes after eating excellent meals made by her, so I think its a fair fight?

Ex: You are the first Indian to be trending on the top 40 radio stations in the US, national icon and international icon, so how does it feel?
Ananya: It's been a good run, and I think I made the most of 2020, and I am proud of it. I also launched the Ananya Birla foundation, giving back to society in this challenging time.
How do I feel? No matter what, I think it's still the start, and I have to do more. It has been a good run till now. We've hit significant milestones this year, and that's about it.
Ex: Your song Everybody's Lost is profound. Has it gotten the same response throughout the world?
Ananya: Everybody's Lost is a very different song, and it has done well in the states. It has also done well in Mexico and Japan. A couple of my songs like Meant to be, Hold on have done better in India, but Everybody's Lost has excellent numbers. I like electronic music, but this is a sound that I enjoy right now. It blends in time and sounds better.

Ex: Apart from music, what are your other passions?
Ananya: I love travelling, adventure, reading, and I love cars. Even this is an adventure for me having a long drive in the Urus.
Ex: Now that the lockdown is over, what are the destinations you would like to visit with your girl gang?
Ananya: I think we would go to the Maldives; I love the Maldives. It's so peaceful there, and I love oceans basically; I'm a water baby.

Ex:  What gives you a thrill? What are some of the thrilling adventures you have been to or done?
Ananya:  I went skydiving in Dubai recently and loved it. I have had a lot of highs and lows, and when you have those high high highs, you want to keep getting them, and adrenaline does that to you, so when you are driving fast in a car or when you are travelling, you feel this rush.

Ex: Urus does 0-100 in 3.6 seconds. The roads are clean ahead, so are you up for it?
Ananya: WOW! That's insane, and honestly, it was so smooth you did not feel that jerk.

Ex:  What is the hardest decision you made or took in your life?
Ananya: I think it has to be dropping out of Oxford was quite a tough decision.                                                                                                                            Rs – I think swapping seats with you was the hardest decision I had to make.
Ex: You have your music passion, and you are also the founder of Swatantra. Are you able to manage your life and music in a cool way?
Ananya:  I started Swatantra when I was 17. It is a billion dollars worth now with over a million clients, 17 villages, and we give loans to people who need it the most, and yes, I find balancing very tough. That is one thing I still struggle with.