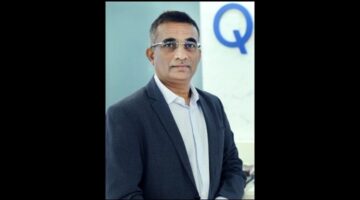 Ex: What is one truth you believe in that most people disagree with you on?
Rajan: I believe that the pace of change that will bring technologies such as AI, ML, Robotics, and Cognitive Computing will certainly lead to better times for humans. History has persistently proven this point; however, we need to believe in it rather than being skeptical.
Ex: One book you keep coming back to?
Rajan: Leadership Secrets of Attila the Hun by Wess Roberts.
Ex: Leadership quotes that you live by
Rajan: "Learning and innovation go hand in hand. The arrogance of success is to think that what you did yesterday will be sufficient for tomorrow." –William Pollard
Ex: How difficult is it to maintain a work-life balance?
Rajan: It is not difficult at all if you know when to stop or stop when you know.
Ex: What has been your biggest learning in the pandemic?
Rajan: Technology saved us yesterday, did it again today, and will do it tomorrow too. It is important to embrace it.
Ex: Some productivity apps and technologies you use in your daily life?
Rajan: Meditation applications to relax Video conferencing to stay in 'touch' OTT apps to stay entertained
Ex: What is your technology detox like?
Rajan: Meditating with help of smartphone apps.
Ex: How long do you think till AI is integrated into your processors?
Rajan: Qualcomm's on-device Artificial Intelligence (AI) has been a core player of Snapdragon chipsets since the 6-series (SD 660). We have fueled some brilliant attributes of AI to create intuitive and immersive everyday mobile experience. Today a good camera is a must and AI comes to aid. Snapdragon-enabled cameras capture stunning, professional photos and videos. We have also harnessed AI to create extended reality (XR) mobile applications across sectors. Our 5th generation AI Engine continues to bolster the interactive mobile gaming industry with real-time AI translation powering voice and speech recognition processes. Furthermore, since its dawn, the on-device personal assistant has been enabling
a truly customized performance. AI is everywhere, beginning with our processors.
Ex: If you would like to make a new category-specific processor, which category would you opt for and why
Rajan: At Qualcomm, we are fascinated by technology and how it can transform various industries. Our innovations have boosted the dynamics of the telecom world. But, more recently we have been empowering AI gaming, smart cities, automotive, and connectivity. The aim is to propel digital transformation beyond the capabilities of today's applications. We are constantly brewing ideas to catalyze growth through our existing tech offerings. For instance, we are rediscovering the infinite role of 5G. So, we look forward to exploring and being inspired by the power of technology. We have and want to continue making technology available to all; we did it with 4G and now we are working towards '5G-for-all', in India.