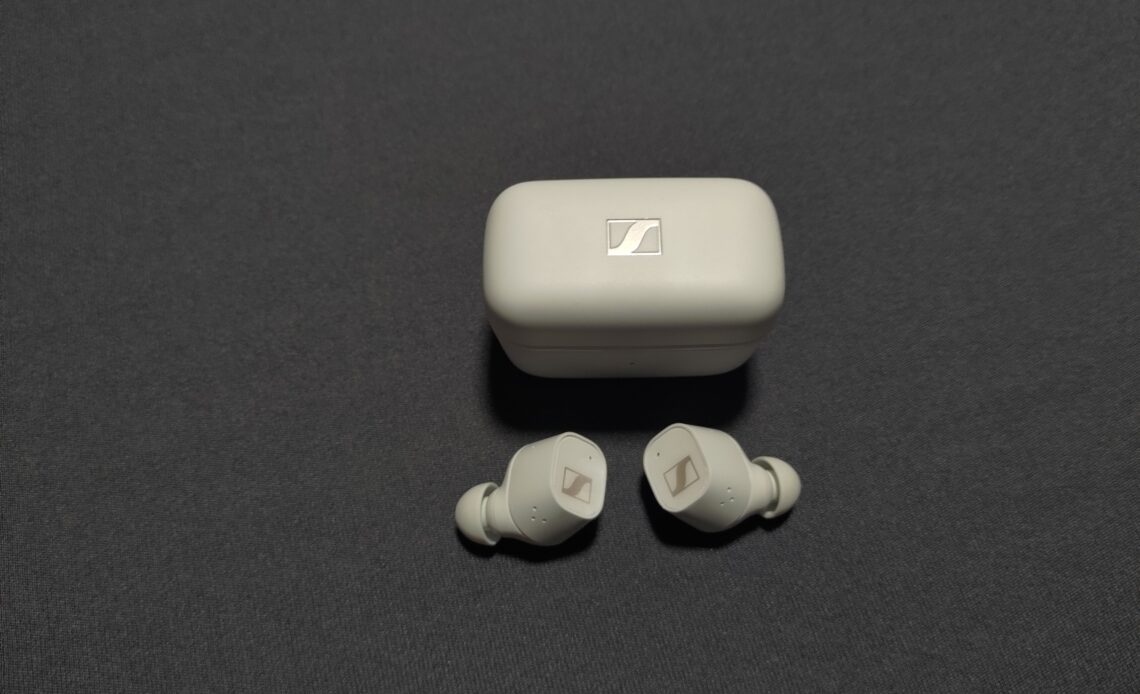 Sennheiser is a brand that has a lot of reliability and sells big time as far as headphone space is concerned. The new Sennheiser CX Plus True Wireless is a reasonably priced device that is supposed to be an upgraded variant of the Sennheiser CX model that was released last year. 
What does one really look for when buying wireless earbuds? Good connectivity, light and not too heavy, high music and voice quality, and most importantly should fit very well in your ears. I have tried the AirPods and Galaxy buds, but I figured that while I like those TWS buds for their superior music and voice quality, they make me feel a little insecure for running and workout purposes. 
Sennheiser CX Plus Design
Let's talk about the design first. The box is not too big but is wide enough. This makes it difficult and uncomfortable to carry it around in our pockets with that uncomfortable bulge. The case looks clean and premium, with the Sennheiser logo at the top, the front charging indicator, and the backside port. 
Sennheiser CX Plus is visually identical to the previous CX model and comes with many similarities, which is not a bad thing. They are lightweight and come with four different-sized ear tips. However, the only negative point here is that they are very bulky. 
Sennheiser CX Plus Features
Sennheiser has included Active Noise Cancellation in this one which is a serious upgrade from their previous model. ANC in this one is pretty good, and it manages to curb the outside noise. I usually travel by local trains and often get stuck in traffic jams. Answering calls with regular earphones in these situations is a big task. Sennheiser CX Plus did a great job here by providing clear voice quality and easy delivery of my voice to the receiver. 
The CX Plus has a capacitive touch panel that controls calling and playback with single, double and triple taps. Here is what controls what-
One Tap on the right side – play/pause

One Tap on the left side – Transparency mode

Two Taps – Next or previous song

Three Taps – ANC

Hold – Volume up/down
The Sennheiser Smart Control App is an easy and well-laid-out app that easily connects to your earbuds once they are paired with your mobile device. Through this app, you can adjust your earbud's EQ, where you can raise or lower your frequency line. You can also set different presets for later purposes. 
The Sennheiser CX Plus connects with your phone using the Bluetooth 5.2 firmware, which is a lower latency codec. The earbuds claim to last up to 8 hours with a single charge, and our testing reveals that it runs a little short of that but not too much. The CX Plus holds a charging capacity of 16 hours but lacks fast charging. 
Sennheiser CX Plus Voice Quality
These earbuds are amazing for music. The sound quality is as good as you'd expect out of Sennheiser. In fast-paced pop songs, you could hear all the instruments and the separation is crisp and rich, and full, with a nice, warm, and capable bass that does not sound very overpowering. For most of the genres, the sound is very well balanced and with EQ, it delivers exactly what you want. I am a really big fan of classical music and there is this song called 'Dastaan by Tajdar Junaid', and the sound of the instruments felt heavenly to my ears with Sennheiser CX Plus. 
With ANC, you feel like you have left the world backstage. After a long day at work, when I am sitting in an auto-rickshaw towards my home, Active Noise Cancellation plays its part in helping me relax to the tunes of Jazz while the honks and the chaos just slips back into void.
Conclusion
Honestly, Sennheiser CX Plus is a good buy for a price tag of Rs 14,990, mainly if you like listening to music. Also, one thing that holds me back is its disability to pair fast, which is a turn-off. Overall, I would rate it 3.5 out of 5.