HMD Global has unveiled its latest addition to the lineup, the Nokia G42, a mid-range smartphone significantly emphasising repairability. Building on the success of their previous release, the Nokia G22, which allowed users to repair their devices, HMD takes a step further with the introduction of the Nokia G42 5G. This device marks HMD's maiden foray into consumer-repairable 5G smartphones, solidifying their commitment to giving users greater control over their devices' maintenance.
HMD has joined forces with iFixit, a renowned platform that specialises in providing repair guides and genuine OEM parts to facilitate user repairs. This partnership ensures that users will have access to essential components such as displays, batteries, charging ports, and back covers for a period of five years. It should be noted, however, that while the back cover can be replaced, the battery is not removable in the traditional sense and necessitates using a pick tool for removal.
Beyond its repairability, the Nokia G42 5G retains the core features that have come to define Nokia's budget-friendly offerings. Powered by the Snapdragon 480 Plus 5G chipset and accompanied by 4GB to 6GB of RAM, the device strikes a balance between performance and affordability. Users can expect ample storage with 128GB of expandable capacity and a visually pleasing 6.56-inch 90Hz LCD screen protected by Gorilla Glass 3.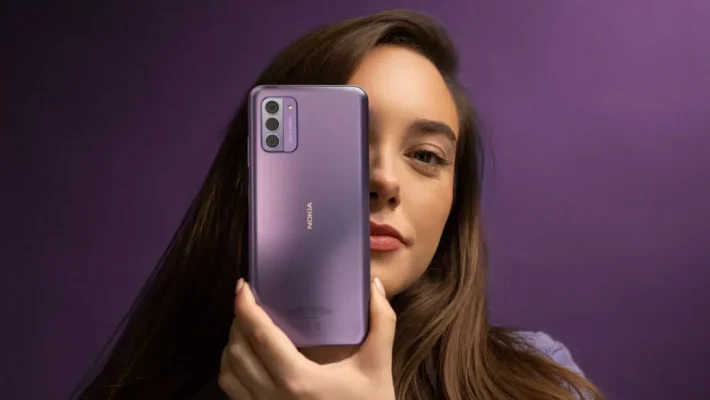 Moreover, the handset boasts an IP52 rating, rendering it resistant to splashes and minor water exposure. Photography enthusiasts will appreciate the modest yet capable triple rear camera system on the Nokia G42 5G. Anchored by a 50MP primary camera, complemented by a pair of 2MP sensors for macro shots and depth sensing, it captures impressive imagery. For self-portraits and video calls, an 8MP front-facing camera is also present.
Regarding connectivity, the device features Bluetooth 5.1, Wi-Fi 6, and NFC support, catering to various wireless needs. Additionally, the OZO 3D audio technology enhances the audio experience during both recording and playback. The Nokia G42 5G houses a substantial 5,000 mAh battery, augmented by 20W fast charging capabilities, ensuring extended usage.
HMD estimates the battery can last up to three days with average usage while retaining 80% of its original capacity after approximately 800 charging cycles. Noteworthy features also include an IP52 certification for added durability, a headphone jack, and a side-mounted fingerprint scanner, adding convenience and security to the overall user experience.