Caviar, renowned for its opulent customizations of mobile devices, has recently unveiled its latest collection known as "#Barbiecore." The unique collection showcases three distinct devices, or technically four, that has undergone a lavish transformation featuring pink aesthetics alongside the obligatory embellishments of gold and diamonds. The devices in question are the Samsung Galaxy Z Flip5, as well as the yet-to-be-released Apple iPhone 15 Pro, Pro Max, and Watch Series 9.
Among the custom-designed smartphones, an iconic stiletto shoe motif takes centre stage. The foldable device is accompanied by an actual fluffy pom-pom crafted from faux fur. Additionally, a laser engraving depicting the golden panel in the shoe's design is featured, accompanied by an arrangement of 49 sparkling rubies adorning the device's rear panel.
In the case of the iPhone 15, an arrangement of 61 Swarovski crystals graces the periphery of the camera island, while the device's rear boasts a pink-coloured alligator skin finish. Naturally, Caviar has incorporated 24K gold elements throughout the design, including the camera frame, lateral portions, and the stiletto accent, all meticulously crafted from this precious metal.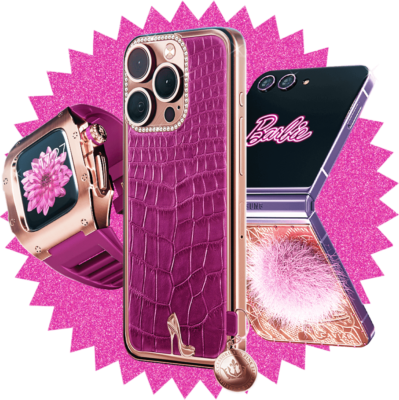 The Apple Watch Series 9 introduces a bespoke 316L stainless steel chassis treated with a Rose Gold PVD coating. The inclusion of golden decorative bolts, a clasp, and a rotating button further enriches this design. The accompanying strap is composed of pink rubber, and its replaceability remains unspecified.
These meticulously crafted designs are produced in limited quantities, with only 99 units available for each variant. Importantly, it's crucial to note that these designs currently exist as conceptual visualizations. However, for those who desire ownership, Caviar extends the opportunity to commission one of these devices, provided the requisite financial means.
The price points for these distinct offerings are as follows: the Apple Watch Series 9 is priced at $1,900 (₹150k), while the Galaxy Z Flip5 design commences at $8,560 (₹700k). As for the iPhone 15 Pro, it bears a price tag of $7,990 (₹650k). Additionally, an alternative option featuring the iPhone 14 Pro is available, priced at $7,270 (₹600k).