The WOL3D (World of Lilliputs), pioneering in 3D printing technology in India since 2017 has recently launched the ITouch 3D pen in the Indian market. It has brought a development in the production of 3D technology— a change in the 3D printing market. Anticipate a situation where you're thinking about an object; a prototype of something, and imagine having it right then. The ITouch 3D Pen is like the magic pencil from our favorite childhood show that all of us have wanted at some point in our lives! 
WOL3D is ISO, CE and ROHS certified with an extensive range of products like 3D prototyping services,3D Printers, 3D Filaments and 3D pens that showcase international quality standards. At present, they're the No. 1 sellers on Amazon India for 3D printers, 3D pens and 3D filaments. ITouch 3D pen is another milestone that they have come up with; for children, for adults, for you! The perfect gift that will bring a smile on any kid's face after they create their first project.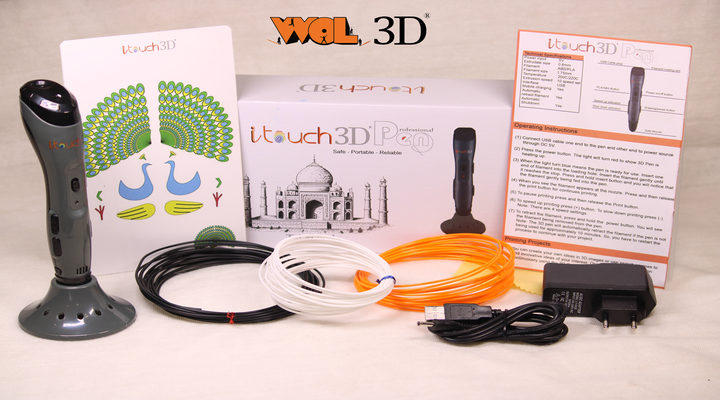 In this era of practical knowledge, coupled up with the Covid-19 situation that restricts us from interacting with the outside world, ITouch 3D Pen is the magical pen that intends to improve children's spatial thinking skills and encourage their creative imagination. A device that is easy to operate & maintain. Parents don't have to worry about it being safe. The pen is equipped with a patented nozzle and thermal design that prevents burns. Also, if inactive for 5 minutes, it automatically shuts down. 
 The small 'wonder-in-hand' is manufactured prioritizing consumer's safety. It's user-friendly and anyone with a design in their mind, or on paper, can use it to design various products such as jewelry, toys, or basically anything. Various professionals, educators, artists use the device for modeling and developing various prototypes. It's non-toxic and eco-friendly; just a heavier and bulkier version of a normal pen where the ink is replaced with filaments made of PLA (Polylactic acid) or ABS (Acrylonitrile Butadiene Styrene), which are harmless to humans. PLA is biodegradable too. Also, the scientific program logic sets the non-blocking nozzle for smooth printing.  
This miraculous innovation works on USB charging. Also, the temperature and speed of the device are adjustable. It has an excellent extrusion speed, and you can create custom 3D objects without clogging and smooth graffiti. It comes with a USB charger, an adapter, a manual which explains all its usage, stencils that might help you get started and a pen holder, obviously! 
ITouch 3D Pen is one-step ahead of you while you're working on your creativity. It garnishes the objects with extraordinary effects, adds a layer to your imagination and works like a glue gun too; can join two objects that are already created. You can definitely create objects bigger in size. Although, to accommodate every single detail of a large functioning prototype with numerous parts, you might need consultation from experts. Well, you always have YouTube to be thankful for this!