Everyone loves travelling. As humans, we possess a natural tendency that makes us meet new people. We don't realize it, but we all need it. While listening to an adventurous travel story, have you ever thought of telling one yourself? 
Well, what if someone tells it on your behalf? In an arranged manner without missing out on the slightest detail that we often tend to forget. This is where things get serious. Meet the KOGO TripTracker, the most intelligent device that you'll witness while travelling! KOGO is a device-app combo that allows you to track your road trips precisely and create stories that include every moment you capture. An app that tells you the nearest local stores, food-points, chai tapris, and even talk and meet with other travelers on the same route for a better experience.  
Speaking on the development, Mr Raj K Gopalakrishnan said, "While Corona brought the world to a grinding halt, we worked overtime to add the maximum value to the product for our users. The result is 7 new features and 41 feature enhancements in KOGO 2.0, which I can confidently say is at par with the best platforms in the world today, in terms of performance, features, and architecture. But the big delight for users is AI trip videos. Creating Trip videos (amateur or vlogs) has plagued travelers globally. They never did it, because it required skill and time. We have completely automated the process with our proprietary AI Video Engine. Finish a trip and it's like magic. A freshly minted video created automatically, with pictures, routes, stats, animation, graphics and music. I truly believe we have opened the floodgates to a boom of user-generated videos." 
KOGO includes two pieces of an intelligent system. The hardware piece being the KOGO TripTracker with a built-in GPS tracker that tracks one's position and the software is the KOGO App which eventually puts things together for you to see them. Whether you're riding, cycling, driving, or hiking, KOGO records everything. It's like a personal storyteller.  
LOOKS & FEATURES OF KOGO 2.0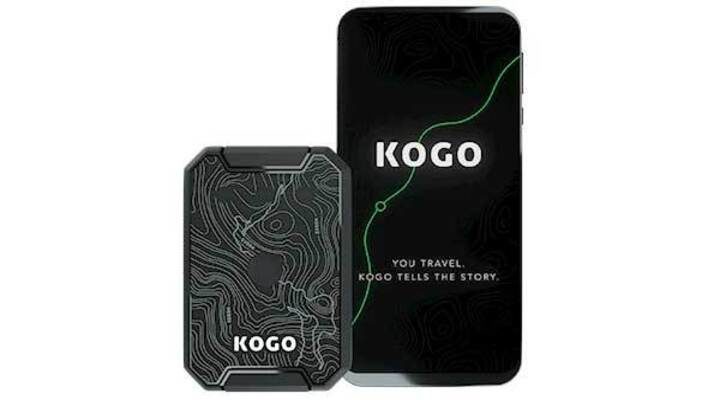 The KOGO TripTracker is a little black box with a GPS tracker, a data SIM card, and its own battery. The device needs to be charged once every seven days. Additionally, don't worry about travelling in no-network areas; the TripTracker stores up to 20 days of offline content. The device never interferes with your phone's battery. The device can be mounted on to a motorcycle, a car's dashboard, or can be put in your backpack. Once the app is enabled and synced with the KOGO TripTracker, it's magic.  
However, the KOGO 2.0 version of the App has brought new enhancements along with 7 new features. The app is designed to work LIVE, while you enjoy your journey. The features include Kogo Carousel, a part of the new UI that gives a unified view of stories, videos, maps, and live features simultaneously. The AI Video Engine creates completely automated trip videos. Along with all this, you can be a part of the rich global community of travelers by discussing, suggesting, or asking for recommendations. You can participate in KOGO Quests, or create your own, giving yourself another reason to travel.  
KOGO 2.0 tracks every single detail of your trip capturing routes, halts, places of interest, weather, and more. You don't even have to stop at times. The app does it automatically if you happen to miss an event or place of interest on the way. It finds an unlicensed photograph of the event for you to remember. Through the KOGO TripTracker, you'll have automated sync of your photos, videos, and text with the route, stops and moments.  
The magic doesn't end here. KOGO 2.0 enables enhanced discovery of trips, people, and quests with different filters such as Nearby, Trip Duration, Distance, Tags and Recommended. It also enables you to ask for Live help from other travelers and the community while on a trip. It also comes with a direct messaging feature between users. The AI storytelling Engine of KOGO turns your trip timeline into amazing trip videos and rich travel stories with maps, images, videos, and text. You can revisit and share your experiences through your stories across social media. It even creates customized cards of your content while you share.  
The KOGO App is free to download on Android and iOS and the device is available at an introductory price of INR 7,749. The one-year subscription cost for premium features of the app is INR 1,499. You can buy it on Amazon or across 125 points of sale in India.