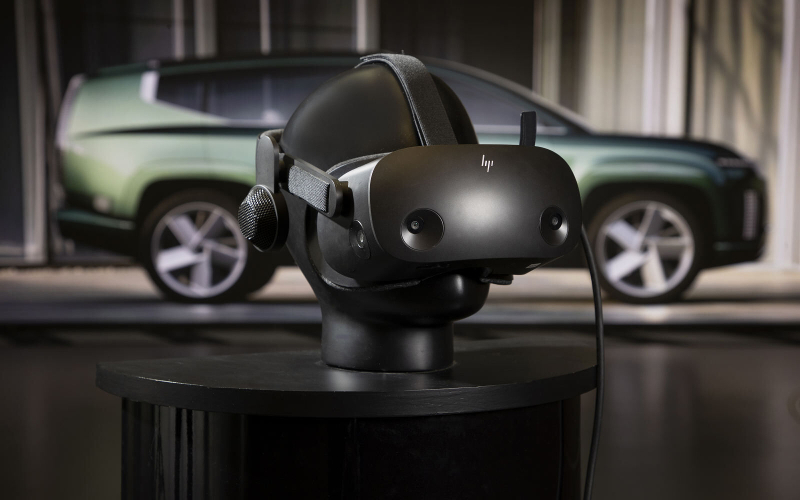 Hyundai Motor has invested in a series of cutting-edge technological solutions to overhaul its design process. By embracing the latest innovations, such as virtual reality (VR) and 3D gravity sketching, the company has consolidated its position at the forefront of car design.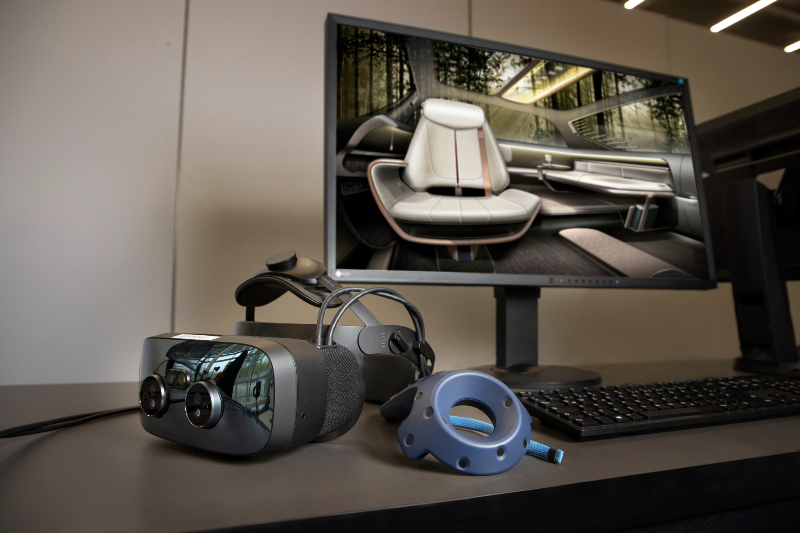 Beyond sheer aesthetics, the benefits of this approach are three-fold. Firstly, Hyundai's designers are equipped with state-of-the-art tools that enable them to develop models with boundary-pushing features. Secondly, a streamlined digital process speeds up vehicle development. Finally, a lower carbon footprint supports the company's environmental commitments.
Hyundai has made significant investments in state-of-the-art virtual reality (VR) technology and infrastructure to transform its design process
Company stakeholders can now collaborate across continents in a virtual space to speed up vehicle development and support the planet
Hyundai's latest concept SEVEN is the company's first model to be designed completely digitally

Stepping away from a traditional design approach
Much like today, Hyundai's designers commenced the initial creative phase by creating pencil sketches on paper in the past. These images would reflect the kind of car they wanted to convey: perhaps one that is dynamic and sporty, or one that is brimming with new technology. Typically, these drawings would feature exaggerated proportions of the car, such as emphasized wheels and curves.
Once designers completed their initial sketches, they would compete with one another to have their proposals selected. After a winning design was selected, the chosen model would be developed as a scale model from clay, based on two-dimensional paper sketches.
Developing a scale model would take anywhere between four weeks and two months, depending on the schedule. Afterwards, the scale model would then be scanned and milled in a full-size. However, this approach was not without its drawbacks. After all, when shifting from a scale model to full-size, no line stays the same.
Previously, Hyundai's designers were required to work together with clay modelers to refine the final design of an upcoming model. However, lines and surfaces had to be marked out using tape. On top of this, the company's engineers were unable to work simultaneously with the designers, as they could only receive data after scanning the model with a photogrammetry system. Both of these factors made the process very time-consuming and cost-intensive.
VR: the revolution
Modern design technology is now very fast and much more stable. Today, Hyundai no longer produces scale clay models; instead it utilizes technologically advanced tools that are more intuitive, such as 3D digital design software. These enable the company's engineers to mill full scale models using 3D data, which significantly speeds up the design process. Today, 80 per cent of Hyundai's design development is fully-digital.
Hyundai's designers work with industry-standard software that has been reprogrammed so that they can work in collaboration across multi-user and multi-location environments. This state-of-the-art technology includes laptops designed for high-performance gaming, in order to handle 3D graphics, motion technology from the film industry, as well as innovations derived from sport. Using this software, the designers can create models and immersive environments in VR that look extremely close to the real thing. The difference between modern design and the traditional approach is stark, and can be compared to the revolution cars undertook before and after anti-lock braking systems were introduced.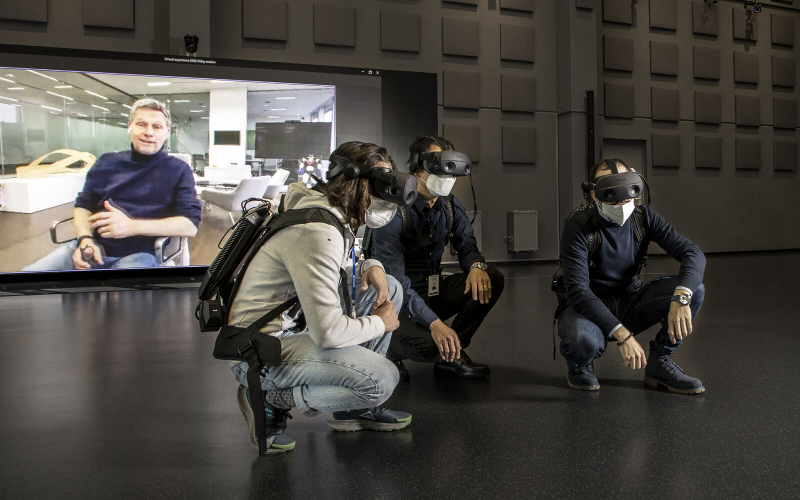 VR technology also opens up a host of new opportunities for Hyundai's designers. For example, the gravity sketching tool enables designers to create more human-centric vehicle designs by working in 3D from the start. Designers swap their paper and pencils for a headset and controllers to become immersed in VR, imitating gestural interactions through motion tracking. By working in 3D, Hyundai's designers can experiment with different proportions and build variations based on their ideas. Meanwhile, a 360-degree view of the vehicle allows them to sketch from any angle – in contrast to the traditional 2D process.
3D gravity sketching also enhances the collaboration between Hyundai's exterior and interior designers. Through this technology, the two teams are able to work together simultaneously. While the exterior design team refine the digital model, the company's interior designers can work in parallel by virtually stepping inside the car to develop features or make quick adjustments.
Another advantage of this technology is Hyundai's designers' ability to test unlimited colour options and material applications, including fabrics and leather, ambient lighting and other types of materials. As well as saving time, this also reduces shipping and traveling costs. In addition, this approach is much more sustainable as significantly less waste is produced, resulting in a dramatic reduction of CO2 emissions.
Hyundai's VR design evaluation system
Hyundai's design journey in multi-user wireless VR spaces started in 2017. Then, in December 2019, Hyundai Motor Company and Kia Motors Corporation announced an ambitious new virtual reality (VR) design evaluation system. Two years on, this has now been fully implemented. The system demonstrates a heightened focus on enhancing vehicle development processes through the implementation of VR technology. It simulates many aspects relating to a model under development, including interior and exterior design elements, as well as lighting, colours and materials.
These cutting-edge facilities in Namyang, Rüsselsheim, and Irvine, California, allow the designers to review a multitude of design concepts earlier in the developmental process, and in ways that were previously physically impossible. VR headsets allow colleagues from Hyundai's Design and Engineering departments to enter into a virtual conference in real-time and simultaneously undertake vehicle design quality assessments and development verification processes, no matter where they are in the world.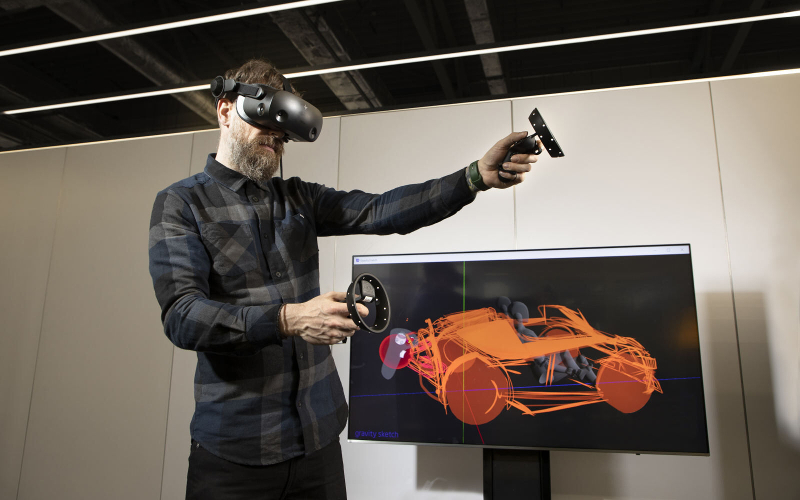 Hyundai has also established remote VR design assessment capabilities to enable real-time virtual collaboration between its design centers in Europe, Korea, China, India, Japan and the U.S.. The benefits for the company are clear: it has facilitated greater cross-team – and intercontinental – collaboration than ever before.
These changes were already underway before COVID-19 emerged and sent the world into lockdown in early 2020. According to Simon Loasby, the pandemic served as a catalyst for Hyundai's global design workforce, accelerating the transition to digitalization and agile working.
VR technology promises a sustainable future
VR technology is continuing to evolve. In the future, it will offer much higher levels of detail and operate at far quicker speeds. It is therefore set to play an increasingly prominent role for Hyundai's designers and engineers. In addition, advances in AR and mixed reality will enable the company's colleagues to interact with one another even more immersively.
However, one fundamental benefit that should not be overlooked is its positive environmental impact. A digital design process produces are much lower carbon footprint, as far fewer clay, paper and waste materials are used in the process. For the development of SEVEN, Hyundai produced one clay model for verification at the end, rather than a multitude of scale clay models. By meeting in a virtual conference space, Hyundai's designers are no longer required to frequently travel around the globe, expending thousands of air miles in the process. Going forward, this will contribute towards Hyundai achieving its goal of carbon neutrality by 2045.