Qualcomm came all guns blazing during its Snapdragon Summit 2022 which was held in Hawaii. While the first day of the summit was dedicated to the flagship Snapdragon 8 Gen 2 processor, the second day showcases a number of new technological advancements by Qualcomm in the fields of AR, sound, and AI. Let's have a detailed look at everything announced on the Day 2 of the Snapdragon Summit 2022 –
Snapdragon AR2 Gen 1
Qualcomm has revealed the Snapdragon AR2 Gen 1 which will be the company's dedicated chip for augmented reality. The chip packs a number of features as a dedicated solution for AR headsets. The new AR platform has been built up from the ground in order to unlock a new generation of highly capable AR glasses.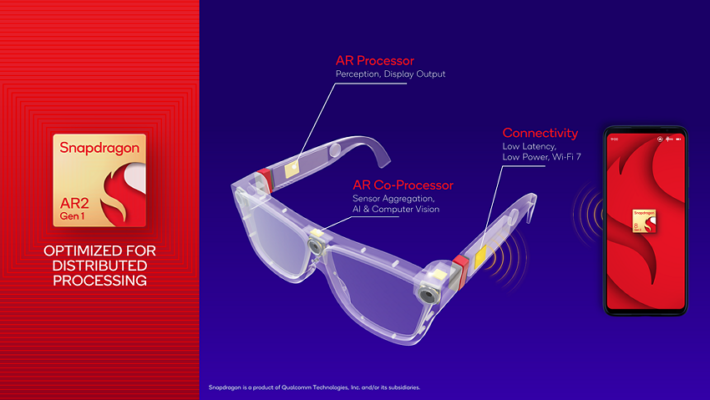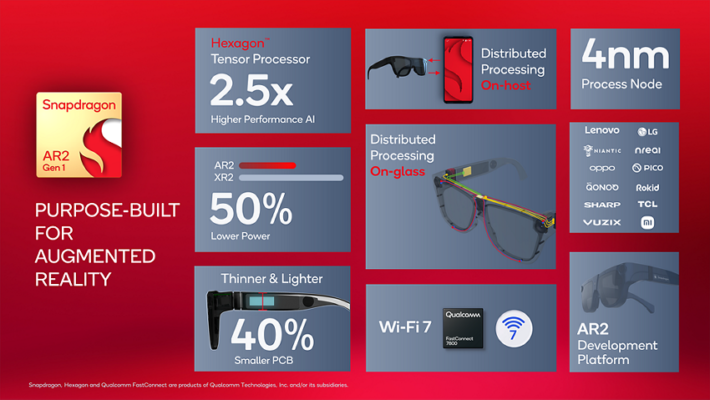 Qualcomm has unveiled that the chip is 'purpose build for AR'. The company has built a multi-chip distributed processing architecture coupled with customized IP blocks. The main processor has been shrunk down by 40% but there is no compromise on processing as it delivers 2.5x better AI performance while also consuming 50% less power. Another key feature of the AR2 Gen 1 is that it is based on a multi-chip architecture. The multi-chip architecture includes an AR processor, AR co-processor, and connectivity platform. However, Snapdragon has also revealed that the AR2 won't be a standalone solution as it will require a Snapdragon-compatible host device like an SD phone or a laptop in order to carry out complex AR tasks. With the advancement of immersive technology and the growing curiosity amongst users to explore the world of VR and AR, Snapdragon is certainly moving in the right direction. One can expect that with the introduction of the AR2 Gen 1, users will finally be able to see slimmer AR glasses that are straight out of Sci-Fi films!
Qualcomm S5 and S3 Gen 2 sound platform
While the Snapdragon 8 Gen 2 improves on a number of performance features for Qualcomm's mobile platform, the cherry on top is the company's new Snapdragon S3 and S5 Gen 2 Sound platforms. The new platforms are designed to work along with the latest 8 gen 2 chipset and bring a number of audio features including spatial audio support. The S5 and S3 Gen 2 audio chips come with Snapdragon Sound Technology for an improved audio experience for users. The chip sports features like low latency, improved connectivity, lossless audio via Bluetooth, and much more.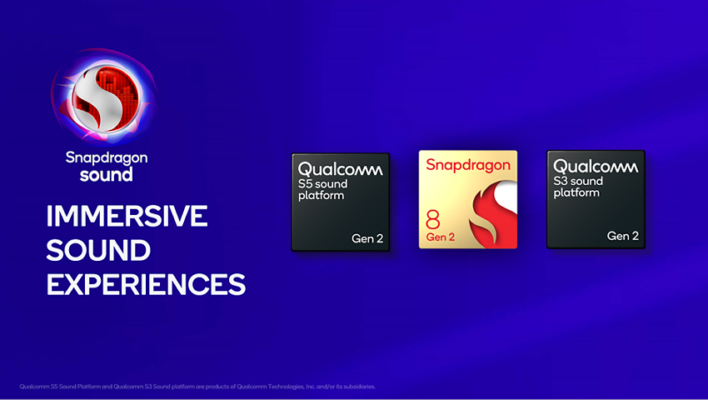 Qualcomm revealed that the new sound platform comes with the support of spatial audio with dynamic head tracking and lossless music streaming. Have you ever experienced your music lagging on Bluetooth earbuds while running? Qualcomm's new audio solution will surely cut that issue down marginally if not entirely! The sound platforms also feature Qualcomm Adaptive Active Noise Cancellation. This feature adapts to the fit of the earbuds and your surroundings in order to avoid ambient noises. Features like Adaptive Transparency mode and automatic speech detection are also present here.