Ford has officially revealed the 2021 Bronco SUV that will, for the first time, be available in a four-door version. Since its hibernation in 1996, Bronco fans worldwide have been anticipating its return. The American car manufacturer also hinted at a new model in 2004, when it introduced a concept car. Ford finally confirmed the arrival of a new Bronco in 2016.
In its 2021 avatar, the fifth-gen Bronco aims at reigniting its age-old rivalry with the Jeep Wrangler. It retains some classic elements such as LED DRLs inset to the round headlights and hood tie-downs called "Trail Sights" by Ford; a true insignia of its legacy. It also keeps its familial stance and general proportions.
The interiors are awash with nostalgia as well, but with ample modernization. Its retro-looking instrumentation is suavely complemented by a brand-new, 12-inch touchscreen infotainment system. It gets Ford's SYNC 4 software with OTA updates, that offers FordPass Performance app compatibility and onboard topographic trail maps. These maps can be used by drivers to plan, navigate and share their trail adventures. The roof panels and the frameless doors are removable (we would be so sad if they were not!) and the switches have been rubberised as well, making the interior completely washable. 
Ford, in a sleight of hand, has added an integrated rollcage and curtain airbags to get a one-up in safety over its rival. It has also made the Bronco significantly larger than the Jeep Wranger (JL), while giving it independent front suspension! It is paired with a solid multilink rear axle and is offered with Bilstein's top of the line Position sensitive dampers.
The 2021 Bronco will be offered in a four-door, as well as in the classic two-door version. Customers can choose from seven trims, in which the ground clearance varies from 231m to 295mm and wheel size increases from standard 6-inch with 30-inch tyres to 17-inch wheels with 35-inch tyres.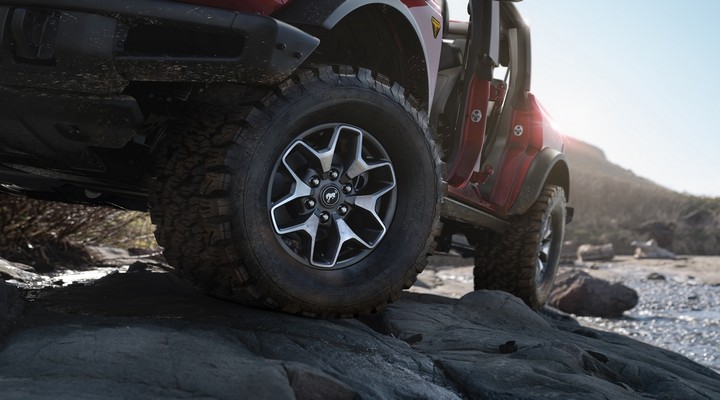 Buyers also have a choice between two EcoBoost turbocharged petrol engines. The first is a 2.3-litre inline four-cylinder producing 270PS/420Nm, offered with either a Getrag 7-speed manual (6+1 crawler gear) or a 10-speed automatic. The second engine, a 2.7-litre twin-turbo V6 making 310PS/542Nm is only offered with the automatic transmission.