Sometimes it is necessary for you to match your wrist watch to your vehicle. While most owners make do with aesthetic similarities, Swiss watchmaker Carl F. Bucherer has taken it one step ahead. Collaborating with American motorcycle manufacturer Harley Davidson, the company has created the 'Bucherer Blue' watch.
The watch is based on the manufacturer's Patravi TravelTec II and gets a rose gold finished case with a black bezel and a blue face. Its front has a sapphire anti-reflective face while its back sports a transparent window. Its rubber strap is also designed as a tyre tread. The watch runs on CFB 1901.1 calibre automatic movement with a 42-hour power reserve. Apart from the hour, minute and second dials, it also shows a date counter and three different time zones.
The owner of this watch will probably get the world's most expensive watch holder. It is a customized Harley Davidson Softail Slim S which is called the Blue Edition. It has two armoured glass domes inside its fuel tank, which hold the watch and a solitaire ring. The holder, which is insulated with silicone rings to absorb the motorcycle's vibrations, also doubles up as a watch winder. This charges the watch while it is sitting in the box.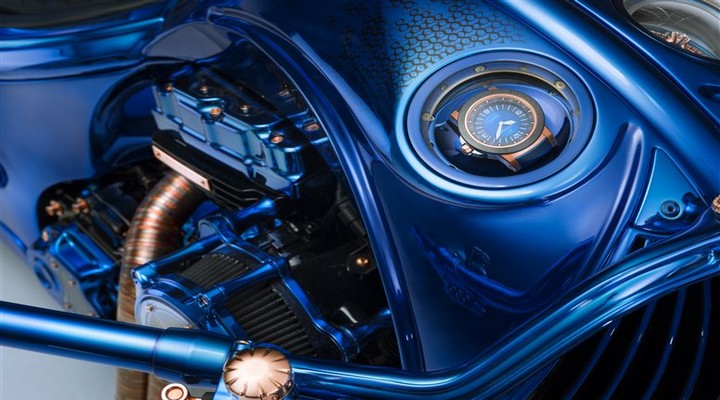 Harley Davidson roped in chop-shop specialists Bundnerbike to complete their project. The basis for this bike is the Harley-Davidson Softail Slim from 2017, which was rebuilt in detail. Even the smallest parts, including bolts, were made by hand and given a high-quality finish. The wheels were specially designed for the Blue Bike, and the saddle is also hand-stitched – made in Switzerland.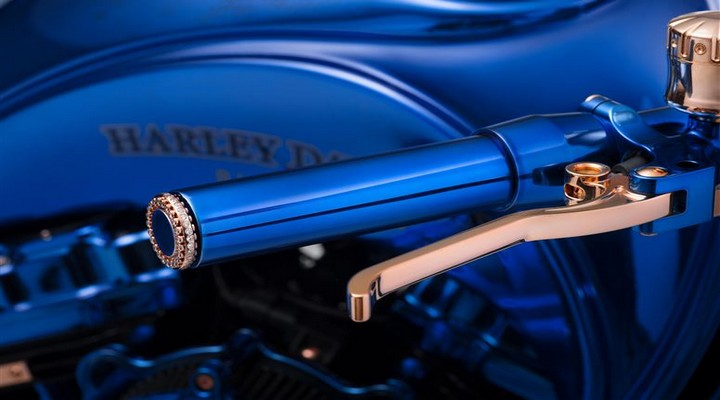 The motorcycle is also embedded with heat-resistant LEDs on the inside that illuminate the various gold-plated components of the motorcycle. The tank doubles up as the watch holder, as well as the holder of a six-prong solitaire ring with a 5.4 carat diamond.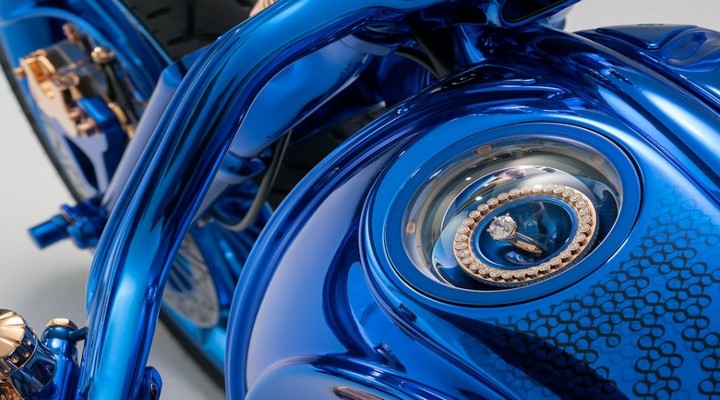 Mechanically, the motorcycle remains unchanged and carries forward its 107cu.in. (1753cc) V-twin engine that makes 92HP of maximum power and 145Nm of peak torque. It is mated to a six-speed manual transmission.
Patrick Graf, Chief Commercial Officer at Bucherer says, "We are delighted to be able to take advantage of our many years of experience and our close relationships with our partners to create exquisite, one-of-a-kind watches and products as part of the Bucherer BLUE collection, which are available for purchase exclusively at Bucherer."
The iridescent paint job of the motorcycle was achieved after an elaborate process of silver plating the motorcycle completely. It was then painted with six coats of different colours, that has resulted in the rich, deep blue colour.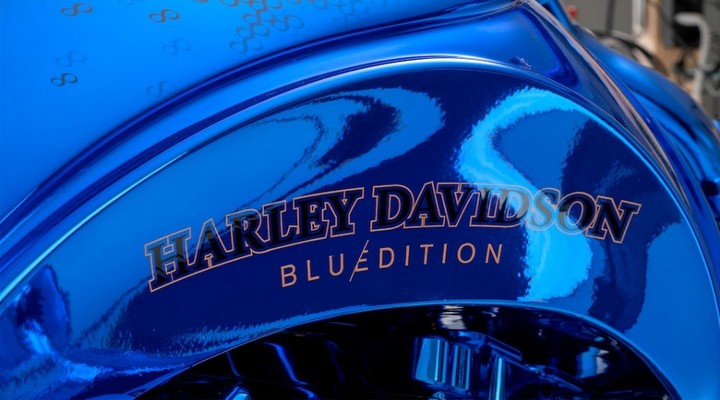 As expected, this luxury comes with an incredible price of Rs 15 crore (when converted) of which almost Rs 12 crore go towards the costing of the motorcycle, making it the most expensive one in the world! Still, Rs 3 crore for a wrist watch is quite a fancy deal, don't you think? Naturally, it is safe to assume that the Harley Davidson Softail S Blue Edition will definitely not be an everyday sight.