The EV market is one of the fastest-growing automotive segments. Thanks to growing dimensions and ever-increasing fuel prices, most cars are already hybrid. As soon as the charging infrastructure matures, the EV market in India shall evolve too. MG Motors India conceptualised the MG ZS EV back in 2017, bought it to Indian markets in 2019 and has enjoyed its share of the EV automotive market. Tata's Nexon is still the dominant market leader in this space, but MG was researching, improving their vehicle. Auto enthusiasts witnessed this coming from miles away when the MG Astor launched a couple of months ago. MG themselves revealed the new and evolved MG ZS EV 2022 via a virtual launch. I got a hot sunny day to test drive this media vehicle before it was drained, recharged and handed to the next presenter. To my pleasant surprise, I get to know the battery is only at 42%. MG claims that this new MG ZS EV can be charged in 5 ways, just like its predecessor. But, we had a job in hand, and there was no waiting to test MG's 0-100% battery charge claims in 16-18 hours from a capable wall plug point. 
Design
The front fascia of the MG ZS EV looks familiar, but the overall appearance resembles nostalgic lines, and sharp-looking LED illumination. Based on the MG Astor, the overall silhouette resembles sharp lines and the crystalline effects on the front and rear headlights are beautiful additions to the relatively clean design. There's no mistaking this car for an Astor with bold electric printed badges below A-pillars. And a grille-less structure that neatly houses the AC-DC charging ports, this time with LED charging indicator. We shall miss the uber-cool illuminated MG logo that popped upwards from the front to reveal charge sockets on its predecessor. 
The MG ZS EV feels muscular but not intimidating. ZS EV's spare wheel is 215 section 17-inch too, and the car comes in two trims – Excite and Exclusive. Physically and mechanically, both are almost identical. We test drove the latter, which comes with a bucket load of tech, both driving aids and safety. Sharp bumpers hide most sensors and add a unique character to this EV. The crystalline elements on all-LED illumination add a jewel to a rather unenergetic overall stance. MG ZS EV is a tad bit smaller in dimensions than the market leader of mid-size SUVs in India, the Creta. At the back, this time around, the chrome MG logo is neatly flushed and acts as a manual trunk opener to liberate a healthy boot space of about 460L. 
Services, safety and interiors
The ZS EV comes loaded with 5 years of unlimited warranty, 5 years of complimentary roadside assistance, 8 years or 1.5 lakh kilometer battery warranty, tedious but free 4G calling service, with keyless drive through my MG app suite, an IP69K rated water and dust protected battery with six airbags for safety, the MG ZS EV also gets a host of other features. We noticed how smooth overall operations are on the 10.1-inch car console tablet compared to earlier MG products. The AI response, too, is miles faster than its ICE sibling, Astor. MG calls it a car as a platform (CAAP) loaded with a Jio 4G SIM, Jio entertainment like Saavn, etc., enabling free and paid apps with services installed right inside the car console. This tablet also allows native USB read support on all Type-A USB ports, including the one mounted right behind the rearview mirror. Drivers can select if they want to drive with or without driving aids right through vehicle settings. There's also a 360-degree camera with regular, wide-view sensors and a 360-degree live 3D view with toggles for park assist both front and rear. The quality of the footage still feels like it missed the evolution train. 
The ZS EV gets a 7-inch digital driver's MID with ample battery information and three brightness levels like most EVs. The telltale lights also display all four seat belt indicators. The left console displays the speed while the right-hand side digital display showcases the percentage of power with re-gen information. The flat-bottom steering wheel is chunky, covered in black leatherette red-stitched design and suits the overall mid-size SUV characteristics of the MG ZS EV. The dashboard is multi-toned and has multiple finishes, most of which are backed by soft-touch carbon fibre leatherette garnish with red accent stitches that add to the car's zippy appeal.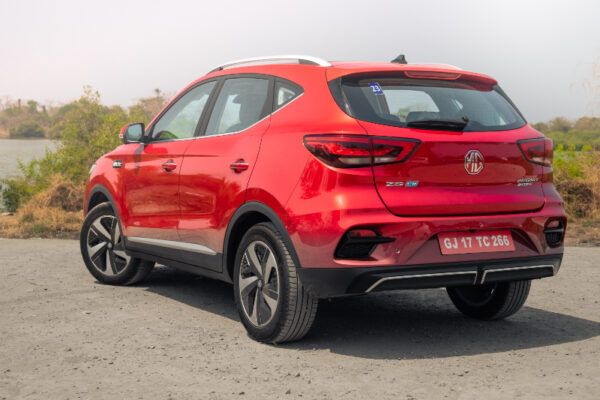 Jet engine styled ac vents on either side of the dashboard are designed in symmetry with the uber-cool looking parking button, are finished in brush metal texture and double up as drive selector knob. In the centre, there's an extensive 10.1-inch touch-enabled infotainment system. This one is the fastest and the most responsive among the entire MG motors lineup in India. We wish the evolution had us connecting our phones wirelessly for Android Auto or Apple CarPlay. Still, MG restricts that via a type-A USB connector right above the wireless charging pad. There's a type C connector and 12V socket for added versatility. The car also features three drive modes – Eco, normal and sports. With Kers, one can set up to 3 re-gen settings and battery info toggle, all neatly designed in quality physical buttons made easy to access. There are physical toggle buttons under the centre display made in a neat design and good quality, commendable for the asking price of this car. Front cupholders get a flexible yet sturdy folding shutter, and the soft plush armrest also doubles up as a storage unit. 
The seats are comfortable, plush, and the driver seat also gets electronic adjustments. The quality and soft-touch carbon fibre finished fabric with red stitching are also seen on the doors, and overall, the door shut thud speaks volumes about the quality this car portrays. Rear passenger seats are plush, and creature comforts include ac vents, type A and type C port, and a headrest for all 5 passengers. The space is ample for 2 and a bit of a squeeze for 3 passengers, but 2 passengers can enjoy an ample armrest with covered cup holders. Despite a larger 50.3kwh battery, there's no transmission tunnel and a relatively flat floor bed. The panoramic sunroof makes the car feel roomier, especially against the black inserts inside the overall cabin. Speaking of a sunroof, the car also gets one of the most significant opening sunroof hatches across its segment. MG ZS EV comes loaded with connected features and cool tech. The vehicle allows the driver to select if he/she/they wants to drive with or without some computer aids.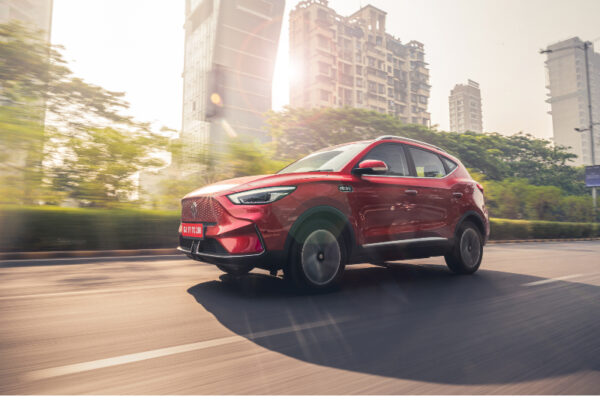 Zippy yet composed
MG claims that the new ZS EV 2022 comes with refreshed evolved internals. A new 8-hairpin motor makes impressive 176PS power and an unknown but healthy amount of instant yet linear torque. 0-100km/h comes up in an impressive 8.5s or quicker based on the driver and driving conditions. Three modes – Eco, normal and sport modes allow users some versatility in power output. The torque generated is healthy and instant but linear as an electric vehicle. As much as we would love multiple G's while accelerating, this is a city-oriented mid-size e-SUV tuned to be comfortable and civilised. Drivers can select from 3 levels on any mode to get maximum re-gen charge as per their driving nature. The MG ZS EV manages to camouflage its mass, thanks to the low centre of gravity created by the batteries and relatively better power from the new motor unit. 
It gets off a standstill, quickly reaches triple digits without fuzz and keeps pulling upwards of 170km/h; that was the limit of roads around us. It feels radically quick compared to its predecessor. The newer, larger battery is well-calibrated with the car. High-speed stability has improved, and the car feels more confident at higher speeds. This time around, the NVH levels have evolved and improved slightly. Almost unnoticeable for untrained ears compared to the earlier ZS EV. The only audible noise inside the ZS EV is the tyre noise from the road below. The plush interiors, large panoramic view of the outside and quieter cabin add to the overall driving splendour. Loads of driving aids, switchable by the driver, make driving the ZS EV much more manageable than most other cars in this price range. The MID and central console are clear and display ample information about the car, from power generated to power re-generated, tyre pressure monitor, etc. Adaptive cruise control, lane departure warning, lane maintenance, collision warning, and other sensors aid the driver. Although the ZS EV misses out on ADAS level 2 compared to its ICE sibling, Astor, the car still gets tons of driver aids, making it novice-friendly. 
The steering is naturally weighted
 and floaty but precise and effortless in operation. There are all the necessary buttons accessible on the steering. One caveat is the positioning of the steering, the limited vertical adjustments and the MG assistance calling control right next to the speech command's button. You are bound to accidentally press this while talking to the car and be prepared to speak to a friendly MG customer care assistant after pressing the darn button. Overall, the car handles well and behaves confidently in its approach at all speeds. The range drops quickly when sprinting this car around town, and regenerative braking does add a few kilometres to your daily drive, especially in traffic. The re-gen and all 4 disc brakes work in good tandem to complement each other, making this one of the most confident braking EVs. 
Verdict 
Tata also plans to evolve the Nexon EV next year but making the first-mover advantage is always a great business opportunity. The new MG ZS EV is a welcome addition to the evolution of existing EVs in India.  As we all know, competition improves the market, and the MG ZS EV is a worthy competitor in its segment. We sure hope these EVs evolve further in time and improve the overall market scenario for EVs in India, only if the EV charging infrastructure through independent charging services improve their quality and quantity over time!