Recharging and reinventing Volvo
We witnessed the Volvo XC40 Recharge when it was unveiled a year ago. Initial plans were to launch the car last year. EV charging infrastructure is slow in its growth compared to auto manufacturers' plans of launching EVs. Volvo announced a year ago to convert their entire line-up into EVs by 2030. Volvo India wants to beat their deadline. 
On a scorching sunny Sunday, we drove the Volvo XC40 Recharge from Aerocity, Delhi, to Neemrana Fort, Rajasthan and back. Volvo India had two charging stations ready for a top-up on our commute, but we were assured that most of the cars made it back in a single charge. Our car started at 92% charge when we began our drive. Volvo's XC40 Recharge is quite a sleeper performance car. Later, let's understand how this unique EV is about to revolutionise Volvo's brand image into a worthy EV auto manufacturer. We drove a pre-production red coloured car, a colour we might not see at first in India. 
Clean, smart design 
Make no mistake about the name this car carries. The Volvo XC40 Recharge is based on the compact, mid-size SUV, the XC40. The overall silhouette of the XC40 remains the same. It is brilliantly complemented by the clean design upfront masking the ICE version's grille with a body-coloured case and an embedded Volvo logo. The headlights and tail lights are the same, yet some of the best lamp designs. Changes include 19-inch standard wheels with 235/50/R-19 upfront and 255/45/R-19 at the rear. This is a subtle giveaway of the performance this car packs apart from a Recharge TWIN batch on the boot door.
The powered tailgate opens with a gesture swipe at the lower left of the car's rear bumper apart from an electric button. This liberates up to 452L boot space, housing a space-saver tyre. Unlike the international variant, there are no electric split seat buttons or a towing hook button inside the boot area. The boot lock has two subtle lights on either side of the lock groove. The charging socket is located on LHS, while there's another trunk up-front that opens similarly to the front hatch opening knob inside the driver's cabin on most ICE cars. The frunk is 31L, and the floor mat opens to liberate space for what seems to be a tire puncture repair kit missing from inside the kit-holder cut-outs in our car. The rear boot mat also has some space under the RHS boot area. Overall, the EV version of this car allows quite a bit of room for storing cables, luggage, etc. 
Somehow, the car looks even more handsome in the XC40 Recharge avatar than in the ICE versions. The little things that make this car more appealing could be the clean front, those wider rear tyres, a relatively low stance with a ground clearance of 175mm, ample in most scenarios, or a combination of all small things together. 
Interior – Spot the difference! 
Our media units were leather-clad, opposite to the no-leather upholstery promise from Volvo India. Nonetheless, these units also sported recycled material between leather inserts made from sustainable materials. Imagine the softer side of a velcro strip to put it in perspective. It feels similar to touch. Recycled waste used as luxury suits fashion on humans and now appears on their possessions. Volvo quality is second to none, and the overall insides of the XC40 Recharge are the same as its ICE counterparts. Volvo has simplified this car by making most things automatic, like the lack of a start-stop button. Keyless entry and app suite.  The driver's MID is 12.3-inch wide, crisp and clear. Thanks to Volvo's Google integration of Android as a base, the driver's MID seamlessly interacts with the primary 9-inch vertical touchscreen infotainment system. Get the app, sign in to your primary Google account or create one for your car and now the car's infotainment setup is an individual device in your Google account. 
There's a Play Store app right on the car's console. The vehicle allows you to install all your favourite music, video and other apps right inside the car. Navigate through Google Maps on the central infotainment system, and the map route and navigation lines appear on the driver's MID. Neat integration! Sadly, we could not witness the 8-speaker Harman Kardon music system on our pre-production car. Creature comforts include 4 USB type-C ports, two up-front and two for rear passengers. There's also a wireless charging pad with neat creases to hold your phone, mainly when this car explores your gut feelings. Storage space is plenty, with some removable storage areas for easy cleaning. There's a sense of thick leather-clad insulation on the inside and the overall cocoon is complemented by a large panoramic sunroof. Those thick windows and glass allow plenty of space for resting our limbs, too, and heat-reflecting glass kept us chill throughout the day. 
Despite this being an EV, it still carries XC40's thick transmission tunnel at the rear, making this five-seater uncomfortable with all seats occupied. Speaking of seats, the usual two rear passengers will be awkward if they're more than 5-feet 5-inches tall. The floorboard now houses batteries, and under-thigh support has gone for a toss unless you get too comfortable stretching your limbs inside the car. The seats are plush, and there's a large armrest with two exposed cup holders at the rear. Seats get electric headrests and folding mechanisms to operate 60-40 split-seats. The space inside is ample with a 2702mm wheelbase and does not feel cramped. The panoramic sunroof opens with a swipe touch gesture, and most things are spot on, except for some things like the lack of grab handles for rear passengers despite hooks and holder cutouts. Overall, the Volvo XC40 Recharge interiors are like a familiar place and feel like tasting a well-aged wine.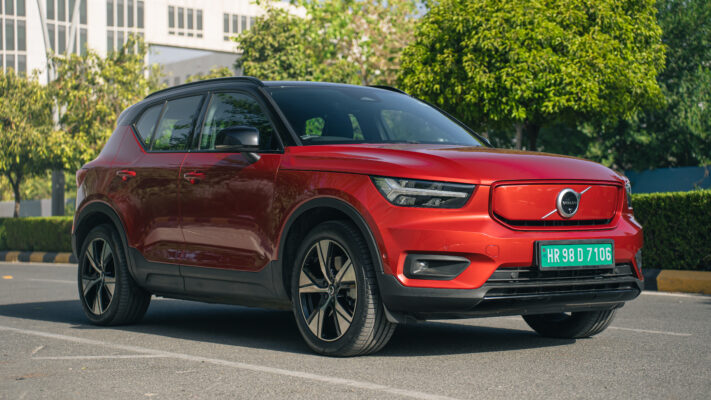 The steering wheel is nicely weighted and thick with a clean Volvo batch. The 360-degree camera has crisp footage and dynamic park-assist lines for all four wheels. Volvo has equipped the XC40 Recharge with drive-assist aids, sensors, and a robust safety suite. Adaptive cruise control, emergency braking, lane-keep assist, regenerative braking and tonnes of other sensors work seamlessly in the background with no physical settings or buttons to toggle. The driving assist setting allows drivers to select the way they want this car to aid their driving along with an interesting one-pedal mode. Disclaimer – One pedal mode is quite addictive on EVs. Apart from the usual ICE version apps, added apps include charge statistics, vehicle power generated and regenerated information, and battery management, making one perceive that this is a thoroughbred EV. More minor things like storage pads for rear passengers between the seats and doors are a nice Volvo touch. Volvo does not mention the number of airbags, but these are the same engineers who shared the three-point seat belt with the world and hence we are assured that a car with IC (inflatable curtain) airbags for windows shall be well endowed with passenger safety. 
Drive – Do not race the Volvo XC40 Recharge!
Volvo XC40 Recharge comes with two motors, powering the front wheels and rear in an AWD (all-wheel drive) configuration. These motors propel this car with mindboggling numbers – 408HP power and 660Nm torque. These are sports car numbers! All 660Nm torque is available from a standstill. Punch the throttle, and the XC40 Recharge instantly forgets its insane 2.6T weight. Volvo claims a 0-100km/h sprint in about 4.9 seconds. We tested the claims, and the XC40 Recharge pounced with enthusiasm. This is unlike any other Volvo we have driven to date!
The vehicle's heft is felt when driving, but there is an innate sense of confidence inspired and aided by Volvo's numerous sensors. There are no select drive modes, no fancy knobs, no tedious settings, it's simply Volvo, and it all just works. Interestingly what works in this EV is a maddening sense of power under a rather sophisticated body! The Volvo XC40 Recharge responds to throttle response like a big cat ready to pounce on its prey. Thanks to this new driving nature of the XC40 Recharge, this car seems to re-invent the wheel for Volvo as a car brand. People in other countries might be used to such twin motor monsters, but this car performs close to something more expensive, much faster and instead insane looking sports cars in India. Imagine this as a quick brawny ninja disguised as an average human.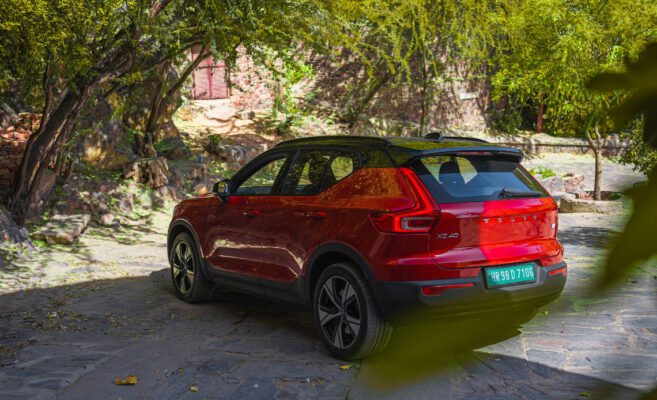 The car easily handles its overall weight thanks to an excellent suspension setup and massive 18-inch disc brakes on all four of Pirelli's wide low-profile tyres. The heft helps make this car feel planted at speeds and in varied road conditions. The relatively low profile tyres make the rather silent cabin buzz on Indian roads. But the trade-off is worth it when you see this car jump from mundane double-digit speed numbers to its max speed capped at 180km/h. This car can reach its top speed in a few seconds more than its 0-100km/h sprint and comfortably sit there until you drain its 78Kw battery. The driving dynamics are mature, and batteries in the floorboard with twin motors distributing weight across the length of this EV, make the XC40 Recharge a brilliant performer. Body roll is present, but body control is at point, inspiring you to drive more confidently across triple digits speed numbers. Drivers can select to add more heft to the steering wheel by toggling an option on the central infotainment system. Both front passenger seats get electric adjustments and heated functionality for cold environments. The steering feel is precise and inspires a sense of confidence required to manoeuvre a heavy speed, happy EV, Volvo XC40 Recharge.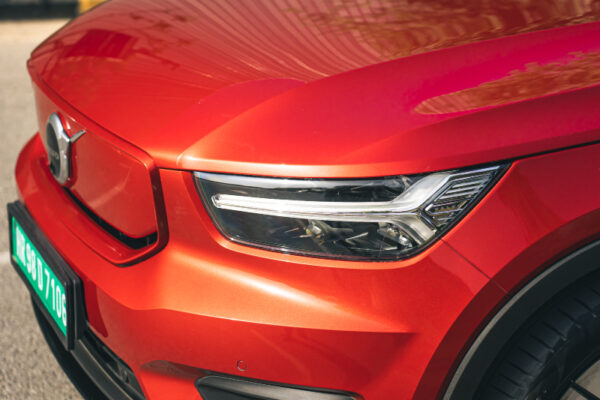 We drove spiritedly for about 250 odd kilometres all day and returned with a 12% charge on the dashboard. Speaking of BMS, battery management system, the car provides ample information for math fanatics. Volvo team charges these cars at a nearby 30kWh DC charger to top up most cars by 80% charge in about 2.5 hours. In a hypothetical world of 150kWh DC charging, this car can go from 0-100% in about 33 minutes. Details on the home charger are yet unknown. Overall, this car does it both, being efficient and energetic! This duality adds a new dimension to Volvo as a car maker. If the XC40 Recharge is any indication of the evolution of Volvo as an EV manufacturer, their tagline – Our future is electric, does make their futures look bright.
0-100km/h – 4.9s claimed
418Kms WLTP range
78kWh battery pack
Twin Motor – 408hp 660Nm