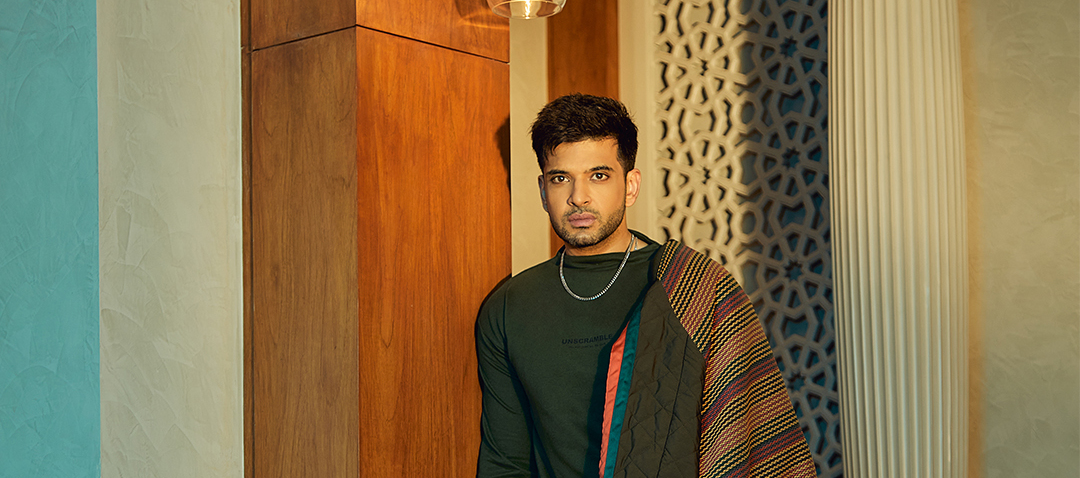 Ex: What makes you smile, and what scares you the most?
Karan Kundrra: The simplest things make me smile, like when I notice people meeting each other after a long time, especially at the airports. Also, when I'm in my car, and I see people walking hand in hand. The fact is that these emotions are genuine, and I have a knack for grabbing real emotions. What scares me the most is the exact opposite of this. I've noticed that people are fake and pretend to be another person, and these types of people scare me. Besides this, I think my biggest fear would be being taken for a ride. I have a tendency to trust people very easily, but I like that about me because that's why I have the most amazing people around me.
Ex: What is tech & lifestyle according to you?
KK: I think our lives are surrounded by tech, from working out in the gym to relying on a smartwatch to figure out what you've done, how much you've done, how many calories you've burnt to almost everything; we are connected with technology. I believe it's the best time to be alive, and everything that you want to do can be done with technology. When you're hungry? Tech helps you to order food online. Want to gain knowledge? Tech allows you to look out for it. Basically, anything you want can be accomplished with the help of technology.
Ex: Any recent gadget trick that you discovered on your smartphone or laptop?
KK: Yeah, it's hilarious because I keep losing my phone, and so does my girlfriend. I've realized that if you call out 'Hey Siri' to find the phone and Siri goes like 'Uhh'. Otherwise, I have my watch, and I can tap on a button to find my phone, and the phone starts flashing. But the easiest way to find the phone is to say, 'Hey Siri', and Siri goes like, 'Uhh'. I mean, it's a very simple hack, but yeah, it's pretty cool.
Ex: Where did you grow up and define the technology of the time when you were a kid?
KK: I grew up in Punjab, and I've grown up with computers around me. When I was less than ten years old, I got my first computer which had a hard drive of 1.9 MB and later, in 1996, I got my hands on a laptop for the first time. I'm from the modem time when we used to have dial-up Internet, and Videsh Sanchar Nigam Limited was the only source of the Internet at that time. The first Internet that I ever used was actually a call that I made from Punjab to Delhi.
Ex: What's the most exciting tech news you've read or seen this week? And do you intend to invest in one?
KK: I'm a big fan of FPV drones, so I think there's this one particular FPV drone, which is now, I think, they're making available in India because it comes under the small drone category. About investing, absolutely. I already have two drones – the Mavic Pro, a full-fledged drone with the Hazard lens, and another one, a DJI drone, but there's an FPV with DJI as well, which I want to import.
Ex: What are the advantages and disadvantages of being a celebrity?
KK: We get a lot of free stuff, and if you've seen my Instagram, I do a lot of tech endorsements, like phones and watches and everything. I've worked with brands like Vivo, Samsung, and Apple. They always send in their best phones for me, I was the first one to get the Galaxy Foldable phone. I was the first guy to get it. About disadvantages, privacy is one of the concerns for every celebrity because we're in the public domain. Anybody hiding behind the phone, making a fake ID, can come and say whatever they want to say to you. They can demean your family and your love, and you can't do much about it.
Ex: What has been your best date?
KK: The one with my girlfriend. The day she got out of the Bigg Boss house, of course, after winning the show. She finished off everything that she had to do because I wanted her to have her glory. And then she landed at my house because we didn't even have each other's numbers. We didn't know where we lived. So she's threatened one of the production guys to get her to my house. It was about 6:30 in the morning, she came to my house, and we went for a drive and had some roadside tea.
Ex: What are your favourite and least favourite technology products, and why?
KK: If it's the least favourite, why would I even have it? About my favourite technology product, it has to be my smartphone. I literally operate everything through my phone, be it finances, be it my call times, be it my deals, be it my construction thing that's going on. 
Ex: What's the weirdest thing you have read/seen about yourself on social media or entertainment news sites that isn't real but was trending in the media?
KK: I read a lot of bad stuff about myself, and this has been happening since the start of my career. I've been married, I've done all sorts of shows, and these are not even speculation, these were proper articles.