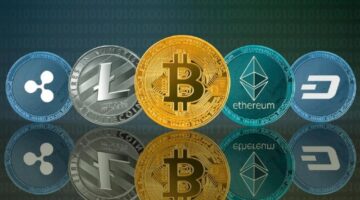 Talking of investments, a lot of us have varied opinions. While some might be in favour of mutual funds, there are others who rely more on 'Fixed' and 'Recurring' deposits. But, a major part of our financial plans are comprised by cryptocurrencies or discussions encircling around them. Over the days, people have expressed a lot of interest in the same. But do we actually know what cryptocurrency is?
WHAT EXACTLY IS CRYPTOCURRENCY?
As per the web and Wikipedia, cryptocurrency is a 'digital asset designed to work as a medium of exchange that uses strong cryptography to secure financial transactions, control the creation of additional units, and verify the transfer of assets.' To simplify it further, cryptocurrencies are virtual or alternative currencies. We may further classify cryptocurrencies as; Litecoin (LTC), Ethereum (ETH), Zcash (ZEC), Dash (DASH), Ripple (XRP), Monero (XMR), Bitcoin Cash (BCH), NEO (NEO), Cardeno (ADA), and EOS (EOS).
IS IT GOOD OR BAD?
Like every other time, people have placed their viewpoints. But how do you know which is real and which fake? We have selected some thoughts from industry leaders who might help you get an inkling.
PRO-FOLKS
"In the next few years, we are going to see national governments take large steps towards instituting a cashless society where people transact using centralised digital currencies. Simultaneously, the decentralised cryptocurrencies – that some even view as harder money – will see increased use from all sectors." – Caleb Chen, London Trust Media. "While it's still fairly new and unstable, relative to the gold standard, cryptocurrency is definitely gaining traction and will most certainly have more normalised uses in the next few years. Right now, in particular, it's increasing in popularity with the post-election market uncertainty." – Sarah Granger, Author and Speaker.
Some industry leaders feel that within two years, the world would come to a place where people can shove their money under virtual mattresses through cryptocurrency. Japan has widely accepted cryptocurrencies, it has removed the 8 percent sales tax while buying Bitcoin and other cryptocurrencies. Popular currencies in Japan are Bitcoin, Ripple, Ethereum, XEM, and MonaCoin.
ANTI-FOLKS
Jason Bloomberg, Contributor to Forbes Magazine says, "Enjoy the world of permissionless, blockchain-based cryptocurrencies while you can, because its days are numbered. And don't lose your shirt when it all comes crashing down." American economist Nouriel Roubini tweeted, "Cryptocrazies are also criminal Cyber-Terrorists." He also claimed that his consulting firm, Roubini Global Economics, was targeted in a 2015 denialof-service attack because he criticised bitcoin." Bitcoin has lost half its value since mid-December 2017. Billionaire Warren Buffett said on 11th January 2018, that he would never invest in bitcoin or other cryptocurrencies, and also predicted that the wildly popular assets were in for a fall. "I can say almost with certainty that cryptocurrencies will come to a bad end," Buffett told CNBC in an interview.
OUR VIEW
We have tried to acquaint our readers with both sides of the coin, as the authenticity of this currency is questionable and debatable. Analysing both sides, we leave it to you, to decide whether to invest in it or not!