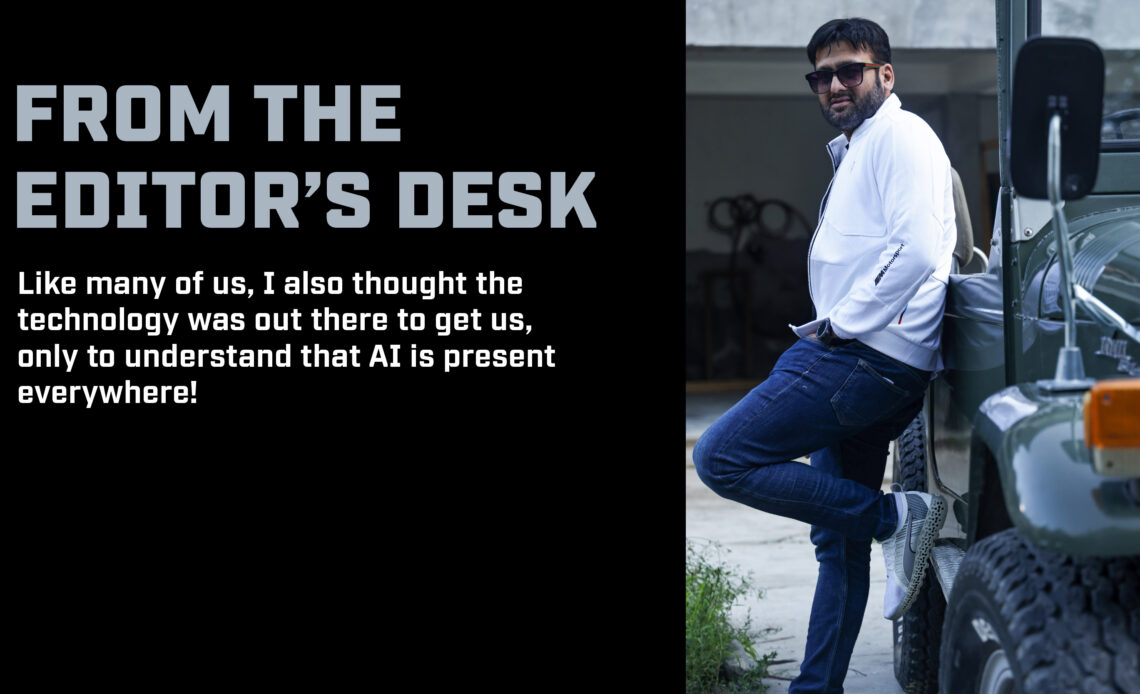 What do you think when I say Artificial Intelligence? Do you think it is the ultimate saviour of humankind that will take us to the next level or bring about a dystopian apocalypse? Like many of us, I also thought the technology was out there to get us, only to understand that AI is present everywhere! You click pictures on your phone, which magically beautifies your face within seconds, that's nothing but AI! In the current tech scenario, Artificial Intelligence is present everywhere, which is what we explore in this month's AI Special Exhibit Edition! Read along to learn almost every aspect of AI technology, where we also explore whether it could ever become sentient! Interesting, isn't it?
We have featured Audi Q3 on our cover, but that's not the only car we're crazy about. I recently went to Italy to participate in a Lamborghini event, and all hell broke loose when I was thrown on the dirt track with the beast of the year – the Lamborghini Urus Performante. Despite selling a minuscule % of cars worldwide, the brand has earned the same status as a Louis Vuitton or a Patek Phillipe. The brand has undergone many ownership changes since its formation but has maintained the prestige it has earned and will continue to, but do you know How Big is Lamborghini? Its journey is fascinating and how Enzo Ferrari's insult to a human being gave rise to perhaps its own biggest competition.
Being a football fanatic, I've always imagined myself supporting our national team, but unfortunately, we are not in FIFA 2022. No doubt, then FIFA President Sepp Blatter described India as a 'sleeping giant' in the world of football. However, you can play EA Sports' FIFA 2023 anytime. We have reviewed the game, and it's fantastic. Along with FIFA 23, we spent our many weekends playing another MARVELous game – Spider-Man Remastered.
Adhering to the theme, we have also covered topics like whether could AI is the future of Mental Health treatment. the top 6 sectors where Artificial Intelligence is paving the way, and 5 free AI tools to reduce the workload. Now, I got to test you a little; if you're a regular reader of our magazine, you must have read a lot about NFTs at the beginning of the year and maybe questioned yourself why they stopped covering NFTs as promised. Well, we have included the answer in the issue in the name of "the downfall of NFT." Let me also introduce you to our cover star Siddhanth Chaturvedi striking a suave pose with the 2022 Audi Q3. His rise to stardom is based on solid performance and it's seldom that you can steal the thunder from Ranveer Singh in your debut role. His performance in Gully boy made everyone sit up in their chair and ever since then he has earned the tag of a 'Great Actor' first, hero second.
Last month, we hosted #AnExhibitEvent for FitBit, a fun and experiential evening filled with tap dancing, cardio workouts on Bollywood beats, and relaxing Yoga sessions where the brand launched several products in presence of 20 fitness influencers. Now, thinking about the next, I am extremely excited about the upcoming Tech Fashion Tour and Exhibit Tech Awards that allow us to showcase the strength of the Exhibit brand. Out and out, some electrifying days are ahead of us, and I am glad you are part of this journey!