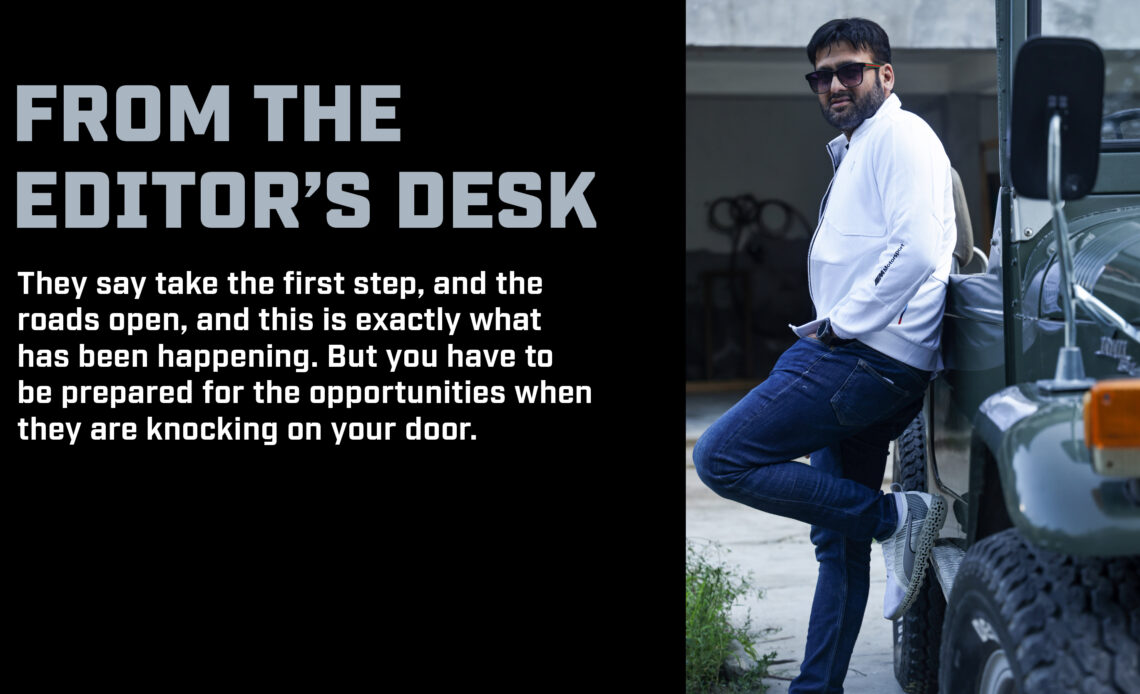 We completed 16 years, and with that 16 years of my entrepreneurial journey, it's time to tell you all a story –The Exhibit Story.
A little long but exciting and full of learnings that I thought should be shared. How to build a business with no funding, remain debt-free, how to grow at 25% year-on-year; some years even twice as much! I have lived the famous saying – "Fail early, fail often, but always fail forward" My first work experience was in junior college where I worked with the DSA of Standard Chartered bank during my break, selling credit cards. That's when I realised that I can sell and sell anything. In two months, I had outperformed my team leader and was the top performer. I bought a motorbike (Suzuki Shogun) with my own money. That was a billion-dollar feeling. During my college days, I used to work with my father. It was insulting, and I never felt like the owner's son. But that taught me a lot and almost pushed me to the point that I pledged not to work with him and went for the coveted MBA. I opted for the 1-year programme instead of the conventional 2 years from FORE School & Nottingham University UK; since I was in a hurry! Then, in my early 20s, the real work started. I worked a dream job at AP Fashions as an Export Manager and travelled to 10 countries in a single year, marketing fashion, selling to Versace, Calvin Klein etc. At the time of my interview, I still remember asking more questions than the person interviewing me, and at the end, I said I can only join if I got paid a certain amount, without even waiting to hear whether I was selected or not. Once at the UK airport, I saw a machine charging mobile phones. It was then that I contacted its manufacturer, who gave us a quote of 10,000 Pounds to export it to India. Soon, I cracked a deal with my college friend who had a factory, and we made the same machine for less than Rs 10,000. I still remember Vodafone had given us a cheque of Rs. 50,000 as advance and we did not had a bank account! Nevertheless, we sold 10,000 machines to Vodafone, Reliance and Airtel and installed them in malls and nightclubs across Calcutta. We charged them installation fees and agreed to have advertising banners on them since the machine was expensive and required maintenance. It was a customer convenience for them, and they all agreed, and we raked in huge profits. It was like we had opened a money pouring tap.
Learning #1: Idea Should be Win- Win:
The Idea should be win-win and tell them what they want to hear, not what you want to sell. With zero capital, we kicked off and took advances from big corporations [advances were new to their company policy]. We got down to basics and used smart complicated words to sell the products. For example, we would say we have smart circuitry and fast chargers which can charge in 15 minutes. It worked in our favour as instead of 15 minutes, and people used to charge for 5-6 minutes and then go back with enough for that last call.
Find opportunities and keep your ears open:
We went to Nokia and had a deal with them that we will use the Nokia chargers only, and Samsung and other brands will not be included. In those days, models were charger specific and did not have universal C-type ports. Nokia had 90% of the market share, they had the money, and the marketing head loved this idea. Again, we gave them bragging rights in the form of a simple competitive advantage. Before that, we offered Samsung the same, but no malls agreed since Nokia users were in plenty, so we flipped that as an opportunity and took it to Nokia.
Know when to exit:
We tried expanding our business in Delhi, Bangalore, etc. Still, soon competition caught up; the vendors simply ripped our straightforward machines and started making those machines at 1/3rd the price, which was the actual price. Of course, we could not compete and sell the same. We knew its a short game, so we decided to milk it and exit soon after, it was commoditised, and we left at the right time. Eventually, it died as charging cycles and portable chargers made their way.
Know your accounts or you are screwed!
My co-founder and I were terrible at accounts and had sales tax liabilities. Professional tax, income tax, anything you can imagine, and we had penalties, fines and a registered document reaching our premises every day. We were so naive or flushed with easy money that we used to import chargers from China through DHL and pay 15 times more which could otherwise come through LCL – loose cargo mode and save obnoxious amounts of money. But we were rolling in, at the same time spending and expanding (sometimes mindlessly.)
Birth of Exhibit – How it was conceived:
Soon after, we understood advertising and marketing as we had contacts with all mobiles and network operators. Hence, there was a Celebrating 16th Anniversary need for a tech magazine. We knew imports; we had connections in china to import fancy gadgets. We started Exhibit as a browse and buy magazine catalogue people could order from the pages, and we could deliver, though the quality was deplorable. We were sitting on money, and had to be in this space and try something new. In Calcutta, where we did all this, we were already one of the most successful self-funded startups, in a way. I still remember we had imported something called Dual-sim cards, which would convert regular phones into dual sim ones, and we sold thousands of those. Then there was something called the Bluetooth talking mirror which today is dated. All this was 12+ years ago.
Always Pivot and look for strategic partnership:
We realised we had to have our reach, and we could not print those in significant numbers, expect people to buy the magazine from the stands and buy products from it. So, we added more content, but we wanted a partnership that could give us exposure. I remember we chased Barista and convinced them to put an issue of Exhibit Magazine in all their 300 outlets, which gave us eyeballs of 3 lakh monthly . Immediately, all brand managers and stakeholders knew who we were. By sending 600 magazines, we gained 500 times eyeballs and a vast readership. Today, we also send complimentary copies to many salons and clinics, lounges, and coffee parlours.
The big picture missed:
Later on, we moved to the mainstream magazine, moved the catalogue sales, and started an e-commerce store called valuestore. in. Our competition was Rediff shopping and Indiatimes shopping. We were very early movers and helped shape the cash on delivery model. In Calcutta, there used to be something called Waybill. When a customer refused the products, it was a massive headache in the office. We had 1000s of customers who simply used to order and then decided not to accept. Waybill used to come from sales tax department and it was a nightmare system. We should have raised money at that point, we should have gone out of Calcutta at that point, we should have played large, but with the comforts of friends and family and no mentorship, we missed the big picture. Maybe we could have competed with Flipkart or Snapdeal; perhaps you never know. But we learned our lessons from experiences.
Follow your gut feel and look all set:
Meanwhile, we organized exhibitions like the Tech expo. This perhaps was the single biggest achievement. It was at The Park hotel. The stakes were relatively high four days before the expo. We only had 4 stalls booked and had 30 more to sell; it was a panic situation. I remember driving personally to a brand head in Calcutta and showing all the billboards [which we had taken on barter] that we had put up to emphasize that we were all set. He took the largest stall, and finally, we had every square inch sold out. Along with my team,  distributed pamphlets outside the park to get people to come inside the expo. At that point, stakes were very high, but the co- founder, a good friend of mine, and I had some differences, so we decided to split. He kept the e-commerce business, and I moved out with the Expo and magazine and had a deal for the next 2 years we both will not step into each other's territory. In between, I started a power club, a discount card with all restaurants and entry into nightclubs and sold yearly memberships. We had 5000 members, which also did very well, and I had another friend who was a partner in this. It was a profitable business but not scalable, so I sold my share to my friend.
The Place matters:
When you want to play big, be in the right place. If you are not in Mumbai you won't make a real mark in media and entertainment business. Keeping that in mind, I moved too Mumbai and never looked back eversince.
Failed Business and Projects:
Every failed project teaches you a lot. Now, looking at an idea that most of the time looks perfect with great potential is just not going to work. I had Co-founded Excess.in and invested a year with lots of my capital and time. It was an idea which was a B2B marketplace where brands owners and manufacturers could sell to the dealers directly, and retailers could sell their excess stock to each other. The website was created from the ground up, we had 100 people on feet who used to go to the retailers, but they will just not sign up. We realised it required a mindset change, and once again, we were too early for the business. Justbuylive – which my good friend Sahil had cofounded, raised and had put lots of money into – was the bigger version of that. I remember telling him before the start that this would not be easy to execute and on paper, it's a multibillion-dollar idea.
I also started techykart.com e-commerce for technology gadgets but could not compete with Flipkart and Amazon's steep discounting and had to shut it down.
Along with that started PhoneSpa, and we had 12 malls where we had set up physical kiosks in Mumbai and Delhi where you could walk in, take a picture and a mobile case would be printed and given to you. An app that could do the same for you. But the rentals and team just could not do it apart from the fact that we had to buy dyes for every SKU, and printing used to take 30 minutes. Lost money and shut shop after a year.
Had also launched the magazine in Poland, had a team through AIESEC who came to India to work for Exhibit. But we could not manage it and had to shut it down in 4 months. The team who had started there messed up, and the language barrier was tricky. We were also a brand consultancy business UNSTOPPABLE As a professional sports photographer, I have high expectations for my gear and am very picky when it comes to adding or changing it. And I was blown away when I got my hands on the Nikon Z 9. Its autofocus tracking and stickiness are unrivalled, and its 3D Tracking advancements feel light years ahead of the competition. MORE INFORMATION We were also a brand consultancy business for international tech brands entering India. Gear4 – a UK based Mobile accessories company launched in India through us. We handshake them with distributors and did their strategy like a few more companies.
Concentrate and stay focussed:
All these failed businesses and a few more that are not worth mentioning taught me many things that you only learn when you get your hands dirty, but also took a lot of my time. Then 6 years ago, I decided to focus and grow the IP and Exhibit Brand.
We started Exhibit Tech Awards, and the first awards were in Bangalore with Cebit, and it has been 7 years and has grown each year.Then we started Exhibit Startups which we have been doing for 6 years, which helped me satiate my thirst for new ventures. We have some great plans in this space in the years to come. Some of the startups who pitched at our events are almost billion-dollar companies like Haptik.
Then, the biggest was the Tech fashion Tour, which is also in its 6th year. I remember an interesting incident 3 years ago. The date was 20th Sept, and Mumbai had recorded the worst rains of the decade and was flooded to the brim. We had a huge show at ST Regis and a huge set up till 3 pm. We were unsure what was happening, 6 pm was the call time and Hrithik Roshan was supposed to come and walk the ramp along with other celebrities. I took a deep breath, confirmed Hrithik was coming and sent a broadcast message to all the guest list – Mumbai rains are unpredictable, but we are not. The show is on; see you guys @ 6 pm. As if this message had reached the rains gods, the rains stopped, and we had a full house. Incidents like this have happened time and again in my life. We are also partners with CES Las Vegas and IFA Berlin, the two biggest tech shows globally. Some of the biggest names from the corporate world, Bollywood celebrities, Sports stars, Billionaire Entrepreneurs as our friends and are on our speed dial.
Last year we started Influencer awards, and the first edition had Top 100 of them attend and saw all the big names like Bhuvan Bam, Ashish Chanchalani, Prajakta koli etc. and this led us to start our influencer marketing division which has given us a head start and helped us conclude the whole loop.
This is the pandemic year when all events and magazine printing business has almost come to a standstill. That's when I realised that the brand Exhibit is beyond that, and our connections with our readers are what made us tick through our phenomenal digital existence. We launched aviatorsbuzz.com in peak lockdown in June, and exhibit.tech .Our Influencer marketing division is shooting TVCs, digital films doing celebrity and brand associations at breakneck speeds. Speaking of speed, we acquired publishing rights to BBC TopGear India and have been revving our engines, motors and hearts for over a year. TogGearMag. in receives millions of daily visitors, and our content matures every passing month. Since June, the relationship and trust that we have earned over the years with the brand owner to deliver have kept our offices open, and we have been on a hiring spree. I couldn't ask for more. They say take the first step, and the roads open, and this is exactly what has been happening. But you have to be prepared for the opportunities when they are knocking on your door. Many ex-Exhibit members are doing very good in life and working in great companies, moved out of the country or have started their own companies and have always kept in touch. What else can you ask from a life in the first 15 years of your working life when you know deep down that it's just the start?