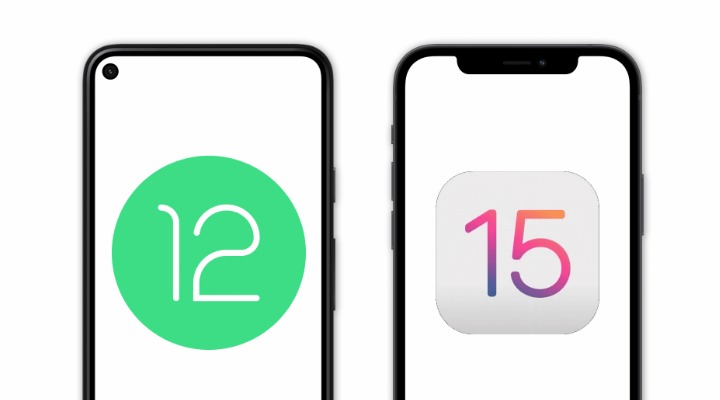 Apple's constant push for better privacy and security features for the iPhone has always forced Google to catch up with them. In the latest Google I/O event, the company announced details of its Android 12 operating system along with matchable privacy features, but within a few weeks, Apple came back to haunt them with their iOS 15, and the tech-war began again.
Apple introduced iOS 15, its newest operating system for iPhones, where the Cupertino, California, headquartered company makes sure their users will stay more focused & productive with their devices. In contrast, Google prioritises privacy features with the launch of Android 12 OS, but which operating system has better privacy features?
Android 12 is Google's most ambitious privacy release to date. Yet, the features Google is bringing to Android devices now are already on iOS devices, lets take a look at them:
Phones supported by Android 12 will have visual indicators when cameras or microphones are being used. 

With the arrival of Android 12, users can now choose from the given options whether to give apps access to their approximate location or precise location.

Android 12 will notify users when apps use information from their clipboards, like when you copy a text or password from one place and paste it into something else, it will tell you that your clipboard is being accessed.
Android lacks a little behind in some of the privacy features, but we've to keep in mind that Android is a much more popular mobile operating system worldwide than iOS, as it powers the majority of the world's smartphones, including some very cheap models. 
Android 12 users can see a list of which apps have used things like their location data, camera, and microphone, while Apple's iOS does this to a certain extent and allows users to see which apps have used their locations services within the last 24 hours.
The iOS 15 update is coming to all iPhone 6S models and newer, including the iPhone 7 series, iPhone 8 series, iPhone X, iPhone XS series, iPhone XR, iPhone 11 series, iPhone 12 series, iPhone SE (1st and 2nd Gen), and iPod Touch 7th Gen while Android 12, will come first to Pixel 3 series, Pixel 3a series, Pixel 4 series, Pixel 4a series, and Pixel 5, followed by partner devices from OnePlus, Xiaomi, Asus, Oppo, Realme and more.