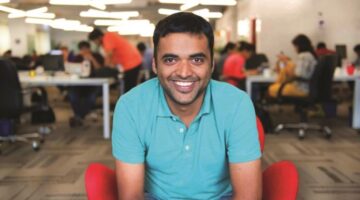 EXHIBIT: What's the story behind the name "Zomato"?
Deepinder: When we started out in 2008 we were called Foodiebay. One of the reasons why we decided to change the name in late 2010 from Foodiebay to Zomato was that we wanted a powerful brand name. After endless debate over several cups of coffee, we came up with the name Zomato. We decided to keep the idea of food at the center and choose a name that is short, easy to remember and makes people think of food. Zomato's got a zing to it and is originally a play on the word 'Tomato'. We also wanted to avoid any confusion with "ebay"; we wanted to be sure that we weren't taking any chances when creating a brand we wanted to take international at the time. Focusing on brand recall and communicating what we stand for is of primary importance to any consumer internet company, and I think we have got most of it right with Zomato.
EXHIBIT: When did you get your first funding? Was it tough to raise fund or a cake walk for Zomato?
DG: Raising funds for a consumer facing product was far from easy back in 2008-10. When we started out, we had initially raised a small sum of money from our family and a couple of friends to ensure we could hit the ground running. However raising the seed round was difficult; we were struggling at the time to find investors who'd write us our first cheque.
We worked at Bain for a year and a half while dedicating weekends to Foodiebay when we started out. By the time we left Bain, we had already launched in 4 cities (NCR, Kolkata, Mumbai& Pune) and had a handful of clients on board. It was getting difficult to manage both and before one could affect the other, we decided to quit and work full-time on Foodiebay; luckily, by then, we had we also had Gunjan on board to work on the tech side of things.In 2010, Sanjeev and his team saw the potential in what we were building and gave us our first cheque of a Million dollars. InfoEdge has been an investor in Zomato ever since, and still owns majority stake in the company.
EXHIBIT: Zomato has travelled a long way since its inception in 2008. What made you come up with the idea? What's biggest leap of Zomato since then?
DG: At Zomato, we started out will collecting menus for restaurants around Gurgaon and put up these scanned menus on the office intranet. When we starting see a lot of traction there, Pankaj and I then went on to build this database and soon we had gone live with menus for 1,200 restaurants in Delhi NCR in July 2008, which expanded to 2,000 restaurants by the end of that year. We have now grown our footprint from having presence in 4 cities in India in 2008, to listing over I million restaurants in over 10,000 cities, across 23 countries.
We have come a long way since we started out 8 years ago and as a technology company we need to constantly build further from where we started. We started out primarily as a restaurant search and discovery service on web, and what we're building today is 100x more complex. Over the past few years, we've been extremely focused on building products for our users, and restaurant partners – to help make dining experiences unthinkably easy.
We have diversified our product offering beyond just search and discovery to adding a social layer, then expanding into adjacencies such as online food delivery, table reservations, white label apps for restaurants, Zomato for business – a marketing tool for restaurant owners, and now our own point of sales system for restaurants.On the business front – we have had a very successful launch of our food delivery business in India and the UAE over the last year. We operationally broke-even in our businesses in India, the Middle East (UAE, Lebanon and Qatar) and Southeast Asia (Philippines and Indonesia) earlier this Feb. If the revenue growth continues as we expect it to, we aim to operationally break-even as a global business by Dec 2016.
EXHIBIT: What is your opinion about the future of the Food-tech industry in India?
DG: For the past two years, the food tech space has seen a lot of activity from both entrepreneurs and investors. We've seen a conscious effort and the biggest strides along three fronts.One – rising digital adoption amongst restaurants to help them create great dining experiences. From cloud based POS systems which help restaurants with inventory and menu management, better customer insights to using digital platforms to communicate and reach out to their potential customers, the most successful restaurateurs are able use a suite of tools available to them to enhance customer experience around great food. We've also seen dark/cloud kitchens grow in the recent past and the sector today has the capability and infrastructure to see more of such scalable concepts grow.
Two – building stronger communication channels between restaurants and users. Convenience services such as online ordering and table reservation have made the whole ordering in or dining out experience as seamless as possible for both – the users, as well as the restaurants.While we've seen a lot of food-tech start-ups mushroom and help grow the market overall over the last couple of years, it is now also great to see an increasing effort on getting the business fundamentals right with more companies and investors largely focused on building the food-tech space in India for the longer term.
The focus on digitisation of discovery, communication, delivery, reservation and restaurant operations overall will help in creating greater dining experiences for users. We will also see convergence of these business models in different forms to provide greater value to both merchants as well as the users in the near future.With more and more players entering the market, what will set one apart from the other is the overall customer experience and unit economics. All metrics of customer adoption of a product, the frequency of use and the end conversion will be driven by the quality of service a product offers. In any business, you are only as good as your customers think you are.
EXHIBIT: What's the most common trend among Zomato users?
DG: We get most of our traffic when users are looking to make a decision about ordering food or eating out, i.e. just before lunch and dinner hours. I think a common trend among most Zomato users is that they are extremely passionate about food, and they like the discovery aspect the product allows for by providing them all the information they need to be able to make an educated choice on where to eat or what to order.
EXHIBIT: Blend of technology and food – that's Zomato in a single phrase. How do you justify this?
DG: Well, that's rather self-explanatory, isn't it?
EXHIBIT: Tell us some unknown facts about yourself.
DG: My first startup back in 2005, was an online food delivery website called Foodlet. It was probably the first online food delivery business in India.
EXHIBIT: Tell us about some inspirational books that you have read and would recommend.
DG: The last book that I read and was inspired by was Leading by Sir Alex Ferguson. The other two books that stuck a chord with me at different points of my entrepreneurial journey were Peter Thiel's Zero to One and The Hard Thing About Hard Things, by Ben Horowitz. On a personal note though, I enjoy collecting the Classics for my home library.
EXHIBIT: Inspirational tips to the startup founders who are trying to come up with innovative ideas like yours.
DG: I think when you start building something for the right reasons – you have identified a gap that you want to bridge, or have identified an even more efficient way of doing something that already exists; if you can do this with focus, on the right foundation, and can build a good team around your idea that shares your vision – that's half the battle won.
The modern customers and businesses rely heavily on the internet to find products and services they need, and people will love a service if it makes their lives simpler. Multiple players will definitely continue to emerge because of the massive potential and reach of the internet. However, what's going to set a particular player apart is not just a unique product and service offering, but also a real and sustainable business model built around sound unit economics.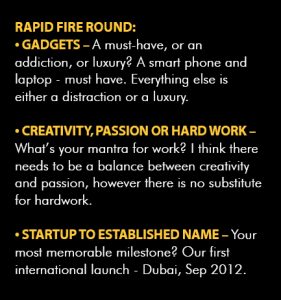 EXHIBIT: Talking of India, and adjacencies – how big do you think is the food delivery market?
DG: While the food delivery market in India is huge (between the organized and unorganized segment it has been pegged between $1.4B – $2B), the online food delivery segment still has a lot of room to grow. The normal human behaviour for ordering food is still to pick up the phone and call. So our largest competitor in this segment is still the phone.
As of now, our online food delivery business is growing at a healthy 30% month-on-month, we recently crossed 33,000 orders a day across India and UAE – and this is with only 2.5% of our active user base searching for restaurants having placed orders online.