Nobody likes to play games with all the lights on, as playing games in a dark room benefits the gamer to build a gaming world atmosphere right from the comfort of home. Earlier, Xbox users complained about not having a night mode, but soon they will have a night mode to play comfortably after dark or in a dark room as Microsoft has started testing a new night mode with Xbox Insiders.
The under-testing feature allows users to dim and filter their screens, Xbox power button, and even the console and controller LED brightness through the console's settings app. The feature also grants users many customisations options like multiple dimming levels, a blue light filter and more.
The software giant is allowing its users to set an Xbox to switch to the night mode manually and disable HDR when the night mode is enabled; switching modes will help users avoid scorching bright images. Users can schedule the toggling of modes at specific times or automatically set it to turn on at sunset and off at sunrise.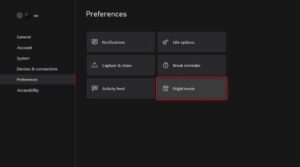 Currently, the new build to the Alpha Skip-Ahead ring of the Xbox is only live to a limited audience (only available for experiment) as Microsoft is testing the feature with Xbox insiders; the feature will pass various testing channels and soon the company will roll it out to all the users.
The new build will fix previous bugs linked with launching apps and Xbox Cloud Gaming. Xbox users, especially late-night gamers, were waiting for such a feature for a long time, and now that Microsoft has come up with one, the users will appreciate the efforts, as it'll add consistency in their gaming. In the last couple of years, Microsoft has taken its rivalry competition seriously, and the company is trying to up their game by implementing a night mode feature.