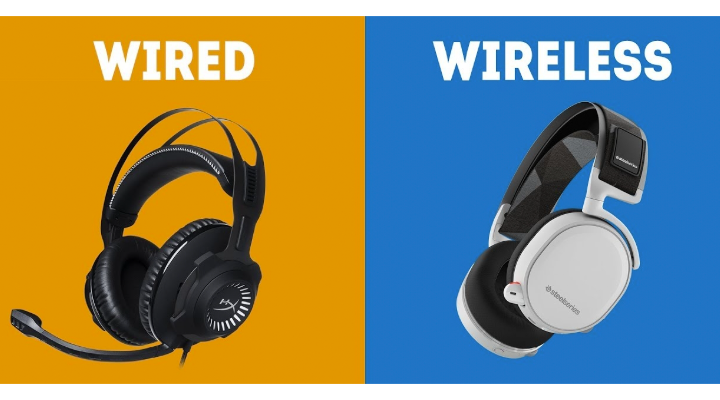 We can't help you with the answer of who came first, an egg or a chicken? But we can certainly help you with the solution of what to prefer between a wired headphone and a wireless one? Choosing a headphone is always challenging for everyone as there are many different options available in the market, from the cheapest possible to the costliest one. 
A headphone is a fundamental gadget that we all need. Most people favour listening to music to zone out themselves in a world full of chaos and babble, and to do that, we all need a sustainable device. There are many platforms for listening to music, be it Spotify, Apple Music, Gaana, Hungama, JioSaavn, Wynk or the latest YouTube Music, and to enjoy every single beat of the music, we all need a perfect headphone which should also suit your lifestyle and music taste.
A few years ago, wireless earphones were not as popular, but ever since Apple discontinued the 3.5 mm jack from its devices, everything transformed. As most of the smartphone companies started following in the footsteps of Apple. However, there are still many smartphone companies offering a 3.5 mm jack in their latest devices, and this is how one of the biggest questions came to be, what to prefer between a wired and a wireless headphone?
Looking from a neutral point of view, wired or wireless both have their cons and pros, but in the end, it all depends on the individual's choice. To know them better, let's have a look at them individually. Owning the latest wireless headphone will help you stay on top of the newest technologies, while possessing a wired headphone will keep you a little away from excess radiation.
Wired Headphones:
Wired headphones work in the same way as other wired devices work; plug them in the headphone jack, and they'll dispatch sound from it. Despite being an old school gadget, they are still a dependable choice for a vast number of people. Also, nothing can beat the audio quality of wired headphones, thanks to the technology that made vital improvements in them over the years. 
Advantages:
Wired headphones receive an analogue signal, which can manage more data than Bluetooth; this is how they offer the best sound quality. Wired headphones don't need charging or batteries, so there's no requirement to recheck them before going out on a trail or work, but if you're looking for wired active noise-cancelling headphones, then you must know, they need batteries. 
Wireless technology is more expensive than wired ones; that's why wired headphones always cost less than their wireless counterparts. Also, wired headphones are easier to repair. They are more user friendly as there's no requirement of pairing devices before use, plug them into the device, and you're ready to enjoy your favourite music.
Disadvantages:
Everything in this world comes with some level of disadvantages; nothing's perfect. With all the benefits, wired headphones have a few downwards factors, like you can't move beyond the length of headphones wire; if you want to listen to the music, you must have to stick to the limits. 
One of the most significant issues people face with wired headphones is that if the wires get damaged, it could result in music playing on only one ear. Also, the cord can get in the way or get caught in something when you're exercising, walking in public places, making your task difficult.
Wireless Headphones:
One of the great conveniences of human life is having a pair of completely wire-free headphones as they keep you away from the worry of tangling your wires all the time with their wireless structure. Wireless headphones use radio transmission technology to carry audio data from the device to your ears, and it works mainly with the help of BlueTooth or Radio Frequency or Infrared frequency. Radio Frequency is more commonly used for wireless headphones explicitly made for TV. 
Apple introduced AirPods and gave birth to a new product category called true wireless earbuds, which completely changed the wire-free experience. In a short span, they became the go-to listening device among consumers. To advertise wireless headphones better, most manufacturers started using the word freedom on their products and campaigns because these headphones give you an option to roam around without wires, keep you motivated and focused during a workout session, board in a public train without wires getting in your way.
Advantages:
The wireless headphones make the process of listening to music more comfortable for joggers who prefer to run, commuters who get to work in crowded transportation, and gamers who play video games by sitting far away from the TV as they provide. Some wireless headphones even offer up to a 100ft range from your audio source. 
With the evolution of technology, a number of smartphone manufacturing companies are ditching the old-styled 3.5 mm jack from their newly launched devices, which makes Bluetooth a new standard in audio transmission. Fewer components and no wires help wireless headphones to lose some extra weight and become more portable and lighter. The fewer weight also adds comfort as lighter headphones typically give less stress to the users' heads.
If you spend a little more, then wireless headphones can even deliver some sweat/water resistance. As mentioned earlier, wired headphones usually sound better than wireless headphones, but most average listeners can't distinguish between them, except musicians and DJs.
Disadvantages:
Wireless headphones provide plenty of cool features, but they also have a heavy price tag. Along with high prices, another major disadvantage of wireless headphones is their batteries. However, the battery life of wireless headphones has dramatically improved over the years, but you still need a power source for wireless headphones every now and then. Bluetooth wireless battery offers 8 to 12 hours of usage, while high-end wireless headphones offer up to 30 to 40 hours of battery life without a recharge.
Conclusion:
A wireless headphone is ideal for athletes, fitness enthusiasts or people who are into jogging, while a wired headphone is great for DJs, RJs, music mixing artists, or desktop users. In short, if you need headphones for a short period and outdoor comfort, then go for wireless headphones, and if you work for a longer duration, then a wired headphone is the right choice, in the end, it's all up to one's personal preferences and lifestyle.