The market of wired headphones is tangled in its cords as people are falling for wireless headphones, the last couple of years marks the debut of some of the best wireless headphones. With every other launch, the market for wireless headphones is getting crowded, which leads audiophiles towards the confusion of choosing the best one, so here we are to help you combat the mess with our list of top 5 wireless headphones in 2021.
Sony WH-1000XM4:
Sony launched the WH-1000XM4 wireless noise-cancelling headphones after two years of releasing its first set of true wireless earbuds. The earlier model, WH-1000XM3, has gained massive popularity in the market. The newly released WH-1000XM4 headphones have an ergonomic design that looks more like the previous model, but they perform better in noisy environments.
Sony WH-1000XM4 have the most impressive noise cancellation among all competitors and offer multipoint Bluetooth pairing so you can connect to two devices at the same time. The headphones are priced at ₹ 29,990 and are available in black or off-white colour options.
Jabra Elite 45h:
Jabra Elite 45h is the best value for money headphone, which arrives with zero fancy features like noise cancellation, ambient listening mode, or fitness features but offers excellent audio quality and comfortable fit. Elite 45h headphones have a sturdy but stylish design and are available in black, navy blue, beige with gold details, black with grey details, or black with copper details. 
The headphones have luxurious memory foam earpads lined with a leatherette covering and include a sidetone feature that allows you to hear your voice in the headphones so you don't talk too loudly. Elite 45h headphones are priced initially at 9,999 but now available to buy at discounts through various e-commerce sites. Elite 45h headphones offer the longest battery life in this price range, up to 50 hours from a single charge.
Apple AirPods Max:
The Apple AirPods Max is priced at a whopping Rs. 59,900 in India. The price sounds expensive, but with a rich price, it also brings rich features like more detailed sound than its lower-priced competitors and the H1 chip, allowing seamless pairing of the headphones with the iPhones. Apple has included 40mm drivers on the AirPods Max to deliver great bass, crisp highs and rich mids to balance out every type of motion occurring on the outside. The premium build quality headphones also feature Apple's virtual surround spatial audio feature for video watching. Apple AirPods Max comes with 20 hours of battery life and offers the best-in-class audio experience.
Bose Noise Cancelling Headphones 700:
Bose is one of the topmost headphone manufacturers globally who has ruled the active noise cancellation (ANC) market with its QuietComfort series of headphones. The Bose Noise Cancelling Headphones 700 were launched in India in late 2019, but they still compete well with the recently launched Sony WH-1000XM4. 
The Bose 700 headphones are a delight to use, and they are the first model from the company to exist outside of the QuietComfort/QuietControl lineup. The headphones are available in black or silver colour options and feature special digital signal processing (DSP) and an advanced microphone array. Bose Noise Cancelling Headphones 700 are priced at 34,500 and live up to the expectations set by the QuietComfort series.
Anker Life Q30: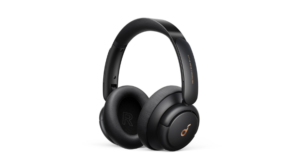 Everybody cannot afford the heavily priced luxurious headphones, making us put Anker Life Q30 Hybrid Active Noise Cancelling Headphones on our list. Anker's SoundCore Life Q30 headphones are more than appealing and affordable headphones that offer fantastic noise-cancelling performance. The Anker Soundcore Life Q30 are great companions if you travel often. They have a continuous playback time of over 44 hours, which should easily last for a couple of days. The Anker Life Q30 headphones are comfortable, well-built, and available in black, blue or pink colour options.